Yesterday (Tuesday, September 12), it was announced that the game engine Unity will soon begin charging developers a monthly fee based on the number of installs their games have, in a move that has left many indie studios upset and frustrated.
The 'Unity Runtime Fee' will come into effect on January 1, 2024, and will impact games which have passed certain thresholds. For anyone using Unity Personal or Unity Plus, their game must have made at least $200,000 USD in the last 12 months, and have at least 200,000 lifetime installs in addition to that. Meanwhile, games made by Unity Pro and Unity Expertise users must have passed at least $1 million USD in the last 12 months, and have over one million lifetime installs before the fees kick in. 
Assuming that a game meets that criteria, the monthly fee is then calculated based on the additional number of installs per month, with variations in cost based on the Unity plan that developers have, and what country games are installed in. According to Unity's FAQ section:  "Standard fees apply to app installs in the United States, Australia, Austria, Belgium, Canada, Denmark, Finland, France, Germany, Ireland, Japan, Netherlands, New Zealand, Norway, Sweden, Switzerland, South Korea, and the United Kingdom. Emerging market fees apply to app installs in all other countries."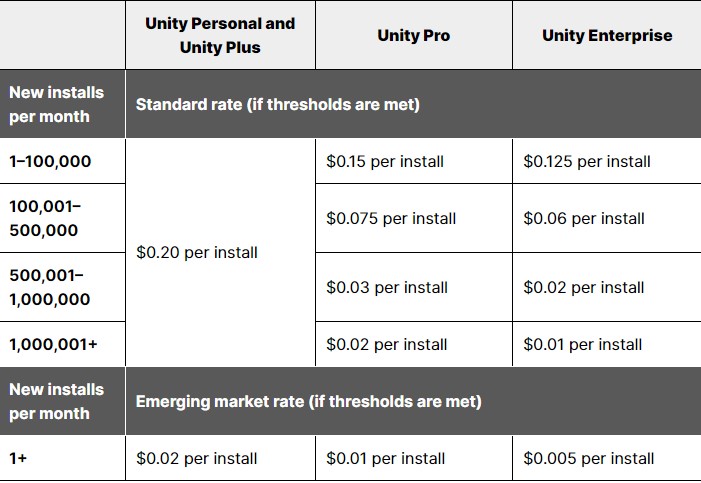 As Eurogamer reports, it's since been clarified that Unity will charge for new installs made after January 1, 2024 – not those which have already happened. However, it was also confirmed to Axios the fee will be charged every time a game is installed, even for something which has been deleted, and then reinstalled. This means that developers can be charged even when a user hasn't spent more money on their game.
Many indie developers and others within the games industry have been expressing their anger at the situation on Twitter. Indie studio Aggro Crab released a statement talking about the impact of Unity's decision: "This decision puts us and countless other studios in a position where we might not be able to justify using Unity for our future titles. If these changes aren't rolled back, we'll be heavily considering abandoning our wealth of Unity expertise we've accumulated over the years and starting from scratch in a new engine."
Indie developer SomeHumbleOnion (the developer of Smushi Come Home), wrote: "I'm afraid to make games in Unity now." Meanwhile, Henry Hoffman, the founder of Newfangled Games (which developed and published Paper Trail), pleaded: "If you buy our Unity game, please don't install it."
Geoff Keighley, the host of The Game Awards, Summer Game Fest and Gamescom's Opening Night Live, simply responded to Unity's latest announcement: "What a joke."
Speaking to TRG, an anonymous Unity source tells us that people at the company are "furious", and that the internal pushback prior to the announcement "basically pointed out every hole and problem developers are now talking about". 
On Twitter, Unity stated that it is "actively listening to and following your questions closely". 
Be sure to take a look at our recommendations for the best PC games, as well as the best indie games.