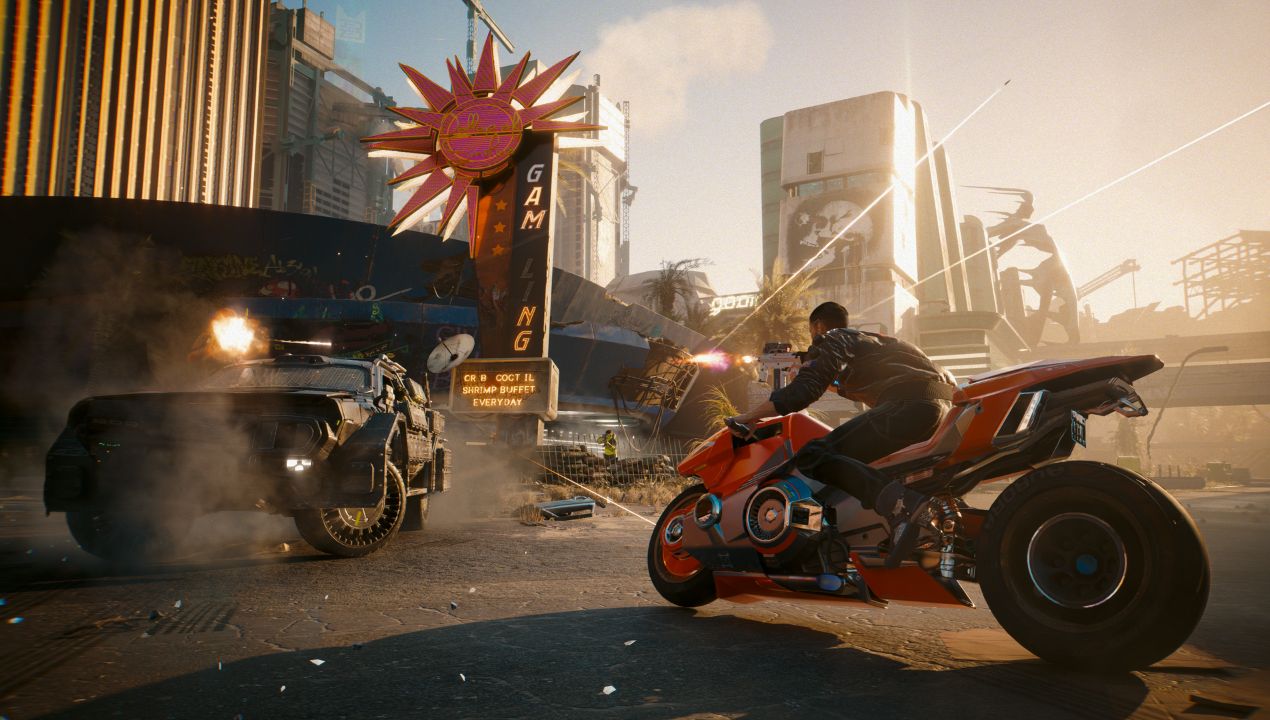 CD Projekt Red has revealed the details for Cyberpunk 2077's new vehicle combat and car chase features. 
In a new blog post, the studio discussed just one of the many new features that will be arriving with the upcoming Phantom Liberty and the free 2.0 update, confirming that there are multiple ways vehicle combat can be utilized. 
"There are in fact three new ways to take out enemies from the safety of your car besides just running into them," CD Projekt Red describes. "Don't get us wrong, that's always an option – but make sure not to explode and flatline yourself!"
As expected you'll be able to shoot pistols or SMGs either from the back of your motorcycle, straight through your car's windshield, or its side window. For cars with CrystalDome tech, you can open the sliding doors and fire weapons that way – similar to the game's opening car chase sequence. Players can also use melee weapons, like katanas to attack enemies, while on a motorcycle, and even slash the tires of enemy cars. 
Alongside firearms and melee weapons, the feature will allow the ability to use the game's newly added mounted weapons that are available on certain nomad cars, which also feature CrystalDome tech. 
For netrunners specifically, you'll be able to take on a more "subtle approach" by hacking into enemy vehicles. You can force their car to explode, make them slam on their brakes, and accelerate, taking away enemy control. The developer teased that there will be "More options are available for the most skilled netrunners out there," which players can discover for themselves. 
In terms of car chases, they "happen more naturally now" and players can expect chases from the NCPD if they try to get away.
Phantom Liberty and the free 2.0 update will be available on PS5, Xbox Series X|S, and PC. The DLC is the game's one and only expansion and is set to launch on September 26, followed by the 2.0 update on September 27.
For more games like Cyberpunk, check out our picks for the best RPGs, and if you're having trouble keeping track of new releases, here's our essential guide to every upcoming game of 2023.
Source link