The Meta Quest 3 launch event is less than a month away, and excitement for the new VR headset is reaching boiling point. But if this leak is correct, the feature I was most excited about might require a pricey add-on.
Ahead of the Oculus Quest 2  successor's reveal the online retailer UnboundXR.eu has seemingly posted prices for several Quest 3 accessories. This includes a carrying case for €79.99 (around $86 / £68 / AU$134), an Elite Strap with Battery for €149.99 ($161 / £128 / AU$252), and a Silicone Face Interface for €49.99 ($54 / £42 / AU$84). These were spotted by u/Fredricko on Reddit, but the store pages have since been hidden. 
The one that's most disappointing to me is seeing the Meta Quest 3 Charging Dock for €149.99 ($161 / £128 / AU$252). 
Thanks to a different Meta Quest 3 leak (courtesy of a US Federal Communication Agency filing) it looked like the new gadget would be getting a charging dock – my favorite Meta Quest Pro feature. Thanks to this peripheral I've never gone to wear my Quest Pro and found it's out of charge – something I can't say about my Quest 2. The dock also makes it easy to keep the headset and controllers powered up without needing to use multiple power outlets for charging – an issue with headsets such as the HTC Vive XR Elite, which requires three outlets for charging instead of one.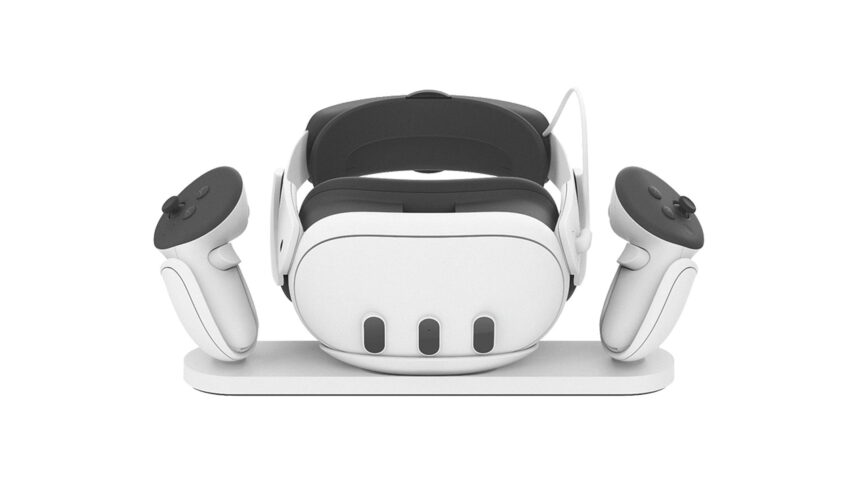 Most importantly, this dock was included in the price of the Meta Quest Pro – which was $1,500 / £1,500 / AU$2,450 at launch and is now $999.99 / £999.99 / AU$1,729.99.  According to Meta, the cheapest Meta Quest 3 will be $499 / £499 / AU$829 / €499  so I was already a little worried that the dock wouldn't come with the cheaper headset – forcing us to pay a little extra for its advantages. What I didn't expect, however, was that the dock might be roughly a third of the price of the new machine, as this leak has suggested.
While these leaks come from a semi-official source – a Reddit user claims UnboundXR has said the prices are from Meta directly  – it's still worth taking the information with a pinch of salt. They could be best-guess placeholder prices while the store builds the product pages ahead of the Quest 3 launch later this year. What's more, the peripherals UnboudXR listed might still come packaged with the headset with the listings here merely being for replacement parts. We won't know how pricey the add-ons really are until the headset launches at Meta Connect 2023.
Out with the old
If the price of these XR peripherals has got you down, I'm sorry to say the bad news doesn't stop there. According to separate leaks, the Quest 3 may not be compatible with your Quest 2 accessories – forcing you to pay for all-new add-ons if you want them.
This is with respect to the headset strap; @ZGFTECH on X (formerly Twitter) posted a picture seemingly showing a side-by-side of the Quest 3 strap and the Quest 2 Elite strap with the two having pretty different designs – suggesting the old strap will be incompatible with the new hardware. I'm still holding out hope however that my Quest Pro charging dock will be compatible with the Quest 3, though given the new dock's wildly different design, I'm not holding my breath.
Admittedly this shouldn't be entirely unexpected – it's not unheard of for tech peripherals to be exclusive to specific devices. But it's something to keep in mind if you're looking to upgrade to Meta's latest VR hardware.
You might also like: