Sonos has announced the Sonos Move 2, a big upgrade to its larger portable speaker, the Sonos Move. Although the new version looks very similar to the original, under the hood it's pretty much a total redesign, adding in a new speaker arrangement, new amplification to support the speakers, much longer battery life, and a USB-C port for connecting to wired audio products, or for charging your phone from it.
There are tweaks to the design from the original, including new tones for its black color, and a whole new color: Olive, very fetching. You now have touch controls on top, to match the style from the Sonos Era 100 and Sonos Era 300. But it remains more or less the exact same size as the original, and the same weight at 3kg / 6.6 lbs. So, while it is literally portable, it's not, like the Sonos Roam, for carrying around on a hike.
As an upgrade for a speaker that's designed to work just as well by the pool as in the house, with support for both Bluetooth and Wi-Fi (including Sonos multi-room) connectivity, it looks like a strong contender for our list of the best Bluetooth speakers. So let's dig into everything it offers.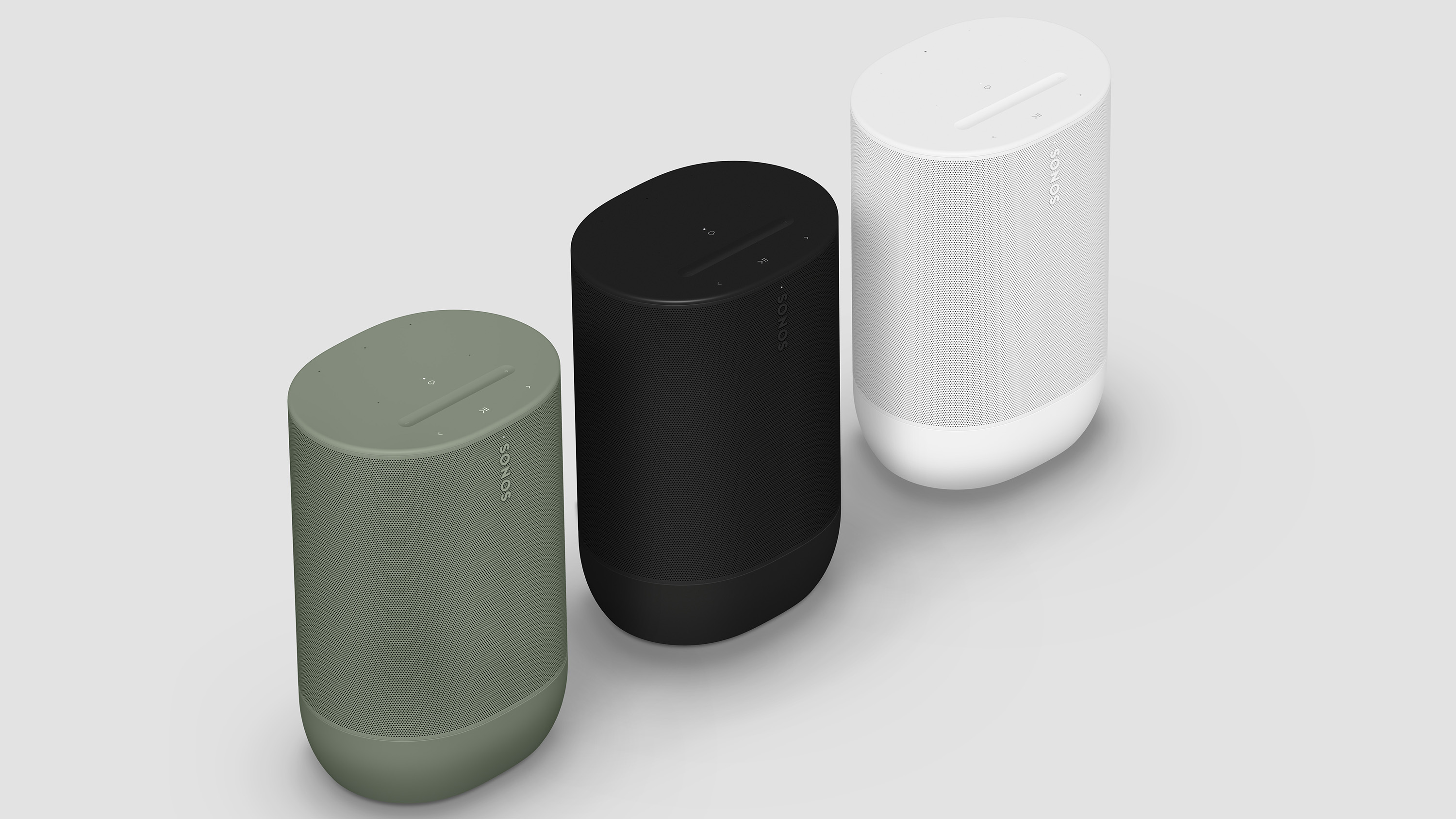 Sonos Move 2: Price & release date
The Sonos Move 2 will be available to buy on September 20, 2023, at a price of $449 / £449 / AU$799. That's a price increase over the current Sonos Move, which costs $399 / £399 / AU$699.
This isn't massively surprising, because the Sonos Era 100 was a notable price rise over the Sonos One that it effectively replaced – but it's a shame that there's no cost-saving to be found through tech developments compared to a four-year-old product.
It's right up at the top end of what a portable speaker costs, but is comparable to some of Bang & Olufsen's larger Bluetooth speakers. 
In terms of audio design, it appears to be comparable to the Sonos Era 100, which costs $249 / £249 / AU$399 – that's quite a premium to add a battery and waterproofing to things, but we'll have to see whether it has other advantages in our testing when we're able.
Sonos Move 2: Image gallery
Sonos Move 2: Features
The Sonos Move 2 has two really stand-out upgrades: the sound, and the battery life.
The battery life is going from a quoted 11 hours for the original, up to a quoted 24 hours for the new version. That's a huge change, and opens up new use cases for it – while you wouldn't want to carry it around while hiking, you might be tempted to put it in the car for a long weekend of camping.
With the sound, Sonos is moving to a system of one large central woofer driver, and two angled treble drivers – one facing left, one facing right. This is exactly the same concept as is used in the Sonos Era 100, and much like the Era 100, Sonos is saying that this provides "stereo" sound from a single speaker.
I've used the Sonos Era 100, and this claim is a little ambitious, shall we say, but it's true that it does add left and right some separation when you're facing it directly. But even skipping over the stereo claims, it's a good thing anyway, because it'll deliver a wider, more dispersed, and more powerful soundstage. As is Sonos' usual style, each of these speakers gets a Class D amp to power it.
The other big addition is a USB-C port on the back, which can be used to plug an audio source physically into the Sonos Move 2 (if you get Sonos' optional USB-C to 3.5mm adapter), or can be used to charge your phone from its hefty battery, which is a nice touch you find on the likes of the JBL Charge 5. But the Sonos has a lot more battery to spare than the JBL.
Naturally, it works as part of a Sonos multi-room system, as well as supporting Apple AirPlay 2 and Spotify Connect. As with the original Sonos Move, the Move 2 can play music from Bluetooth or Wi-Fi – but Sonos says it can now support both connections simultaneously, which the original couldn't. This enables you to play something over Bluetooth to the Move 2, and then broadcast it to all your other Sonos speakers.
Amazon Alexa and Sonos Voice Control are both support for smart speaker functions – no Google Assistant, as is usual with Sonos these days. Sonos' Automatic Trueplay tuning is again on board, listening to the speaker's output and tuning it based on your environment.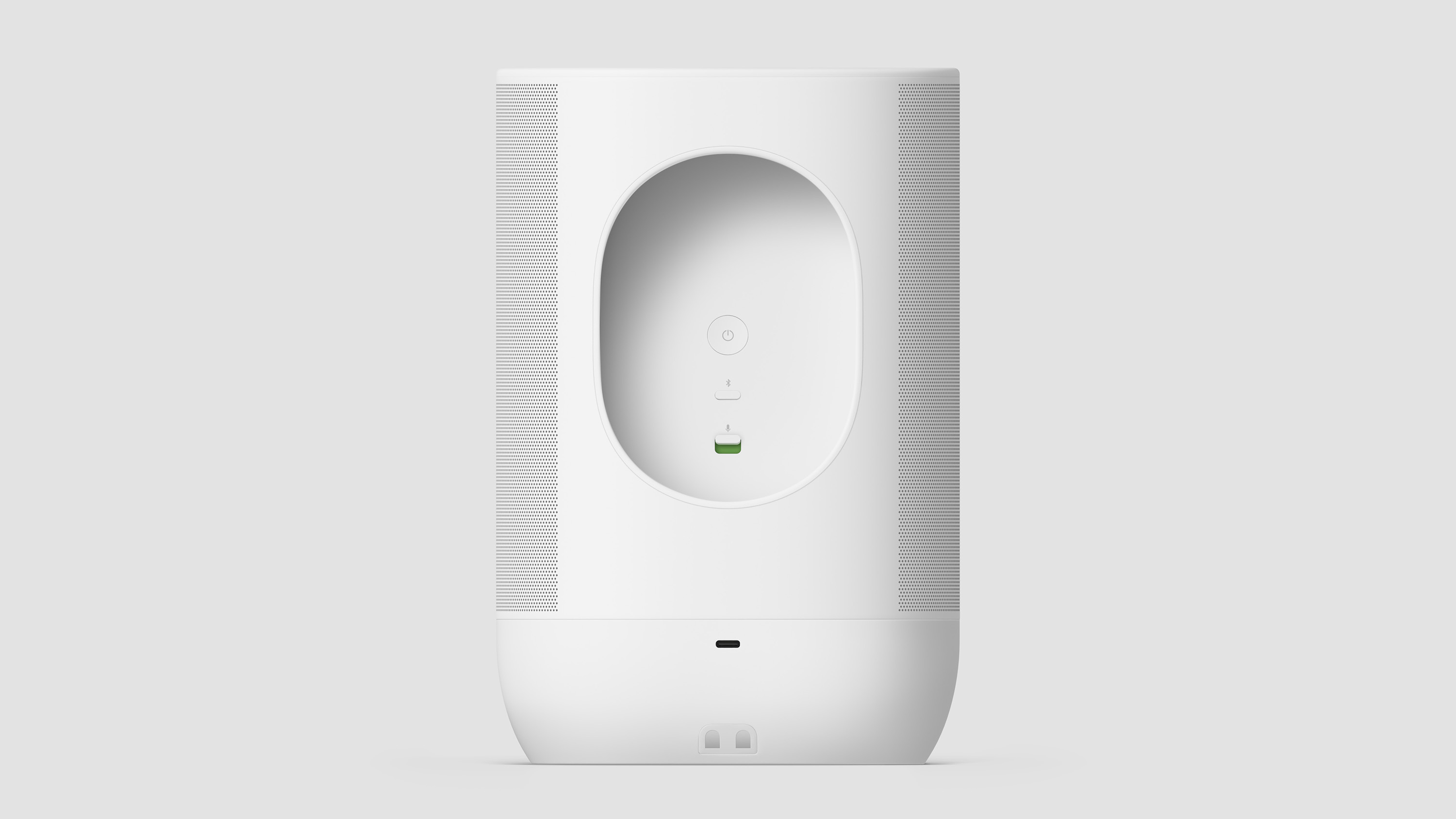 Sonos Move 2: Design
Sonos says that the Move 2 is made from "shock absorbent materials", which it'll have to be at 3kg because if it hits the ground, it's hitting the ground hard. 
An IP56 rating means it's protected against sand and water spray, and a small amount of full water immersion. Basically, it can be rained on, splashed, used on the beach, spilled on – but if you drop it in the deep end of the pool, no promises.
It comes in Black, White and Olive. The Black is notably darker than the previous Move's finish, but I suspect the Olive will be wildly popular.
There's a large curved recess on the back that works as a carry handle, just like the original. And it comes with a charging case that's also essentially identical to what the original comes with: a simple ring you slot it onto.
At 160 x 241 x 127mm / 6.3 x 9.5 x 5 inches, it's more or less exactly the same size as the original Sonos Move. It's not pocket-friendly, and it's not exactly backpack-friendly, even. But it's carryable from house to garden, or from car to park.
Sonos Move 2: Comparison
Swipe to scroll horizontally
| | | | |
| --- | --- | --- | --- |
| Row 0 – Cell 0 | Sonos Move 2 | Sonos Move | Sonos Era 100 |
| Price | $449 / £449 / AU$799 | $399 / £399 / AU$699 | $249 / £249 / AU$399 |
| Speaker setup | 1 mid-woofer, 2 angled tweeters | 1 mid-woofer, 1 tweeter | 1 mid-woofer, 2 angled tweeters |
| Connectivity | Wi-Fi, Bluetooth, USB-C | Wi-Fi, Bluetooth | Wi-Fi, Bluetooth, USB-C |
| Battery life | 24 hours | 11 hours | N/A |
| Water resistance | IP56 | IP56 | N/A |
| Dimensions | 160 x 241 x 127mm / 6.3 x 9.5 x 5 inches | 160 x 240 x 126mm / 6.3 x 9.4 x 5 inches | 120 x 183 x 131mm / 4.7 x 7.2 x 5.1 inches |
| Colors | Black, White, Olive | Shadow Black, Lunar White | Black, White |
You might also like
Source link