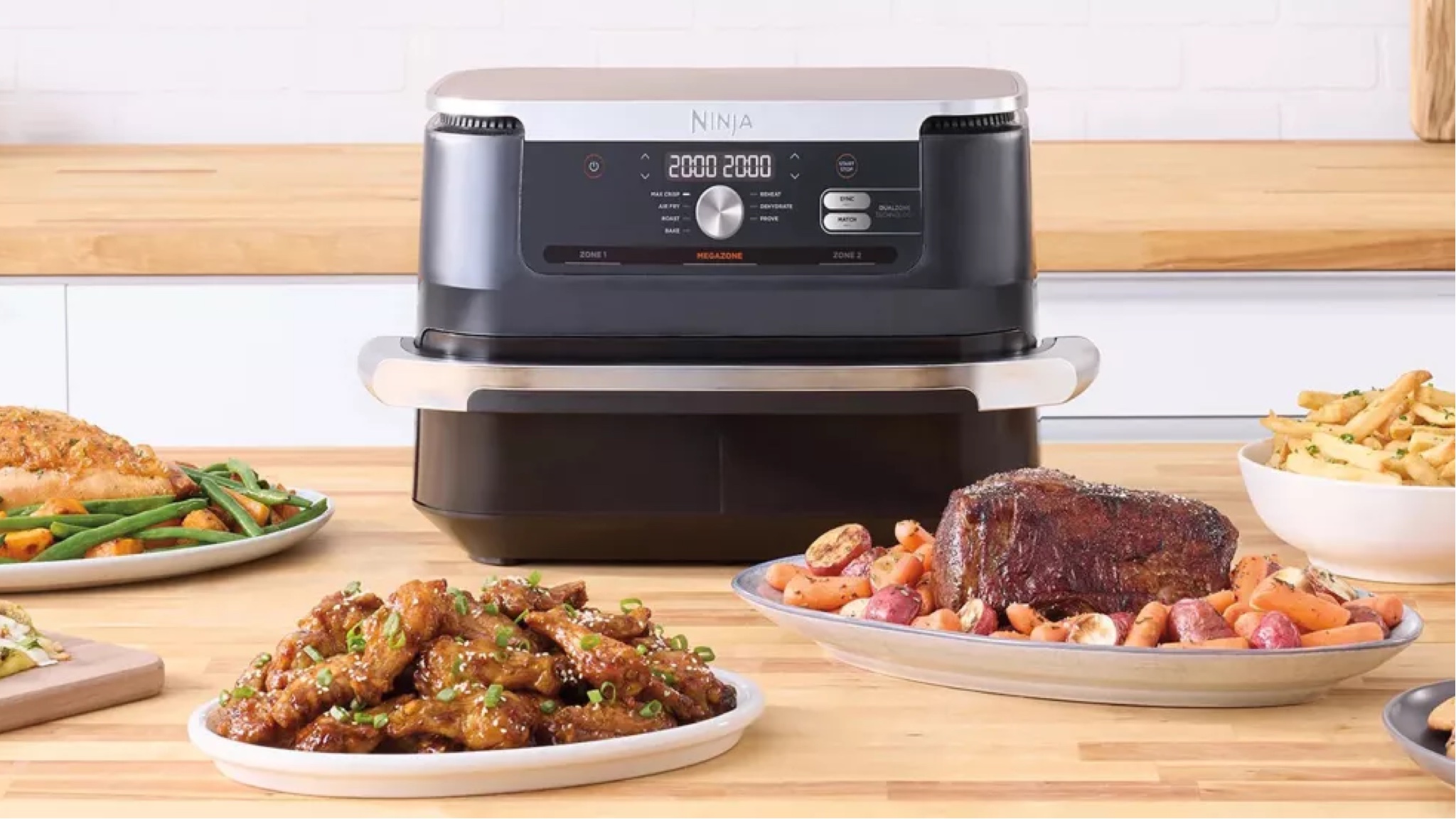 If you've got a big family, big appetites, or big ideas, you'll know that the best air fryers are the ones with plenty of capacity and ideally, multiple cooking zones. That's why we reckon that the Ninja Foodi Max Dual Zone Air Fryer is the best premium air fryer – but Ninja has just unveiled a new model that could be even better. 
The new fryer is called the Ninja Foodi FlexBasket (in the UK, it's the FlexDrawer), and it has an absolutely massive capacity: 10.4L compared to the 9.5 liters of the Foodi Max. Combine that with the dual cooking zones and Ninja's adjustable drawer divider and you've got one of the biggest and most flexible air fryers around.
Ninja Foodi FlexDrawer: price and key features
The 10.4-litre big drawer is the big draw here, and being able to divide it up to accommodate two different foods – for example, to keep your chicken separate from your veg – is an excellent feature. 
Unlike dual-drawer air fryers, having one large basket with two different cooking zones means you can use all of the space for one big cook by simply taking the divider out. According to Ninja, you can get a 2kg leg of lamb in there, plus all the veg for your Sunday roast.
The downside to that large capacity is of course the size of the fryer: at 49 x 31 x 32cm it's pretty big, and with a 9.3kg weight you're not going to want to move this in and out of cupboards. But if you have the countertop space for it, the Foodi FlexDrawer looks like a very flexible, capable, and useful appliance for bigger families and/or more complex cooking. And as appliances go it's not bad looking either, especially in the Black and Copper finish.
The closest rival to this fryer from other brands is the Instant Vortex Plus VersaZone, but while it has the same ability to cook in two zones or one big one, the overall capacity is smaller at 8.5 liters. However, it is a little cheaper: the Instant fryer is currently $199.95 / £199 while the new Ninja has a recommended retail price of $179.99 / £269.99. 
The Ninja Foodi FlexDrawer is available now from Amazon.
Source link