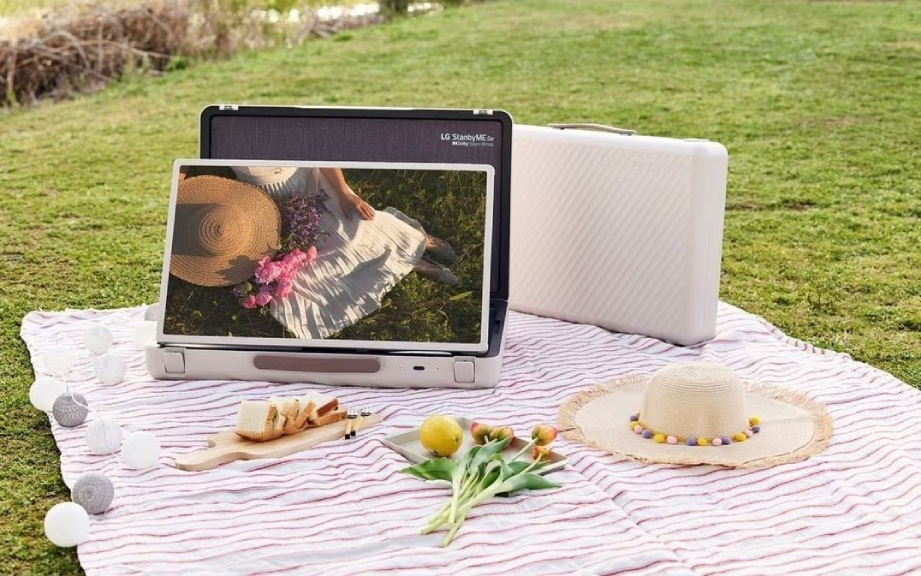 LG has announced that its StanbyMe Go TV, a smart TV housed in a suitcase, will be coming to the US later this month for $999.99. The most surprising thing about this TV, other than the suitcase its enclosed in, is just how many features it has.
When the StanbyMe Go was first revealed, its most eye-catching feature was that it was housed within a briefcase.The 27-inch LED touchscreen comes with a 1080p LCD display, built-in battery with up to three hours of charge and 20W speakers. But, reading further into the specs, there were some surprising 
LG says that the StanbyMe Go supports not just HDR 10 but also Dolby Vision, something quite often featured in the best TVs. It's a format that is sometimes not even supported on more premium TVs, let alone in this quirky suitcase LG TV – Dolby Vision is a much sought after HDR format by movie lovers and gamers alike.
Also, within this bizarre TV, its speakers do a form of virtual Dolby Atmos, something people often seek out in the best soundbars. The TV will also feature LG's webOS smart platform as well as Airplay 2, screen-mirroring, Wi-Fi and Bluetooth.  It's a very well specced, albeit small TV. 
So, is this LG suitcase TV the start of a future outside the living room or another novelty bit of tech that will fade in people's memories almost as quickly as it arrived?
Analysis: An intriguing novelty TV with a few shortcomings 
Although it is surprising just how well specced out the StanbyME Go is, there are two important things to note if you're considering buying one. The first is the price and the second is battery life. With the battery life clocking in at just three hours, the StanbyME Go would only just be able to play Oppenheimer. Actually, it's unlikely it would be able to do this, as the battery and runtime are exactly the same! That's extremely frustrating if you're trying to watch a long movie on vacation. 
The StanbyME Go is priced just under $1,000. In comparison, you can buy a very good laptop or tablet at that kind of a price that will give you longer battery life. Admittedly, the 27-inch screen is a nice size but just how many people will look to cart around something like on a trip with them?
It's not to say though that the StanbyME Go isn't a fun idea. The eye-catching suitcase design certainly makes this stand out in the tech market and although this  isn't going to be the next big thing in the world of TVs, it'll definitely get a few looks if you pop this out while at a campsite. Just don't expect to be having any movie marathons on it anytime soon.
Source link