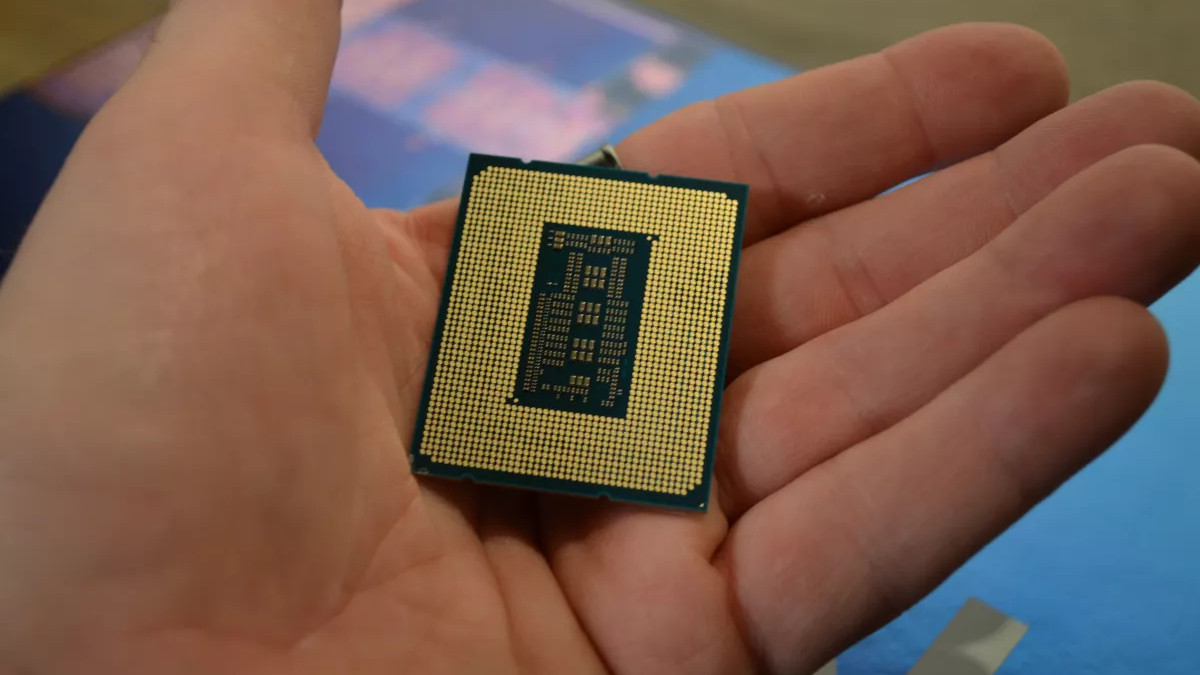 Intel is springing leaks as fast as a rapidly sinking ship, it would seem, as we've witnessed a trio of info dumps of one kind or another over the weekend from the rumor mill.
VideoCardz spotted all these leaks [1, 2, 3] and they pertain to the performance of future CPUs, as well as a piece of spillage on a processor we will (likely) never see (we'll come back to that one last). Although treat all these nuggets of speculation with plenty of caution, as ever.
First off, let's look at the leak for the incoming next-gen CPUs from Intel, known as Raptor Lake Refresh (set to debut in October). Apparently a Chinese tech reviewer has got hold of a sample of the Core i7-14700K and put this processor through its paces – although note they refer to it as a '13700KS' in order to try and avoid their video from being taken down.
However, we know it must be the 14700K due to the core count of 20 (whereas the 13700K ran with 16-cores, its successor adds four efficiency cores, as heavily rumored elsewhere). Also, this leak underlines that the boost speed of the 14700K should be 200MHz faster than its predecessor (5.5GHz, rather than 5.3GHz).
As for the testing itself, the Core i7-14700K is shown as just over 4% faster than the 13700K in single-core tests with CPU-Z, and 14.3% to 20.7% in multi-threaded workloads in Cinebench R23 (a very nice gain there).
Gaming benchmarks (including Counter-Strike: GO) show a modest uptick in performance for the 14700K, but nothing too much (especially with some games – though this will doubtless be pretty variable anyway).
Onto leak number two, which is a glimpse of Arrow Lake desktop CPUs, which we're told – by Golden Pig Upgrade on Bilibili (as flagged up by HXL on X, formerly known as Twitter) – will have considerably more L2 cache for the performance cores.
ARL-S Big Core L2 3MB (per Core)https://t.co/31XsVl4x8ZAugust 12, 2023
See more
Arrow Lake is the following generation after Raptor Lake Refresh, and these desktop processors will have 3MB of cache on each performance core, which is up from 2MB with Raptor Lake, a 50% boost.
Finally, leak number three is a pic of a Meteor Lake-S desktop CPU, chips which have supposedly now been canceled, but were previously planned by Intel to come alongside Raptor Lake Refresh (in limited form).
This is evidence – presented by Wxnod on X (formerly known as Twitter), and again, grab the saltshaker – that Intel really was planning Meteor Lake mid-range, or lower-end, desktop models. To the point that Team Blue made some engineering samples, and these are now floating around on the black market, we're told.
The pictured chip appears to be one with six performance cores and eight efficiency cores, and that 6+8 configuration was previously rumored and used in performance predictions by YouTube leaker Moore's Law is Dead in one case we can recall. That was supposed to be the highest-end (Core i5) model, as per the grapevine.
---
Analysis: Exciting times ahead
On the subject of the purported Core i7-14700K, what we don't know is whether the Chinese reviewer got hold of an earlier engineering sample, or whether this is a final version of the chip. Presumably the latter – but we can't be sure, and so the performance could be slightly better than indicated here if it's an earlier sample. (Naturally, we still need to take a whole load of seasoning with this, and all the leaks, in terms of their possible authenticity, anyway).
What's also really interesting with the purported 14700K testing is that the reviewer disabled the extra efficiency cores, then clocked it down to the same level as the 13700K (5.3GHz as mentioned), and found pretty much identical performance levels with the two chips.
In other words, the extra cores and clock speed bump accounts entirely for the performance gains with the 14700K (suggesting that fundamentally, Raptor Lake and Raptor Lake Refresh are identical, performance-wise – more or less).
The Arrow Lake leak is an exciting one, as this is a big jump in cache which should help usher in chunky performance improvements, and backs up, in part, what we've been hearing about Intel's 15th-gen processors due later in 2024. Namely that they'll be a huge stride forward for performance – these should be prime candidates to get onto our list of the best processors, if the rumor mill is to be believed.