We're probably very close to the launch of Android 14, because what's likely to be the final beta version of the software has now rolled out.
Android 14 Beta 5 as it's called, is the last listed update on Google's Android 14 development roadmap – which you can see below – before the finished release, so we'd assume there won't be any other betas. That said, we can't be sure.
For one thing, the previous beta was also listed as the last one on the roadmap, but Google has adjusted its roadmap to include this one, so it's not impossible that another beta could emerge, especially as there's no month yet attached to the 'final release' on the roadmap.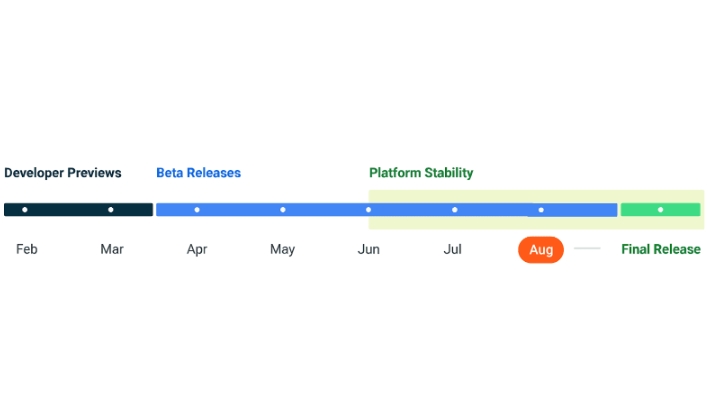 This wouldn't be the first time Google adjusted its roadmap for an Android launch, with the same happening with Android 12 – which ultimately had five betas. Android 13 meanwhile stuck with just four.
We'd think it's unlikely then that there would be as many as six betas for Android 14, especially as this latest beta is basically just bug fixes. So there's nothing really of note here, with 'platform stability' (and with it all the expected features) having been reached with Beta 3.
The release notes for Android 14 Beta 5 list a large number of fixes, such as a fix for an issue where Wi-Fi scanning was using too much battery, a fix for an issue with switching call audio sources, and many more.
Nothing new and not long to wait
So if you're currently running an Android 14 beta then this latest release is worth downloading, especially if you're experiencing issues. For everyone else though, there's nothing here to really make it more tempting than previous betas. If you are interested though, we've got a guide covering how to download the Android 14 beta.
That said, this beta is only available for Pixel devices, including all Pixel phones from the Pixel 4a 5G onwards, and the Pixel Tablet.
Given the timing of this beta we'd imagine the finished version of Android 14 will land in September, so there probably won't be long to wait, although that's just an educated guess for now.
Source link