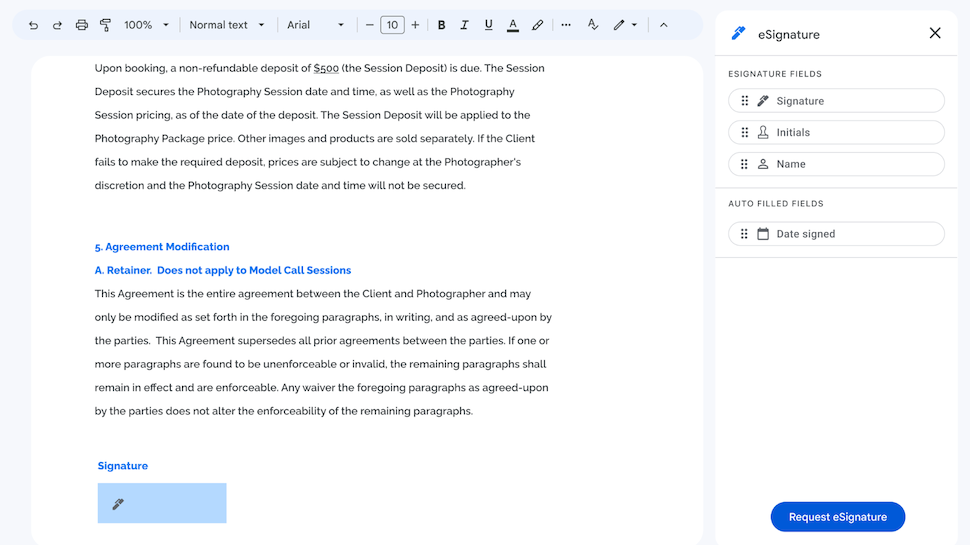 Google is now letting select Workspace customers try out its up-and-coming eSignature tool for Docs and Drive as the office software provider looks to take on the likes of DocuSign.
With the tool, customers will be able to set up signature fields directly in Google Docs to complete and request digital signatures for important documents such as contracts.
The company says Google Workspace users will even be able to request signatures from non-Google users, giving the feature more impetus as it seeks to eliminate the need for other eSign software.
At least in its early days, Google appears to be targeting SMBs rather than larger enterprises, possibly because the eSignature tool may be lacking some more premium features that could arrive at a later date.
"For solopreneurs and small businesses, keeping track of contracts, customer agreements, and other binding documents can be challenging," the company said in an announcement. "To help streamline this workflow, we're natively integrating eSignature in Google Docs, allowing you to request and add Signatures to official contracts, directly in Google Docs."
Support for non-Google users, more than one signature, and signatures on PDFs stored in Drive are all set to arrive "later this year," as is an audit trail feature to help users keep track of outstanding signatures.
Google Workspace Individual subscribers are eligible to use the open beta now, though it may take until later in August for some accounts to have had the changes made.
Google says that Workspace Business Standard/Plus, Enterprise Starter/Standard/Plus/Essentials/Essentials Plus, Education Plus, and Nonprofits customers may begin applying to access the beta "over the next several weeks."
Source link