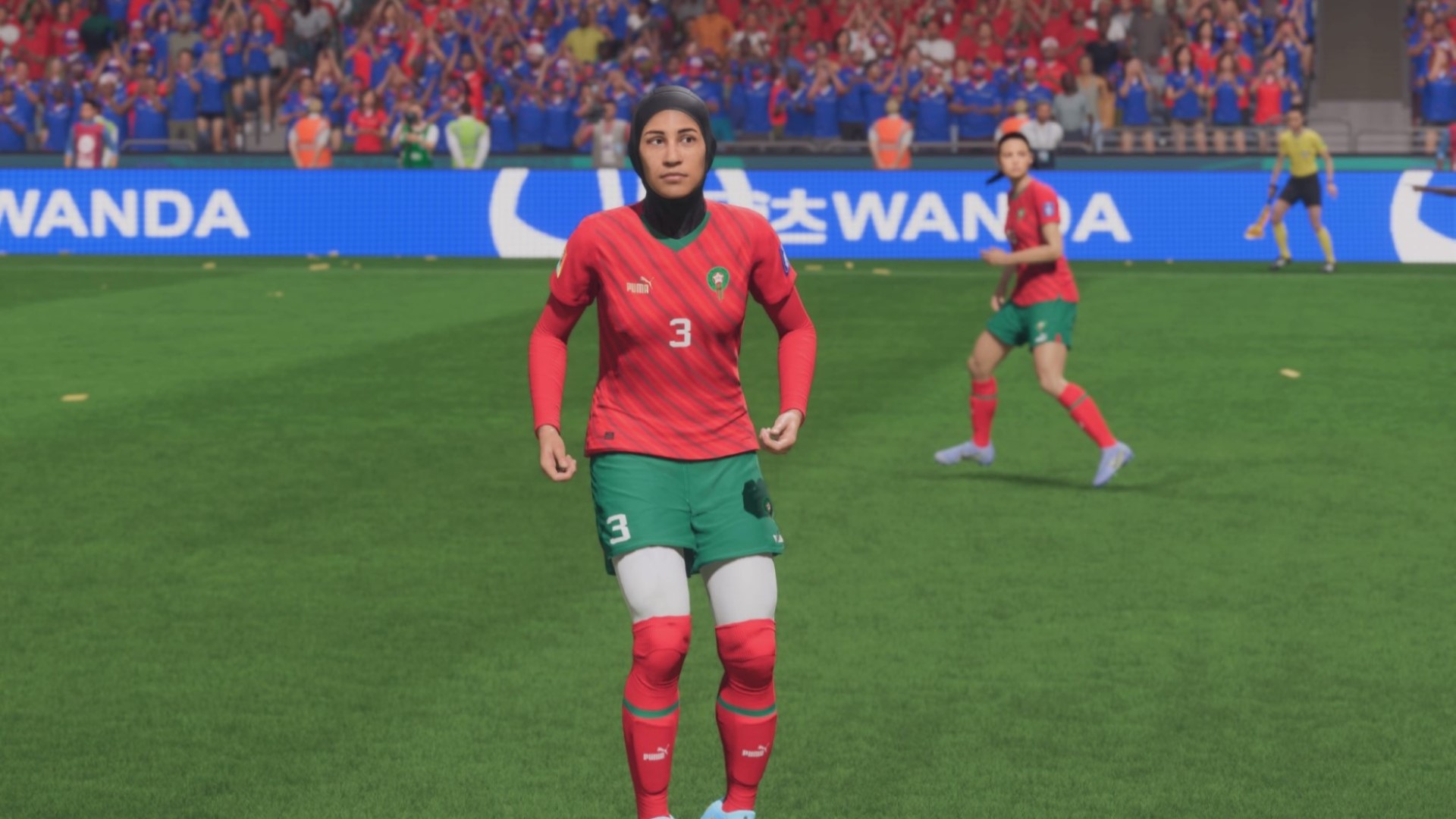 FIFA 2023 has added its first-ever Hijab-wearing athlete as part of the ongoing 2023 FIFA Women's World Cup.
Nouhaïla Benzina is the first footballer in the game series' history to wear a Muslim head covering. In a recent patch, Benzina's digital appearance in FIFA 2023 was updated to reflect her real-life counterpart. EA announced it had "updated Nouhaïla Benzina's player model to include her head covering" (via VGC).
The wearing of Hijabs during FIFA-officiated football matches has been a relatively late development. Until March 2014, the practice was outright banned by FIFA on the grounds that it could cause injuries. 
This changed in 2014, when FIFA lifted its ban on head coverings, allowing players to wear hijabs. The ruling also allowed male players to wear turbans, following a request from the Sikh community in Canada. 
Muslim fans across the sport have been celebrating the change, including sports Journalist Mariam Kourabi, who posted about the update on her Twitter account.
On Wednesday, EA Sports announced the addition of Nouhaila Benzina on FIFA 23 as she was previously not in the World Cup mode 🇲🇦Her impact on the big stage has already reached the biggest simulation game in the sport. Yeah, I did play with Morocco, of course she scored 🤩 pic.twitter.com/2wRDHhV5ymAugust 8, 2023
See more
Female athletes were first included in EA's FIFA series back in FIFA 16, but it wasn't until FIFA 23 that EA would go on to add women's club teams, including the English Barclays Women's Super League and the D1 Arkema from France. 
EA Sports FC 24 is slated to add women to the series' Ultimate Team mode, which will not only allow players to build their own dream teams, including mixed-gender squads. 
Discrimination remains a serious problem for women who work in football, and though this step forward for diversity, gender inequality remains a serious problem in the sport. Hopefully, however, the inclusion of Hijabs will not only pave the way for greater representation of women and religious minorities both in games and in the sport as a whole.   
It's also possible that EA Sports FC's break with FIFA, a controversial organization dogged by alleged diversity problems and corruption scandals, will allow the series to take greater ownership of diversity going forward. 
EA Sports FC 24 is one of the most keenly anticipated upcoming games. If you're looking for something to play in the meantime, though, check out our lists of the best PS5 games and the best Xbox Series X games.