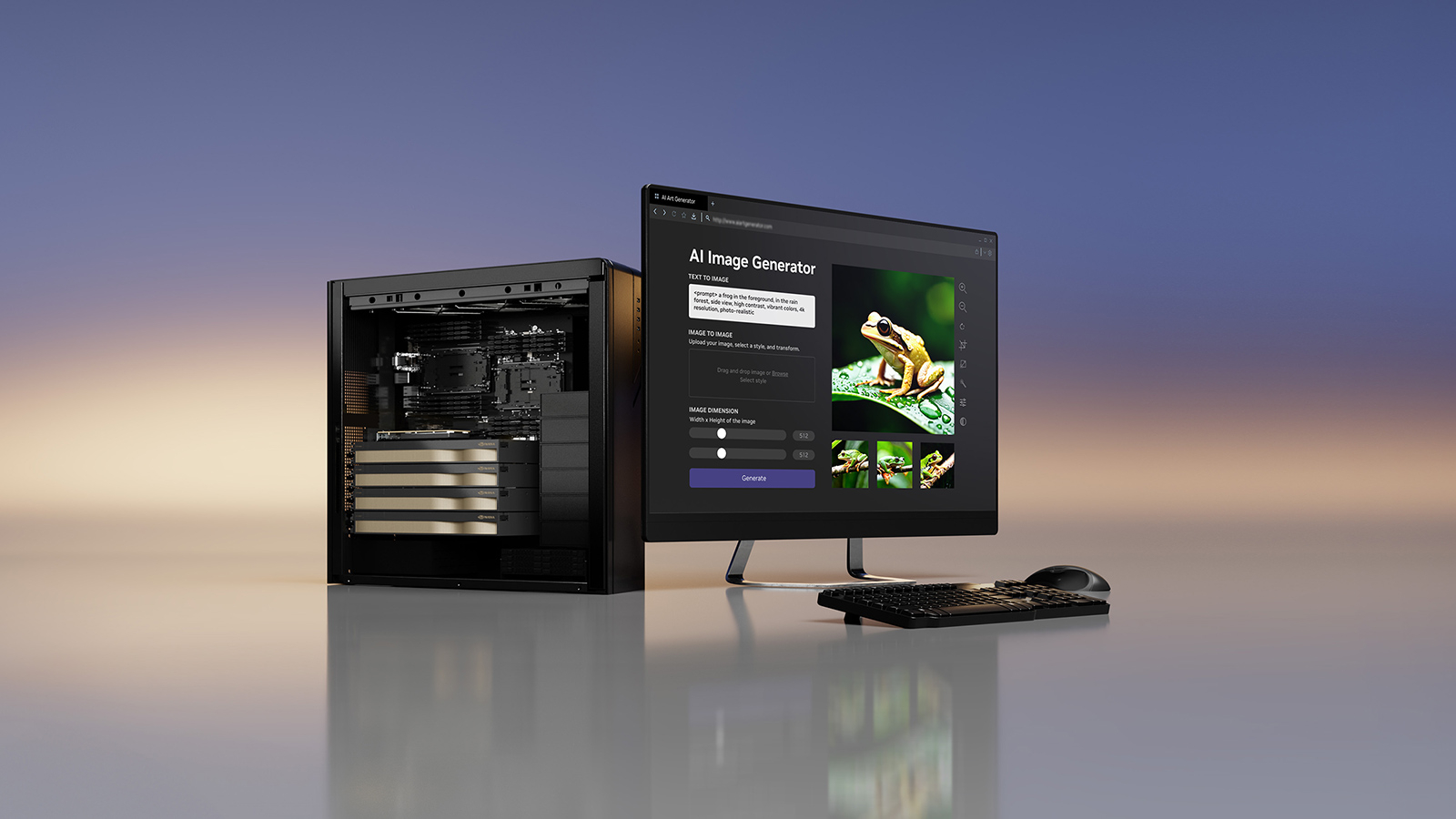 Nvidia has announced it is partnering with a number of household brand names (HP, Lenovo and Dell and boutique vendors (BOXX and probably) to deliver a new family of workstations –  called RTX workstation PCs – that can handle up to four RTX 6000 Ada GPUs; expect them to be available later this year in the fall.
Now Nvidia-powered workstations are nothing new and the Nvidia RTX 6000 Ada generation is already seven months old (at the time of writing). Worth mentioning that these new workstations are likely to run exclusively on Intel Xeon processors. The corresponding landing page for the existing RTX workstations specifically extol the virtues of the Xeon W processor and there's not a glimpse of AMD's fabulous EPYC/ThreadRipper processors anywhere.
That said, we don't know how the new workstations will differ from the existing ones; for example, you can buy – right now – a BOXX APEXX W4 workstation with a Xeon processor and four NVIDIA RTX 6000 48GB Ada generation graphic cards – and that has been the case for a while. I've reached out to Nvidia to find out more and will update the article.
The new workstations will be offered with Nvidia's AI enterprise or Omniverse tools (which seems to be the only difference) and the ability to run the new GPUs that were announced yesterday at the professional graphics conference as well.
The RTX4000 (available in September 2023) and RTX5000 (available now – not to be confused with the old Quadro RTX 5000 or the generic RTX 5000 range) will replace their corresponding predecessors (A4000, A5000) while the RTX4500 is a brand new "Ada Lovelace" part (available in October 2023).
It seems that – at least when it comes to workstation/enterprise – Nvidia has a tacit partnership with Intel. The open workstation imagery used in the press release clearly shows two Intel Xeon sockets (FCLGA4677). 
Perhaps that's because AMD is turning to be a more potent rival as it can (and will) bundle its x86 CPUs (ThreadRipper or EPYC) with its Radeon Pro graphics cards. The W7800 and W7900 were released just a few months ago with the mainstream Radeon Pro W7500 and W7600 last week, allowing AMD to deliver a single platform.
And just to confirm, while the mainstream vendors (HP, Dell and Lenovo) are coy about pairing AMD's very best CPUs with Nvidia's top of the range workstation graphics card, boutique vendors like Puget Systems or Velocity Micro do not have such qualms. You can happily get team a dual-socket, 256-core/512-thread AMD EPYC with four RTX 6000 Ada should you choose to do so.
Source link