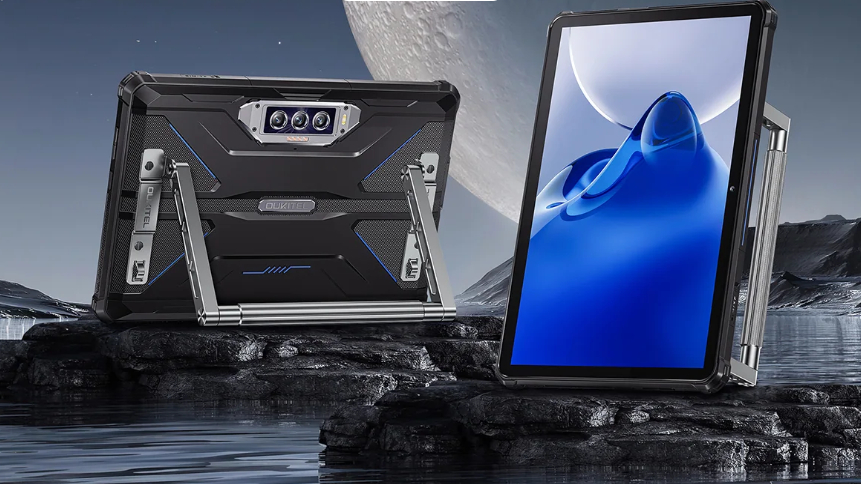 The Oukitel RT7 "Titan" rugged tablet earns its nickname because it is an Android slate behemoth on more than one count. Forget its wallet-busting price (just under $1,000 from Chinese retailer, Aliexpress), its main claim to fame is the fact that it packs a massive 32,000mAh battery, one of the biggest models on any tablets. 
In comparison, the Samsung Galaxy Tab S9 Ultra, probably one of the best Android tablets around, packs only a 11,200mAh battery. In other words, the battery on Oukitel's slate champion is almost three times bigger. Oukitel claims that the tablet can stay on standby for 2720 hours or just over 113 days and you will be able to use it to charge another device.
Such a massive battery explains why it is so thick (just a hair under 20mm) and heavy (probably more than 1Kg). It is certified MIL-STD-810H as well as IP68 and IP69K which means that it can withstand a fair amount of abuse including being submerged in four feet of water for 120 minutes, being dropped from a 1m height and temperature tested for working at up to 55 degrees centigrade.
The rest of the specification of this tablet makes it a great match for field operators (think oil rig technicians) or outdoor professionals. It runs on Android 13, has a 33W charger, is 5G-capable thanks to the reasonably-capable mainstream Mediatek Dimensity 720 processor (there's two SIM card slots as well). The latter is paired with 12GB of DDR RAM (which can be dynamically increased to 24GB) and 256GB onboard storage – that's more than most business laptops.
Its display is relatively small though (10.1-inch) with a 1920 x 1200 pixel resolution (plus a 400 nit brightness which should be enough for outside viewing), and connectivity wise, it is restricted to Bluetooth 5.1 and Wi-Fi 5. Note that it has three cameras at the rear (48mp, 20mp for night vision and 2mp macro) with a 32mp front facing sensor which adds to its versatility.
The tablet will go on sale later this month and we've called in a sample for review with a view to add it to our best rugged tablet buying guide. Note that there's also a detachable handle that doubles as a stand as well as a shoulder strap and a hand strap.
Source link