The Oculus Quest 3, now officially known as Meta Quest 3, has been officially announced, and we won't have to wait much longer to get our hands on the highly-anticipated VR headset. There's been much speculation surrounding the Quest 3, but now we'll have much less guesswork and rumors involved thanks to official details from Meta itself.
Meta's more budget-friendly Quest 3 headset, separate from the pricier, premium Meta Quest Pro, looks like it will be more expensive than the Oculus Quest 2. However, that is to be expected for a new 2023 headset, and Meta has since lowered the price for its current-generation VR headset to help budding enthusiasts get in at the ground floor.
Speculation around the Quest 3 has been circulating for a number of years now, with CEO Mark Zuckerberg telling investors that Meta has been working on "new hardware [that] will fit the same platform [as the Quest 2]" a couple of years prior. As is to be expected, the new headset bears the Meta branding, but is still very much recognizable as an Oculus device.
There's plenty of new and official information on the Quest 3 now, and it's certainly shaping up to be a contender when it comes to topping our list of the best VR headsets you can buy. Hopefully that will become a reality when the Meta Quest 3 launches later this year. For now, read on to learn everything we know about the upcoming headset.
Oculus Quest 3: cut to the chase
What is it? Meta's next VR headset that will succeed the Quest 2.
When can I buy it? "Fall" 2023, so expect a September – December launch window.
What can it play? Quest 3 will be compatible with the existing Quest 2 library of VR titles. If you're upgrading, all your existing games will carry over.
Oculus Quest 3 price
So far, Meta has only confirmed the price of the Quest 3's 128GB model, which will retail for $499 / £499. The official announcement page also makes mention of "an additional storage option for those who want some extra space."
We're not sure exactly as to how much extra storage will be provided by this upgraded model, but it's very likely to be a total of 256GB there. No price for this model has been announced either, but expect something in the region of $599 / £599 or potentially up to $699 / £699.
Oculus Quest 3 release date
The Quest 3 has been confirmed to launch in "Fall 2023," which means, barring any delays, we should see it launch somewhere between the months of September and December 2023. Meta's official page for the Quest 3 states that further details will be revealed at the Meta Connect event happening on September 27.
During the event, it's possible we'll see a more concrete release date for the Quest 3 headset, as well as pricing options for additional models and a range of new software coming to the device in the near future.
Oculus Quest 3 specs and features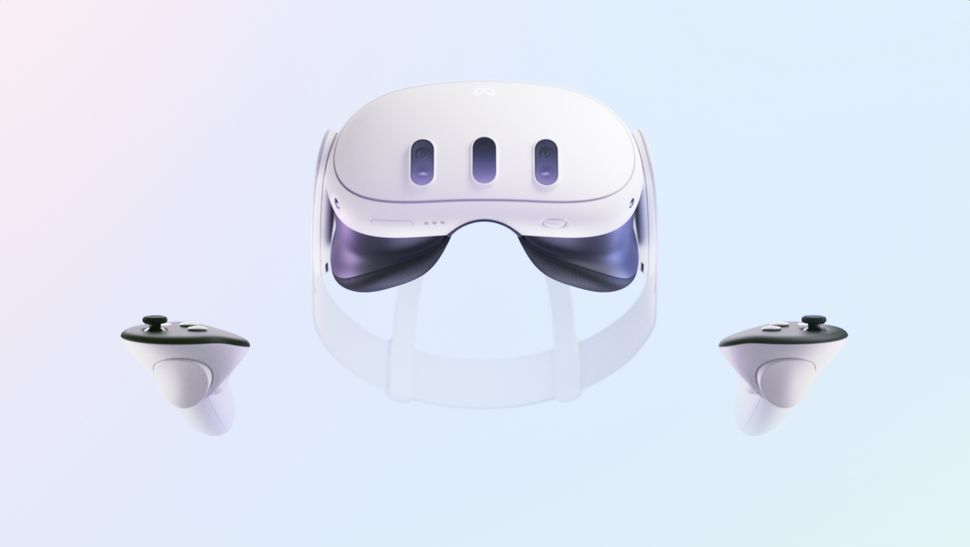 We now have official information, straight from Meta's mouth, about the specs and features we can expect for Meta Quest 3. It was always a safe bet that the headset would continue to be a standalone device, and that's certainly remained true. You won't need a PC or external device to play the best VR games out there.
The most immediate improvement for Quest 3 is a high-fidelity color passthrough feature, which should allow you to view your immediate surroundings via a high quality camera. Not only will this help you plan out your playing space, but should also aid augmented and mixed reality experiences become even more immersive.
Quest 3 has also been confirmed to sport a 40% slimmer optic profile over the last-gen Quest 2. That'll reduce the weight of the device and should allow for comfier play sessions overall. Similarly, its Touch Plus controllers have been reworked with a more ergonomic design. Other improvements in this area include enhanced hand tracking and controller haptic feedback, similar to the DualSense wireless controller for PS5.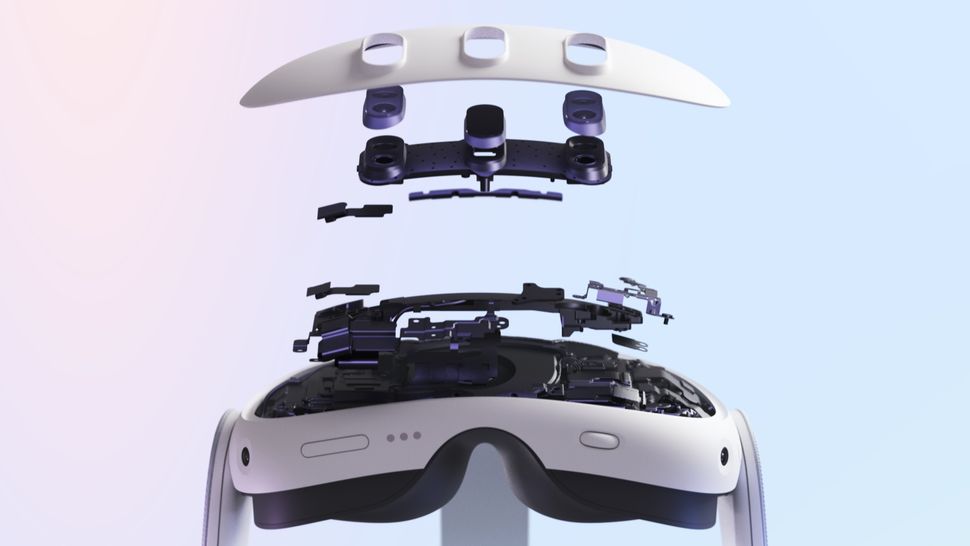 It's been speculated that the Quest 3 will adopt uOLED displays (an upgraded version of OLED). Though, we've also seen conflicting reports that instead hint at OLED displays, and mini LED displays. What analysts seem to agree on is some kind of visual enhancement will come to the Quest 3 – so expect improved display quality and higher resolutions.
So far, Meta's own details remain vague on this front. We know that Quest 3 will feature a higher resolution display than Quest 2, paired with pancake lenses for greater image clarity and an overall reduction in device weight. These lenses should also improve the display of motion, hopefully reducing motion sickness and the dreaded image ghosting effect that plagues many a VR headset, even the PSVR 2.
Lastly, Meta has confirmed that the Quest 3 will be powered by the latest Snapdragon chipset from Qualcomm. In Meta's own words, the new chipset "delivers more than twice the graphical performance as the previous generation Snapdragon GPU in Quest 2." We should expect a pretty significant leap in visual quality, then.
Oculus Quest 3: what we'd like to see
In our Oculus Quest 2 review, it was hard to find fault with a VR headset that proved immersive, comfortable and easy to use. And yet, while it clearly leads the pack in the VR market, it still falls foul of some of the pitfalls that the technology as a whole suffers from. Here's a list of updates we want to see on the Oculus Quest 3:
Improved motion sickness prevention
One of those technological pitfalls, and perhaps an unavoidable one, is the motion sickness that can often ensue when using any VR headset. Depending on your tolerance for whirring and blurring, the Quest 2 can be one helluva dizziness-inducer. While there isn't yet a clear path to making any VR headset immune to user dizziness, it's nonetheless something we'd like to see improved on the Oculus Quest 3.
A better fit
The same goes for the fit of the device. While the Quest 2 is indeed a comfortable weight when on the head, it can still be a little claustrophobic to achieve a good, tight fit. Again, it's a problem encountered by almost all VR headsets, and a base-level issue that the next generation of hardware should at least attempt to better address. Those aforementioned design rumors suggest the new Oculus device could solve some of these issues.
Improved Oculus Store
Other improvements we'd like to see include a more effective in-VR Oculus Store. While the equivalent store on browser and in the app makes it easy to discover new releases and search for upcoming games, the store inside the headset itself seems to roll the dice on what apps are shown with no way to quickly navigate to new content. This makes it difficult to pre-order games and discover new titles to purchase when using the device, which is a pivotal part of ensuring the headset maintains replayability.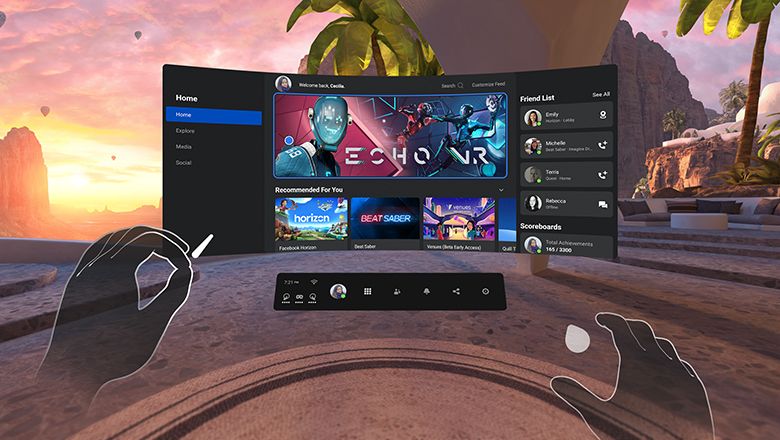 A neighborhood-like social space 
While the Quest 2 has a competent party invitation system to get you game-to-game with your friends, there isn't a social space to engage with others in-between. It would be interesting to see the Quest 3 introduce a virtual social space, in the same vein as NBA 2K's neighborhood area, to share some downtime with others. What's with the multi-person furniture in the current home environment if there's nobody to share it with? Luckily, Meta's new metaverse project – ambitious as it seems – suggests virtual social spaces will be at the forefront of all future Quest headsets.
Improved media sharing
Sharing screenshots and videos on Oculus devices has never been easy, and it's an issue that the Quest 2 has tried to address with a few video updates.  The process could still be more streamlined, so we'd like to see the Oculus 3 make the whole deal more accessible.1080p video, app integration, proper audio syncing – that'd all be golden.
Source link