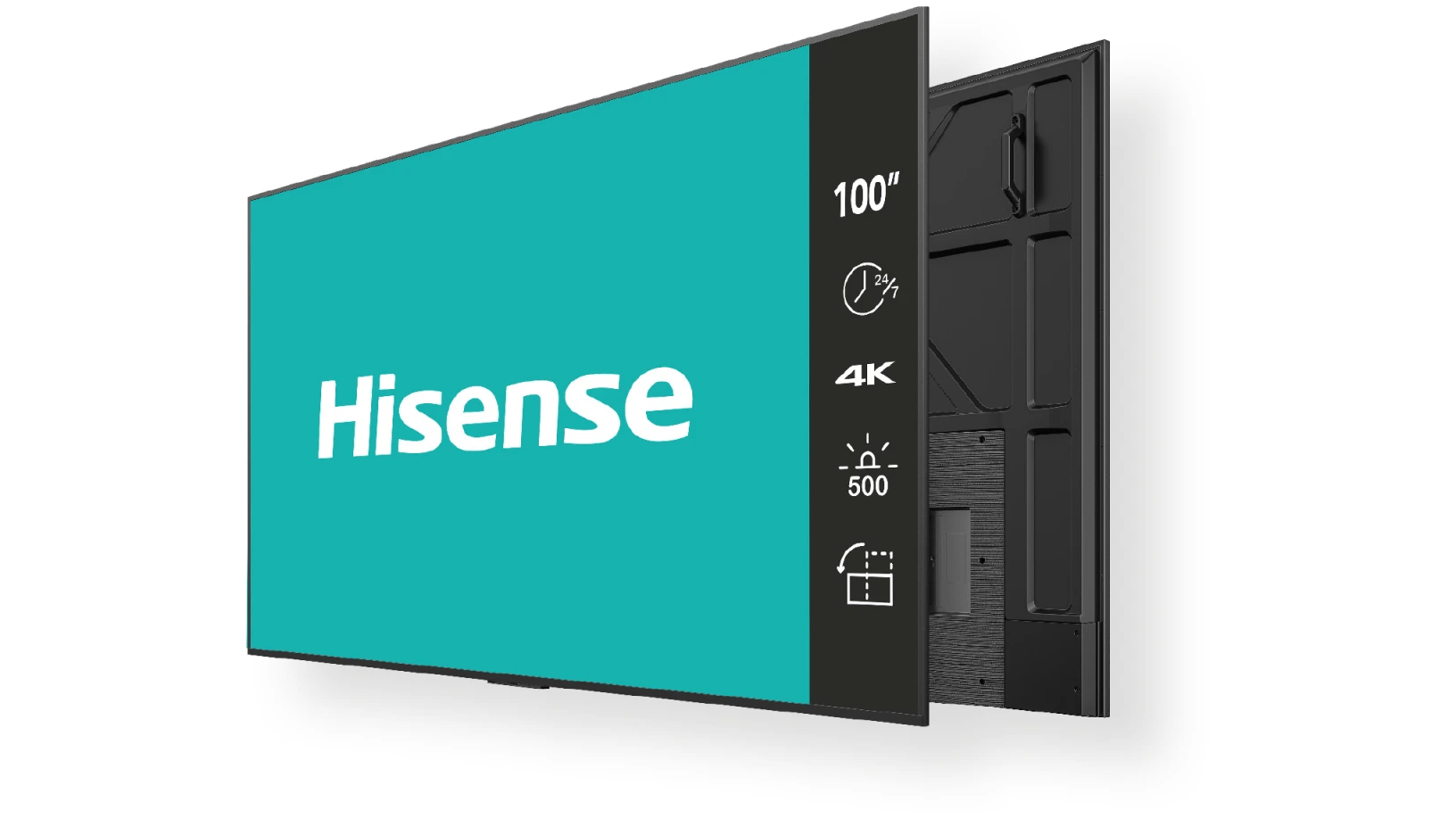 A few weeks ago, Hisense unveiled the BM66D, a 100-inch digital signage display with a 4K resolution. While it is not one of the largest in its category, it is almost certainly the most affordable with at least two US-based retailers (B&H Photo Video and LEDSolutionsNY) offering it for as little as $5,460 with free delivery. The display is also available in Europe, in the UK and in Asia.
Just bear in mind that, although it can be used as a TV, it is first and foremost a commercial monitor and comes with the sort of features you'd expect to find in a large format display, designed for, what Hisense marcom department calls "impactful communication in bright, high-demand environments, such as public transport, high-volume retail, and corporate welcome and meeting spaces".
Other than the notable lack of Hisense logo, the BM66D, which has a VA Direct-LED LCD panel, is engineered to run 24 hours a day, seven days a week with a 50,000 hour expected lifetime (that's also its rated warranty). It is more solidly built than its consumer counterpart with handles to allow easier handling (it does weigh a whopping 130 pounds) and what looks like a metal chassis.
Other features include a brightness rating of 500 nits and a 120Hz refresh rate. Remember that this is not a TV that looks to wow the audience with a performance that matches the best TV on the market, so the typical contrast, the presence of an anti-glare coating and the response time reflect this.
For the teams managing the content displayed on the digital display panel, there's an RS232 port and an Android-based mini computer with 2GB RAM and 16GB onboard storage coupled with Hisense's own content management system (CMS), VisionInfo. This is a free cloud-based digital signage software that, Hisense says, is flexible, cost-effective and infinitely scalable.
As expected, there's a VESA mount (but no stand), plenty of inputs (two HDMI 2.0, two USB 2.0 and a LAN port) with Wi-Fi 5 wireless connectivity enabling wireless screen sharing. It is also the biggest display we know of that comes with a DisplayPort 1.2a. 
Hisense engineers also threw in an HDMI 2.0 Out port which means you can connect a secondary display, perhaps another BM66D, to display content from the onboard computer from the first display.
Source link