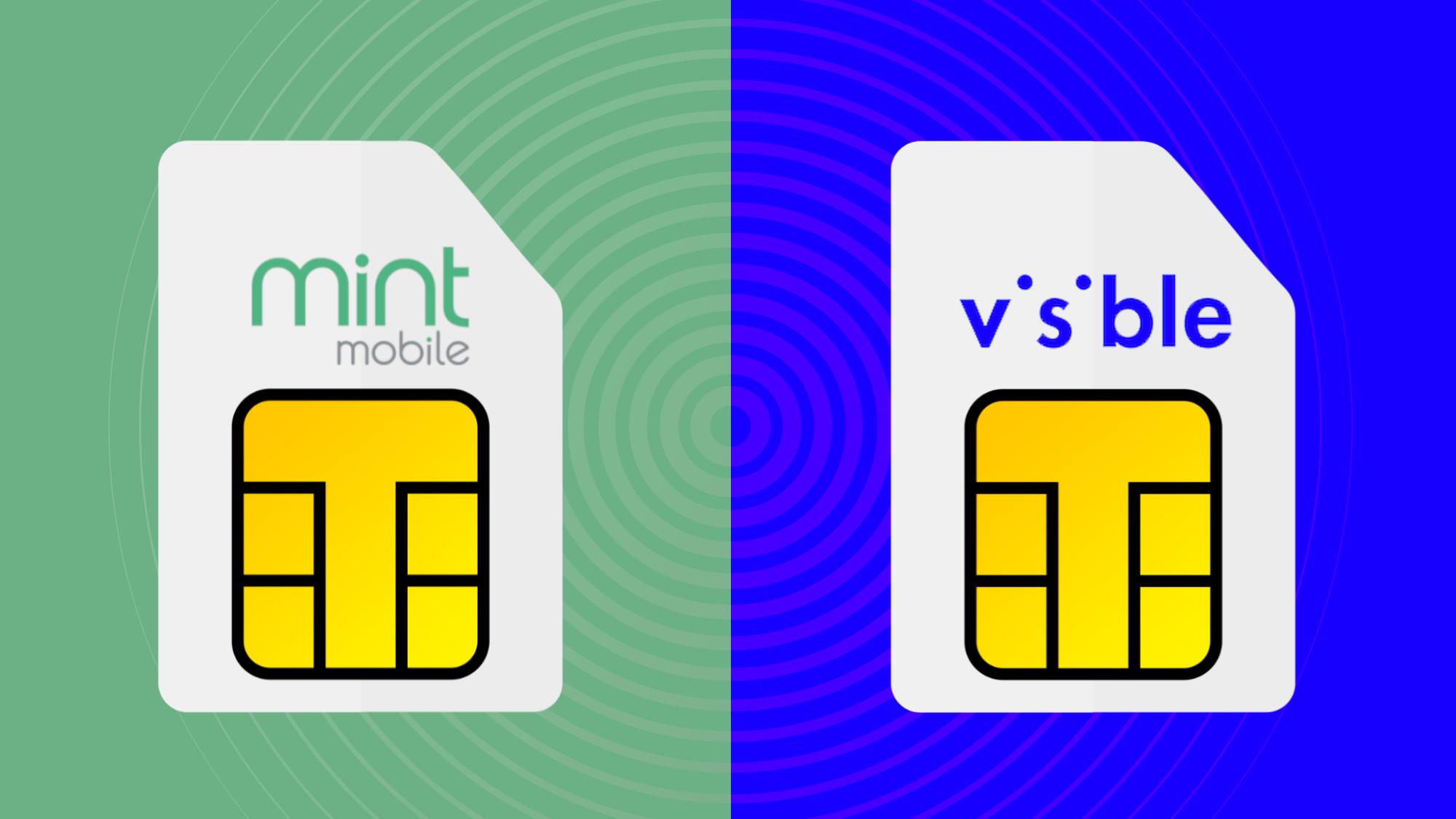 When it comes to cheap, great value prepaid phone plans two companies really stand out right now – Mint Mobile and Visible Wireless. These two low-cost cellular carriers often battle it out in our guide to the best prepaid phone plans each month and they're both incredibly popular picks currently for data-hungry users on a budget.
Head to head, both of these excellent prepaid carriers offer incredible value versus the usual big-name carriers. However, one glance at each service's current plans and you'll see they are in fact quite different in how their plan pricing works and what each one offers. If you're on the fence between Mint and Visible then this is the right page for you – we're putting these two carriers head-to-head right here, factoring in value, speed, and perks. We've also just updated this page to reflect the various changes at each carrier for 2023, which has arguably made each an even stronger proposition in an increasingly competitive prepaid market.
Two excellent value prepaid plans
Coverage and pricing
It's worth noting that while both Mint Mobile and Visible market themselves as 'cheap' prepaid carriers, they operate on entirely different networks and business models. 
Key facts
Network
Mint: T-Mobile
Visible: Verizon
Prices
Mint: $15 to $40/mo
Visible: $30 to $45/mo
Mint Mobile, for example, operates on the T-Mobile network (check your coverage), and has a payment scheme that sees you paying upfront for upwards of a year of service at a time. Visible, on the other hand, operates on the Verizon network (check your coverage) with a more traditional 'pay one month at a time' model. 
Why does this matter? Well, not all phones are compatible with both networks and you'll also be billed in dramatically different ways. If you prefer to pay once and forget about it then Mint Mobile is going to be the winner for you. On the other hand, if you prefer to avoid those big upfront charges and instead want to break it down into smaller instalments, then Visible is likely to be your preferred carrier. There are Visible promo codes that could help you keep costs down too.
Speed and perks
Both Mint Mobile and Visible utilize speedy nationwide 5G networks. It's worth noting, however, that being prepaid carriers, both are subject to 'deprioritization' when the parent networks are subject to heavy traffic. This may not be a dealbreaker, depending on your location, but it's worth bearing in mind that you may not get consistently high speeds versus the big carrier plans.
Key facts
5G speed
Mint: no cap (unless deprioritized)
Visible: no cap

Mobile hotspot
Mint: 10GB (on unlimited plan)
Visible: unlimited (at 5Mbs)
Streaming
Mint: 480p video (on unlimited)
Visible: no cap
Both Mint Mobile and Visible are listed as 5G networks, although only the latter has access to its parent network's most 'premium' service, ensuring the best speeds possible.
In this case, Visible's pricier Plus plan offers access to Verizon's Ultra Wideband 5G service, which is currently the best possible cellular network from the carrier.
On paper, Visible's Plus plan should provide more reliable speeds and service than Mint's usual plans since the latter are subject to deprioritization. Things even out in this regard when you compare Mint's plans to the 'standard' Visible unlimited plan, which doesn't have any 'priority' access to Verizon's 5G networks. 
One thing we will state in regard to Mint Mobile's speeds is that there is a 'soft-cap' for heavy users. Visible Wireless, on the other hand, will never slow down your connection based on usage alone. More on this topic in the section below.
Perks-wise, both carriers offer unlimited talk and text (as you'd expect), plus mobile hotspotting free of charge. You will, however, be capped out at only 10GB of mobile hotspot allowance on Mint Mobile's unlimited data plan, whereas Visible offers unlimited usage. Visible also offers extended international calling options, although only if you invest in the more premium Plus plan tier.
For families and multi-line users, Mint Mobile is currently the only carrier to feature something resembling a family plan, although we wouldn't say it's the best on the market right now. It's essentially a perk that allows you to bundle in lines and reduce the associated admin instead of getting the big per-line savings you often find at the major carriers. It does, however, automatically enroll each line at the cheapest (usually yearly) rate, which can help add a level of flexibility.
Unlimited data wars
On paper, both of these carriers offer unlimited data plans for a particularly low price. That said, there are always a few restrictions in the fine print that can easily be glossed over at first glance.
Visible really does have very few restrictions on its unlimited data plan. It used to be the case that it capped out speeds at 200 Mb/s, although we couldn't find any mention of this in the fine print as of mid-2023. If we do spot any more info regarding this, we'll update this page. 
Mint Mobile, on the other hand, has a 'soft' data cap of 45GB 5G data per month, with speeds being throttled down to just 128Kbs if you happen to overrun your allowance. On paper, Mint does lose out here but it's worth noting that 45GB is more than enough for most users per month – and this data cap has actually been raised from 35GB in 2023 which was a nice freebie! 
As for expected speeds on each network, according to a 2022 report by Root Metrics (also referred to on the Verizon 5G page), devices on the T-Mobile 5G network averaged a median download speed of 20Mbs, whereas Verizon's 5G network averaged 146Mbs. This report isn't factoring in deprioritization, however, and is based on testing in Atlanta, Chicago, and Dallas, so your real-life speeds may be quite different.
Mint Mobile vs Visible Wireless: the bottom line
Visible has Mint Mobile beat on most of the criteria we've laid out on this page but we'd hesitate to call it the winner by any stretch of the imagination. Both these prepaid carriers are at the forefront of value right now and offer incredibly competitive options for those who want to save some cash and cut out those pesky contracts.
Firstly, we'd recommend Mint Mobile to anyone who's either a single-line user who's going to be using small amounts or a multi-line user who wants to cut the red tape. If you're going to be using under 15GB of data a month then it's hard to beat something like Mint's $20 per month plan. If you're not going to be hitting that data cap every month you may as well save some cash and go with Mint.
If you're an unlimited data user, however, then the 50GB of priority data offered by the Visible Plus plan is something that Mint can't match. Visible's most recent price cut on its standard plan ($25 down from $30) also means it's arguably edging ahead on value right now for unlimited data users on a budget. It's likely we'll see Mint Mobile respond with its own changes at some point but right now Visible Wireless is really looking dominant in the cheap unlimited plan market.
Either way, however, both these prepaid carriers are fantastic and you're sure to save some serious bucks versus the usual big carriers like T-Mobile, Verizon, or AT&T. 
Source link