We're deep in foldable phone season, with the Samsung Galaxy Z Fold 5 and Samsung Galaxy Z Flip 5 having recently landed, and the OnePlus Open on the way. But there's now another contender for our best foldable phones list, as the Honor Magic V2 is coming soon too.
Or rather, it's getting its global launch soon, having already landed in China. That Chinese launch means we already have a good idea of what to expect from this foldable successor to the Honor Magic Vs, but now that we know it's going global, we're a lot more interested.
Below you'll find full details of the Honor Magic V2, including the date of its global unveiling, and the key specs and features of the phone.
Cut to the chase
What is it? The next foldable flagship from Honor
When is it out? Launching globally on September 1
How much will it cost? Uncertain but certainly a lot
Honor Magic V2: release date and price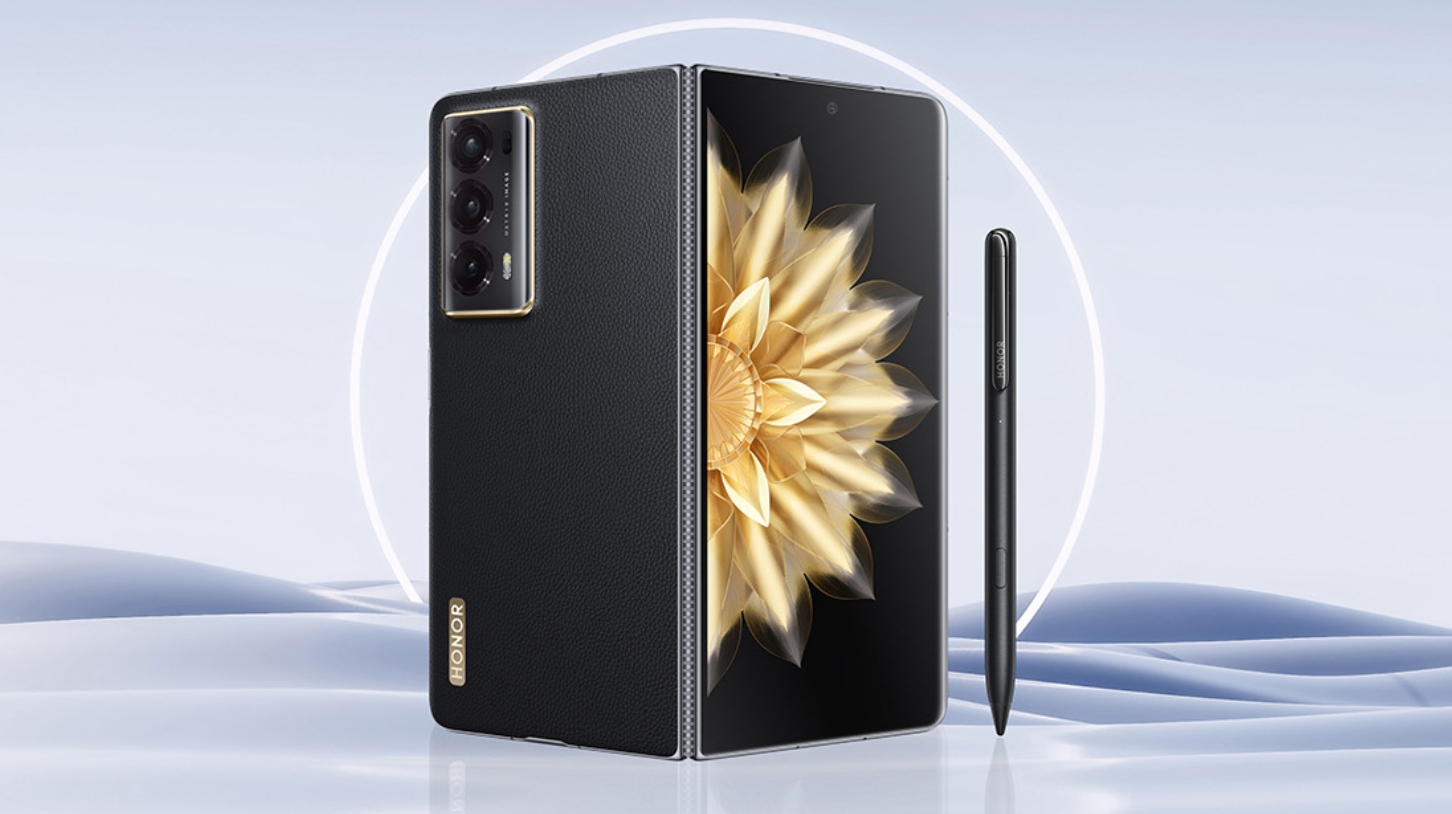 Launching globally on September 1
Likely to cost at least around $1,250 / £980 / AU$1,920
The Honor Magic V2 was first unveiled on July 12, but that was just for China. Now, the company has revealed that its foldable flagship will be making an appearance at IFA 2023 on September 1.
IFA is a major tradeshow, and with it being held in Germany – and Honor advertising this launch on its global channels – it's safe to assume the Honor Magic V2 is at least coming to parts of Europe, and likely other regions of the world too.
Exactly where it will be available is still unclear, but that will presumably be answered on September 1 if not before.
Embrace the best of both worlds—all in one! #UnfoldTomorrow at #IFA23 Berlin on Sep 1, 10:00 CEST, and observe the future of design—a superposition of two worlds meticulously engineered. #HONORIFA2023 #honormagicv2 Learn more: https://t.co/jYt44LkrAH pic.twitter.com/rfQqEm6pFwAugust 7, 2023
See more
As for what it will cost, we're unsure of that too, but in China it has a starting price of 8,999 yuan, which converts to around $1,250 / £980 / AU$1,920.
Honor Magic V2: design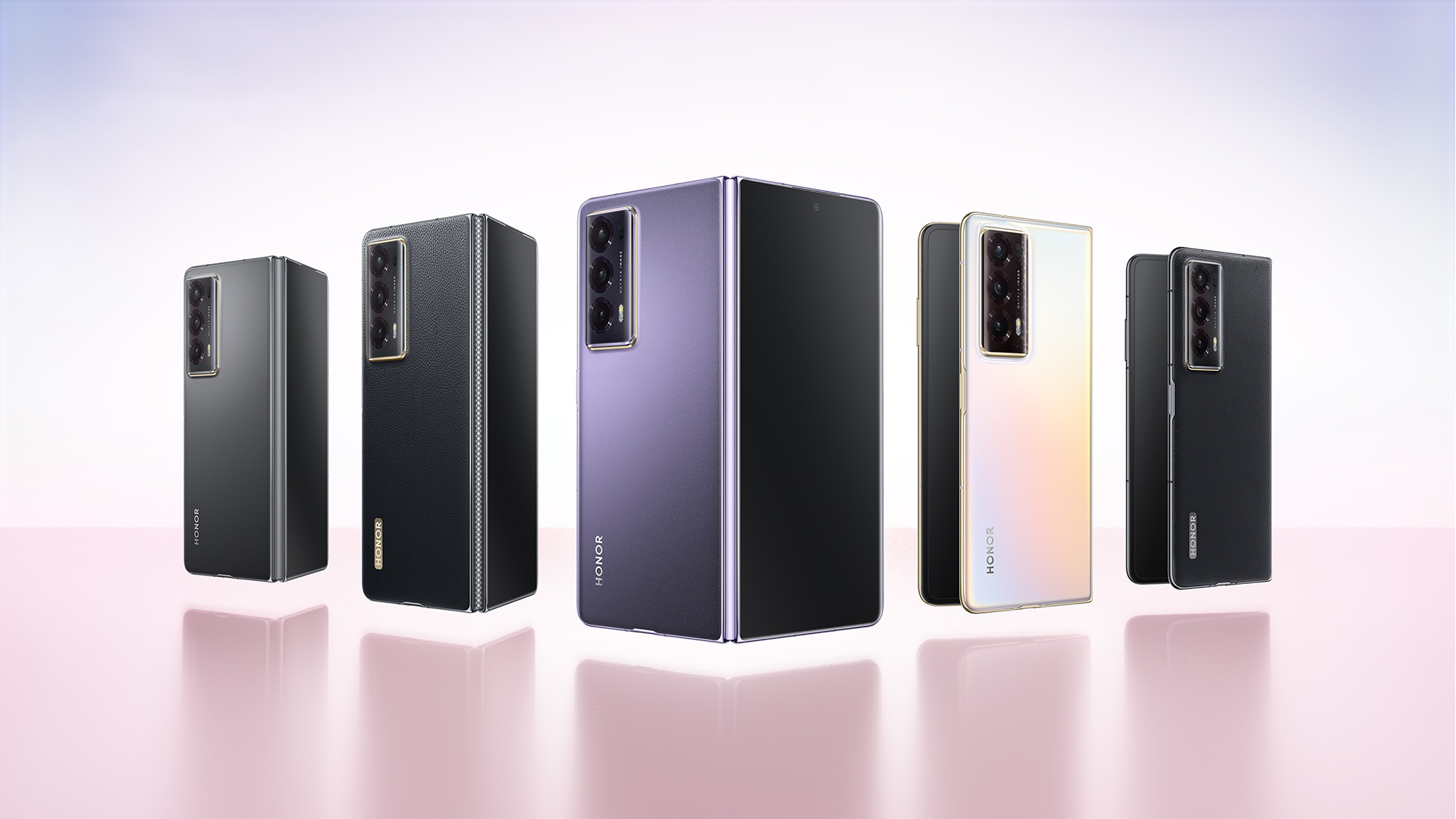 Very slim at just 4.7mm thick when unfolded
Light at 231g
No IP rating
The Honor Magic V2 is a large book-style foldable with a design similar to the Samsung Galaxy Z Fold 5 and Google Pixel Fold.
However, it stands out through being thinner than either of them, at just 4.7mm thick when unfolded, and 9.9mm thick when folded shut. It's also lighter than those rivals at just 231g. This is achieved at least in part through the use of 'proprietary steel' and a titanium hinge.
The full dimensions of the Honor Magic V2 are 156.7 x 145.4 x 4.7mm when unfolded and 156.7 x 74.1 x 9.9mm when folded, not including the camera bump, which adds a negligible amount to the thickness.
In China, the phone comes in a choice of Silk Black, Black, Silk Purple, and Gold shades, with some having a glass back and others being eco leather, though whether the same selection of colors will be offered globally remains to be seen.
One point against the phone is that there's no official IP rating, so don't count on it being water resistant, which its most prominent international rivals are.
Honor Magic V2: display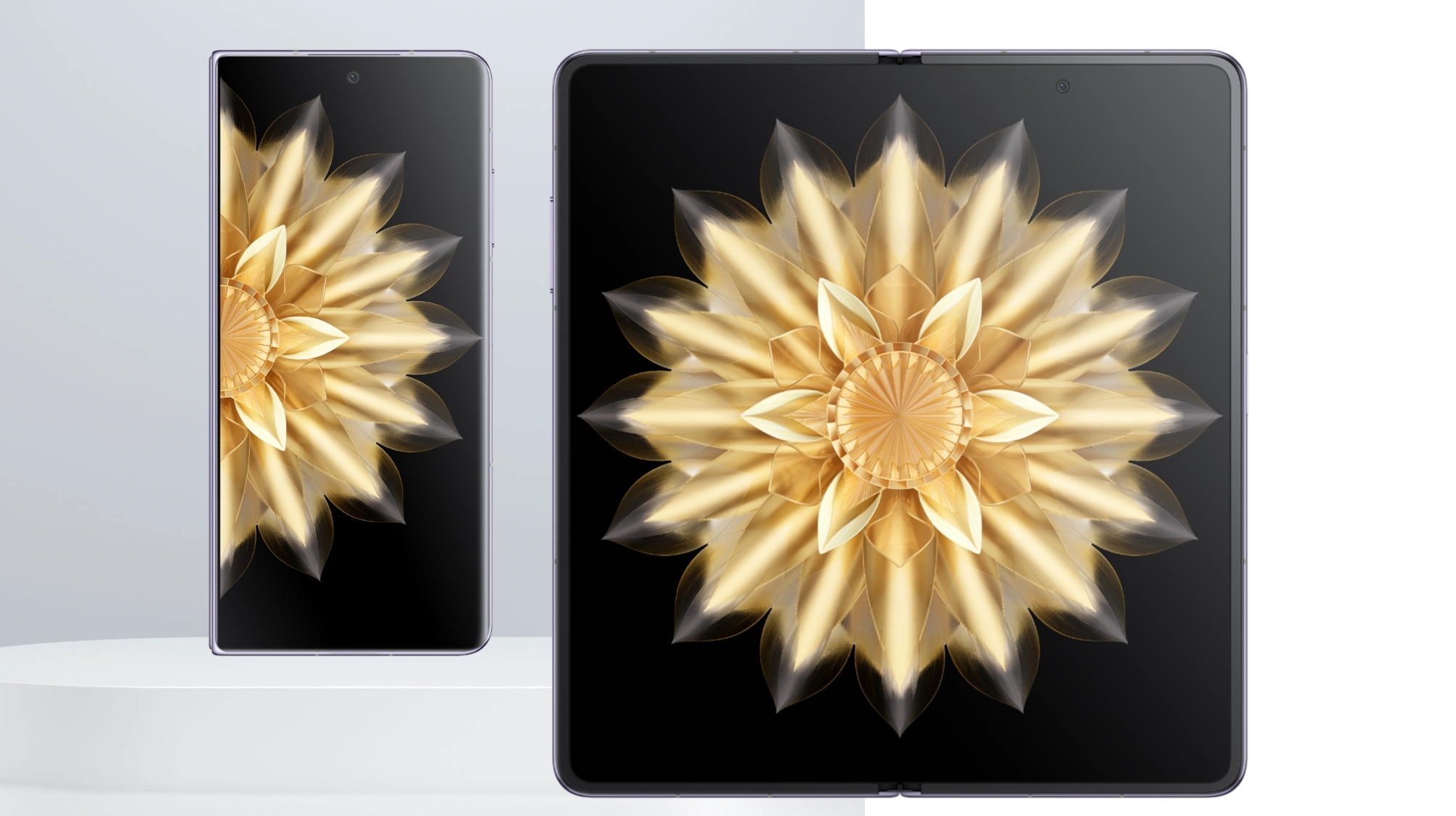 A 7.92-inch foldable OLED display
A 6.43-inch secondary outer screen
The Honor Magic V2 has a 7.92-inch 2156 x 2344 foldable OLED display with a 120Hz refresh rate, HDR10+ support, and a peak brightness of 1,600 nits.
It also has a 6.43-inch 120Hz OLED cover display with a 1060 x 2376 resolution, which uses drop-resistant nanocrystal glass, and both screens have around 402 pixels per inch.
These are competitive specs that in the case of both screens is largely in line with what you'll get from key rivals. The Honor Magic V2 also has smaller bezels around its foldable display than the Pixel Fold has, but slightly bigger ones than the Samsung Galaxy Z Fold 5.
Honor Magic V2: cameras and battery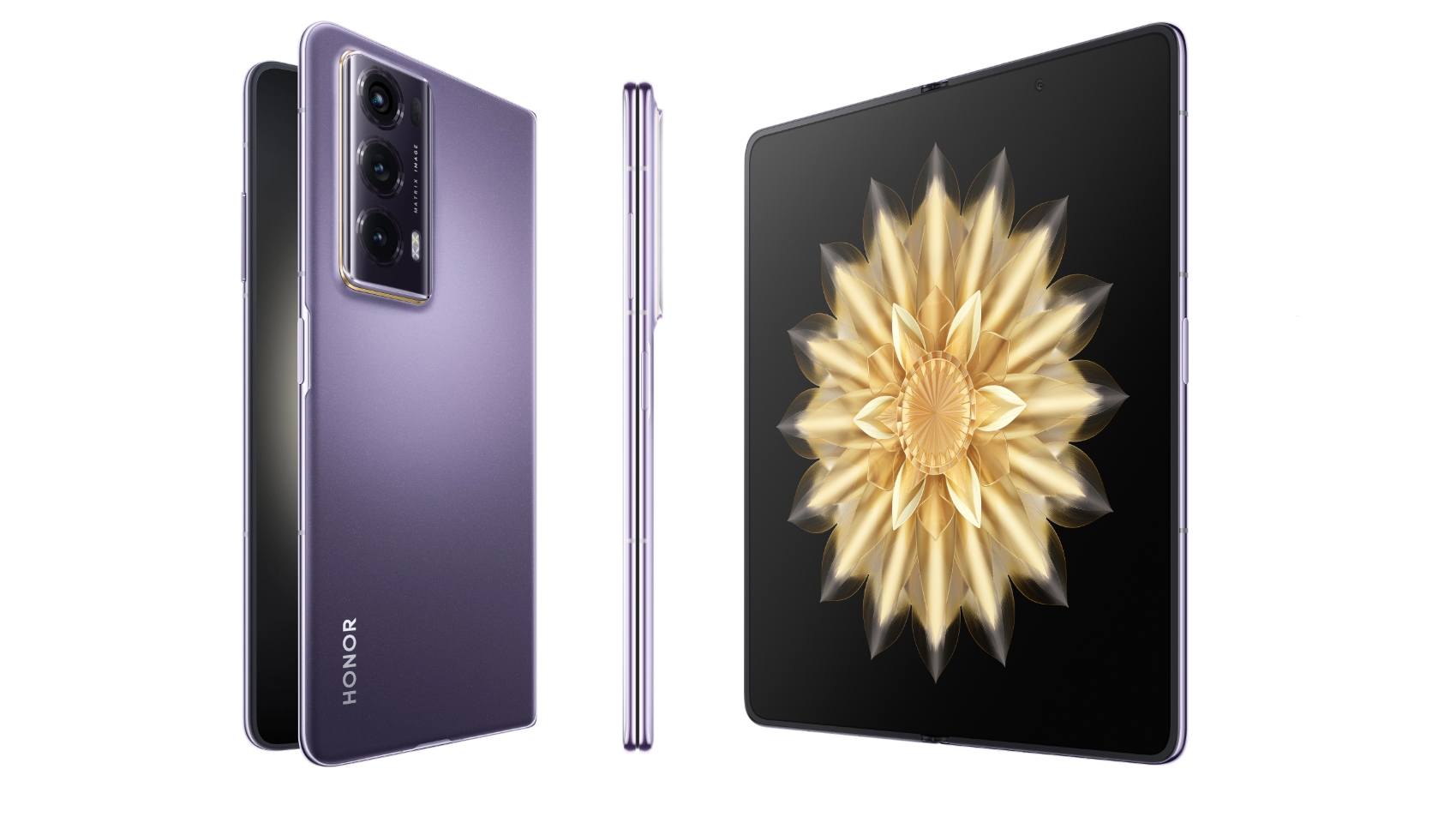 50MP + 50MP + 20MP rear cameras
Two 16MP selfie cameras
A 5,000mAh battery with 66W charging
The Honor Magic V2 has three cameras on the back, specifically a 50MP f/1.9 main camera, a 50MP f/2.0 ultra-wide, and a 20MP f/2.4 telephoto, offering 2.5x optical zoom. The main and telephoto cameras also have optical image stabilization (OIS).
There's also a 16MP front camera on each screen in a punch-hole cut-out. Though of course, the foldable design means you can use the rear cameras with the cover screen anyway. When it comes to video, you can shoot in up to 4K quality at up to 60fps.
The battery in the Honor Magic V2 is a 5,000mAh cell, which means it's larger than the batteries in most foldable phones. It also charges faster than most, at 66W. Honor claims this allows you to fully charge the phone in around 45 minutes.
Honor Magic V2: specs and features
Powered by a Snapdragon 8 Gen 2 chipset
16GB of RAM and up to 1TB of storage
The Honor Magic V2 is powered by a Snapdragon 8 Gen 2 chipset, just like most of the best Android phones of 2023, including the likes of the Samsung Galaxy S23 line and the OnePlus 11. It also comes with 16GB of RAM and a choice of 256GB, 512GB, or 1TB of storage – though we might not see all of those options offered globally.
Other specs and features include a side-mounted fingerprint sensor, 5G support, stereo speakers, and Android 13 software, overlaid with the company's MagicOS 7.2 UI.
Finally, the Honor Magic V2 supports a stylus on both of its screens, and this stylus is included with the phone – at least in the case of the Chinese model.