The positives of owning Apple's AirPods Pro 2 earbuds, AirPods (2019) or the original AirPods Pro are many, but music that's incredibly easy to wear and transport is top of the list for most people. 
The negatives? Remember that meme where, upon flipping open an AirPods case, one earpiece was notably absent from the nest – and music appeared to be emanating from the mid-section of the AirPods-owner's dog? That. Those little earbuds are easy to lose, aren't they? 
Also, you can't currently take calls on them while they're charging because they're stuck in a case. But that could all change, because Apple has recently been granted a patent for a "Wireless Headphone Accessory" that is intended to solve these issues. 
And the Cupertino giant's main solution? A chunky, glow-stick style necklace that snaps around your neck with the earpieces nestled in each end, near the fastening.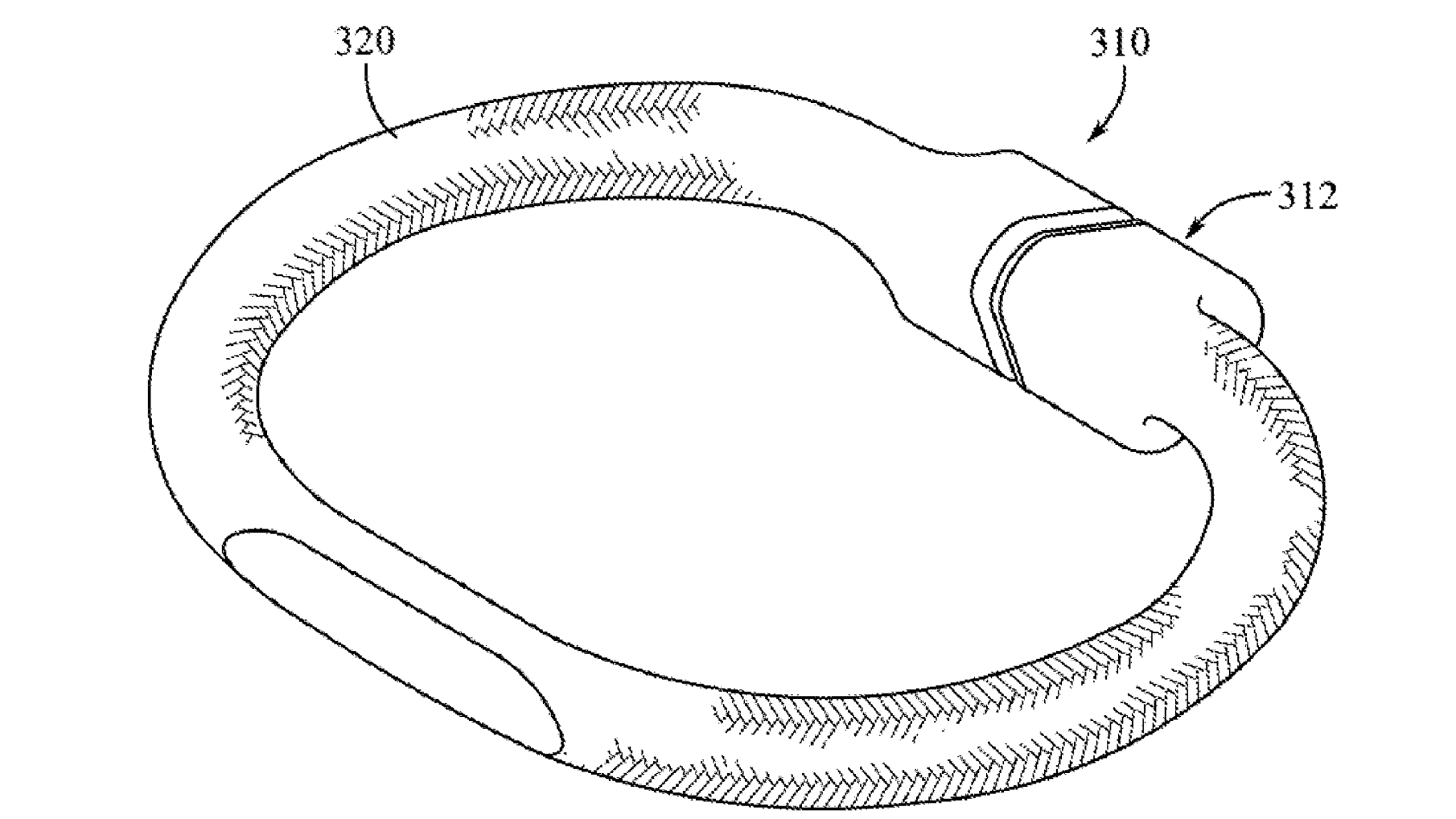 The patent reads: "While some portable electronic devices can be carried in a pocket or a purse, some activities do not permit the use of pockets or purses to store an electronic device. For example, some portable electronic devices are commonly used to listen to music while a user of the portable electronic device is jogging or otherwise exercising."
All very true, but the key bit for us is this: "Thus, improvements and advances to accessories for electronic devices can be desirable to reliably retain the electronic device in a convenient form factor while providing other desired features."
There are illustrations within the patent that look like a D-lock for your bike as well as the necklace suggestion, but there's also a smaller carabiner-type idea, to latch over a bag strap or portion of a backpack, add to a keyring or possibly even sling around your wrist – all easy, novel ways to know your AirPods are charging and safely attached to your person. 
Apple's patent also explores potential features within the idea, including one which reveals lights to show the charging level (so very glow-stick!) and the graphic above, where a charging case attached to clothing is being used as a personal, directional speaker for music or call-handling – presumably while your AirPods are still charging.
Opinion: making AirPods harder to lose (and usable even when charging) is an open goal for Apple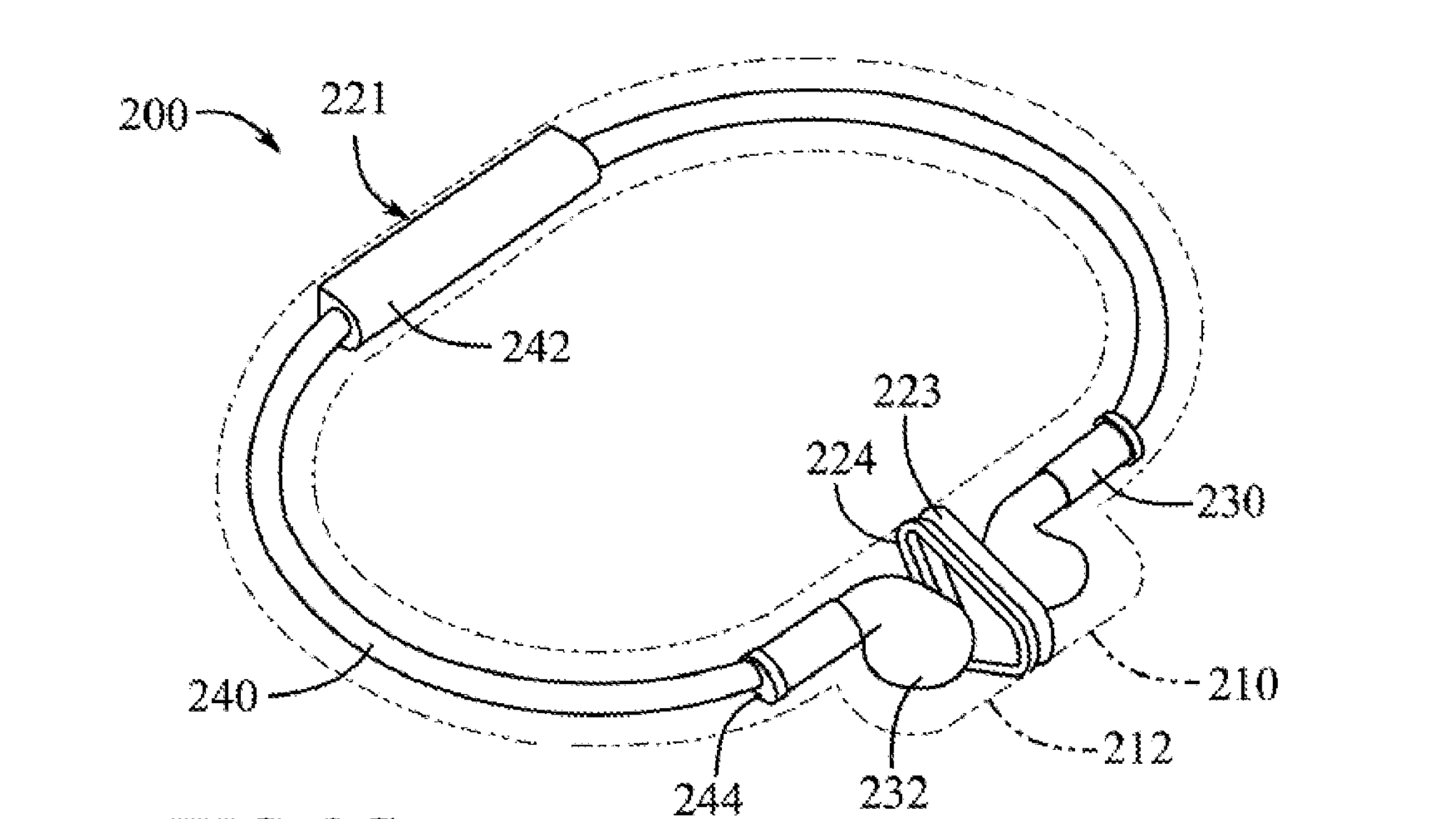 "By producing or amplifying directional sound as shown, the accessory can allow the user to hear the sound while other people, even those standing directly next to the user, may not be able to hear the sound," the Apple filing reads. "In this way, a user can, for example, continue a phone call being conducted through earbuds when the earbuds are in the accessory and can still maintain a desired level of privacy." 
This kind of accessory would be a no-brainer win for Apple. As a dancer who often struggles to keep earbuds safely in their intended shell-likes when throwing shapes, that is music to my ears. 
It's important not to get too excited; since 2019, Apple has been granted upwards of 4,000 patents per year every year (thank you, Insights) and a quick search of our Apple patent coverage proves we're still waiting on much of the proposed wizardry to squirrel its way into our tech. 
That said, Apple's AirPods are certainly some of the best noise-cancelling earbuds (and if you're interested, we've gone to great lengths to explain why AirPods Pro 2's  noise cancellation is so good in a dedicated feature) and the inaugural 2016 Apple AirPods categorically changed the game when they burst onto the scene, spawning countless copycat products. 
I predict that if Apple goes ahead with this jewellery/carabiner charging accessory plan, it'll have a stonking great hit on its hands – and not just because I remember the 1990s dance music and rave scene.
Source link