Larian has confirmed that the Baldur's Gate 3 preload – a whopping 122GB of goodness – will not be available to download ahead of the game's release date on August 3rd.
Baldur's Gate 3 is one of the most anticipated upcoming games of the year, and with only a few short days to go, many folks were hoping to get everything in order by preloading the game ahead of launch. However, as reported by our friends at sister site PC Gamer, in a new post on Steam, Larian has confirmed that: "Baldur's Gate 3 will launch on August 3rd at 5pm Gent time, or your non-Belgian timezone equivalent… There will be no pre-loading of the game before then." Pretty categoric, then.
To be clear right at the top here, Baldur's Gate 3 launches at 8am PT / 11am ET / 4pm BST on August 3rd – but if you're looking for a handy graphic to see when exactly when your release time is, then Larian has provided a delightfully on-brand image, which we've put below.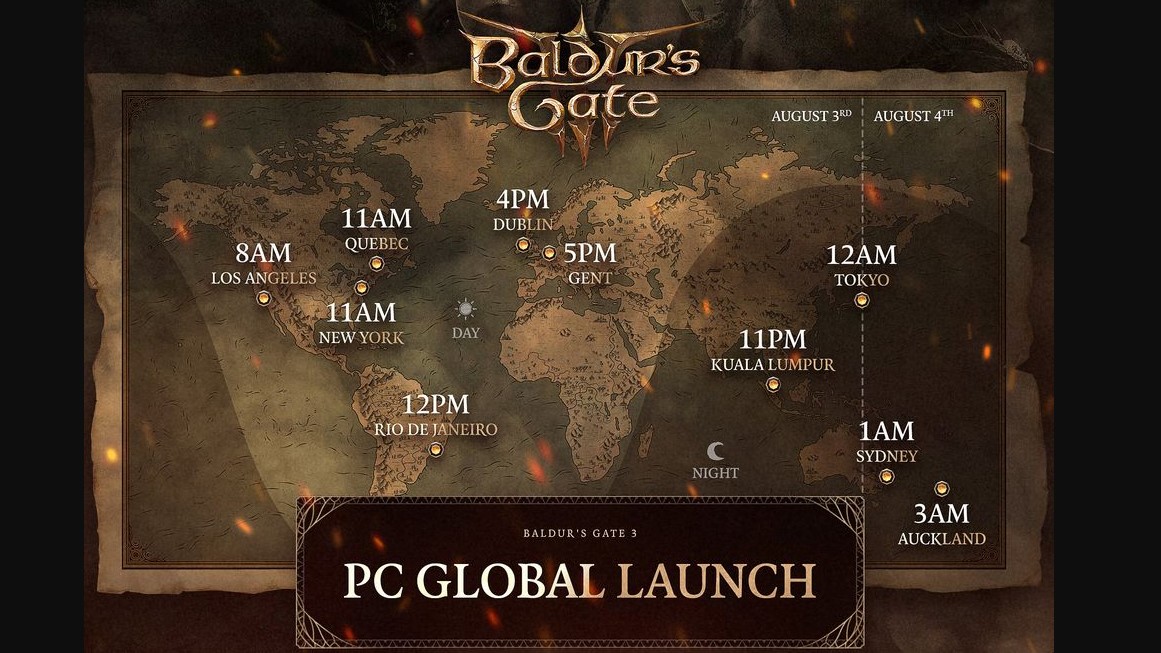 At first, it does seem strange to hear that the Baldur's Gate 3 preload is bucking the trend of videogame preloads by, well, not allowing a preload, but apparently it's a limitation of Steam and the fact that the game has been out in early access for so long, according to our expert and learned siblings at PC Gamer. It also follows Larian's logic of the game's release being a clean, fresh start for players. No existing files can be used or relied on (from early access), in the same way that no existing saves will be compatible as the full release is so different.
Either way though, that is bad news for fans of what's likely to be one of the best RPGs of the generation. Send good vibes and thoughts to anyone with a slow or unsteady internet connection in particular, as 122GB is not small. This likely means that the release time is actually just not going to be 'Actual Play Time' for a lot of people.
For clarity, and to complete the information on preloads, there is no news about a Baldur's Gate 3 PS5 preload as of yet, and, naturally, no news on an Xbox Series X one as there is no release date for the latter still. We will update this story if we get any more information on preloads across any platforms.
Baldur's Gate 3 is going to be one of the best PC games and best PS5 games of the year – check out our guides to see how it's likely to stack up against some famous competition.
Source link