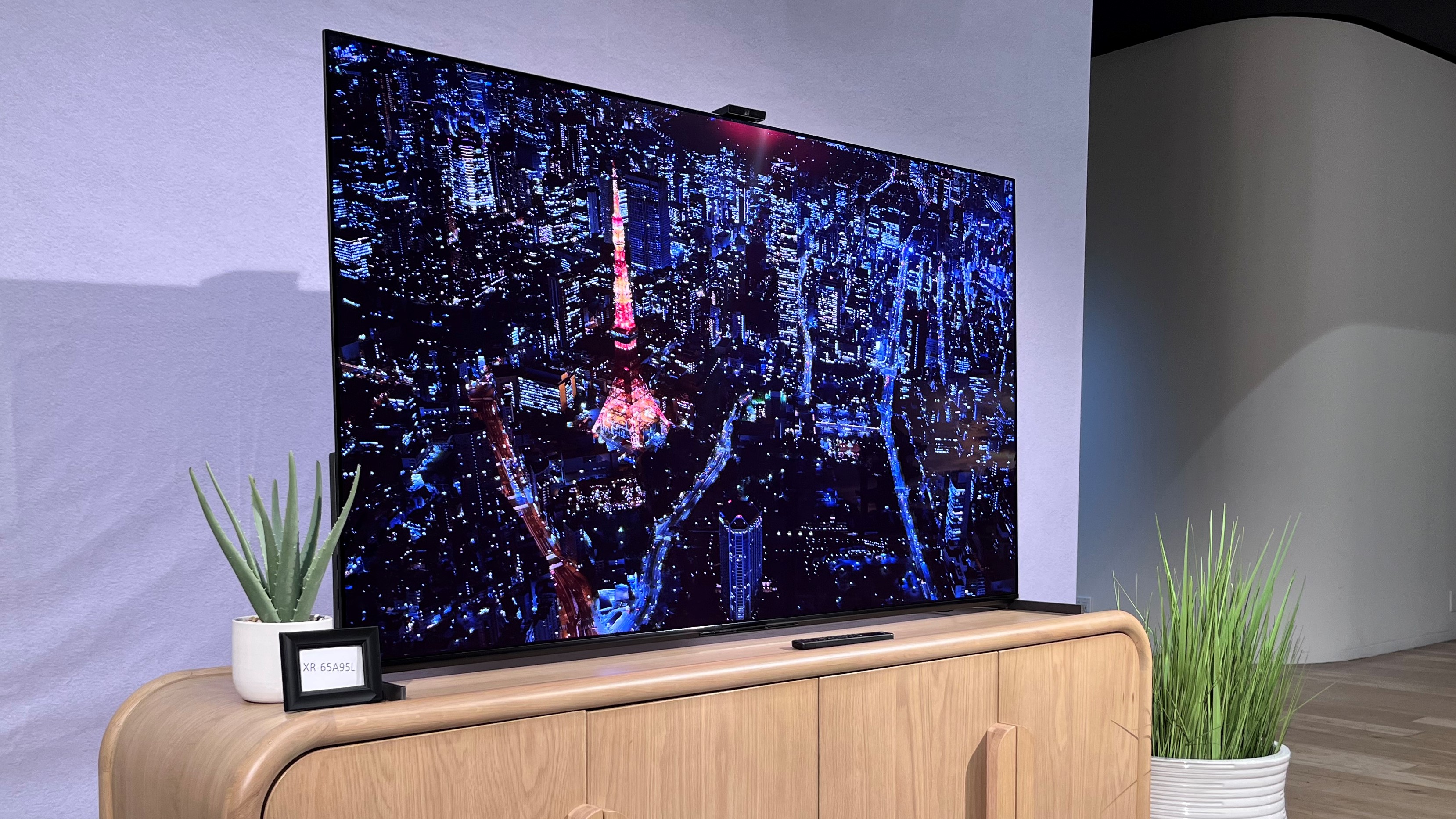 Sony has announced US pricing for its A95L QD-OLED TVs, the company's flagship OLED TV line for 2023. The new models will be sold in 55-, 65-, and 77-inch screen sizes, and will be available for pre-order starting on August 21.
General pricing and availability for Sony's 2023 TV lineup had been announced back in early June, but there was no mention of the A95L series in Sony's announcement. Last year's A95K models ranked among the best OLED TVs, so we were anxious to hear news of the new A95L, which we had a positive response to when we performed a hands-on A95L evaluation back in March.
Like Samsung's QD-OLED models for 2022, Sony's QD-OLED TVs were sold only in 55- and 65-inch screen sizes, and they were pricier than Samsung's offerings. Based on that information, we speculated that the new Sony TVs would be similarly expensive. As it turns out, Sony has actually reduced prices for its QD-OLED TV line, which now includes a 77-inch model.
Here are the US prices for Sony's A95L TVs:
77-inch Class: $4,999.99
65-inch Class: $3,499.99
55-inch Class: $2,799.99
According to Sony, A95L owners can expect up to two times the peak brightness of last year's A95K, a feat the new TVs pull off via a combination of a more efficient display panel, Sony's Cognitive Processor XR, and a physical heat sink.
The A95L TVs are well-suited for gaming, with 4K 120Hz and Dolby Vision gaming support and a  'Perfect for PlayStation 5' designation, which means that an auto genre picture mode and auto HDR tone mapping get triggered when the TV detects input from a connected PS5 gaming console.
Sony's new QD-OLEDs also have Acoustic Surface Audio+, a feature that uses actuators positioned behind the OLED panel that vibrate the screen to emit sound, and Acoustic Center Sync, which elevates voices so they more directly match on-screen visuals when a Sony soundbar is used. A Sony Bravia Cam is included for video chats on Google Meet.
Analysis: QD-OLED remains expensive, but prices are starting to creep down to earth 
When Sony released its first QD-OLED TVs in 2022, at $2,999 / £2,399 for a 55-inch model and $3,999 / £3,499 / AU$5,995 for a 65-inch one, they were priced far above other flagship OLED TVs, including the LG G2.
Interestingly, Samsung's own 2022 S95B series QD-OLED TVs were priced at a level that seemed intentionally designed to undercut Sony, with the company selling a 55-inch model for $1,799 / £1,999 and a 65-inch one for $2,799 / £2,999.
Reversing that trend, Samsung's lineup for 2023 is priced considerably higher than last year's offerings, with a 55–inch model selling for $2,499 / £2,399 / AU$3,999 and a 65-incher for $3,299 / £3,599 / AU$4,999. The new 77-inch screen size, meanwhile, costs $4,499 / £5,099 / AU$7,999.
Samsung raising prices for its QD-OLED TVs doesn't come as a complete surprise since its new models deliver significantly higher peak brightness – something we confirmed in our Samsung S95C QD-OLED TV review. What is surprising is to see Sony lower prices for its models to a level that nearly closes the gap with Samsung. 
What's so great about QD-OLED TV tech that it commands such high prices? QD-OLED differs from standard OLED in that a quantum dot layer is combined with a regular OLED display panel. This addition results in more vibrant colors and, in particular, enhanced brightness, with QD-OLED TVs beating their OLED counterparts when it comes to peak light output. 
Since we haven't formally tested it yet, we can't say if Sony's new QD-OLED matches Samsung's flagship model when it comes to performance. What we can say is that anyone trying to make a buying decision between the two brands based on price alone will have a tougher decision in 2023, especially as the holiday sales kick in toward the end of the year.
Source link