Windows 11 has got a new preview build (yes, another one – they're coming fast these days across all the different testing channels) which makes some interesting changes to Windows Spotlight, notifications, and the Start menu (with a caveat in the latter case).
All this, and a good deal more, comes packaged in the new build 23511 for the Dev channel.
First up, you may recall Microsoft has been experimenting with different ways of implementing Windows Spotlight (images for the lock screen background, which can also be used on the Windows 11 desktop if you wish). The company has decided on the way forward, picking a single Spotlight experience out of those tested.
Microsoft tells us the new Spotlight (shown in the below image) includes "previewing images at full screen, multiple opportunities to learn more about each image and a minimized experience."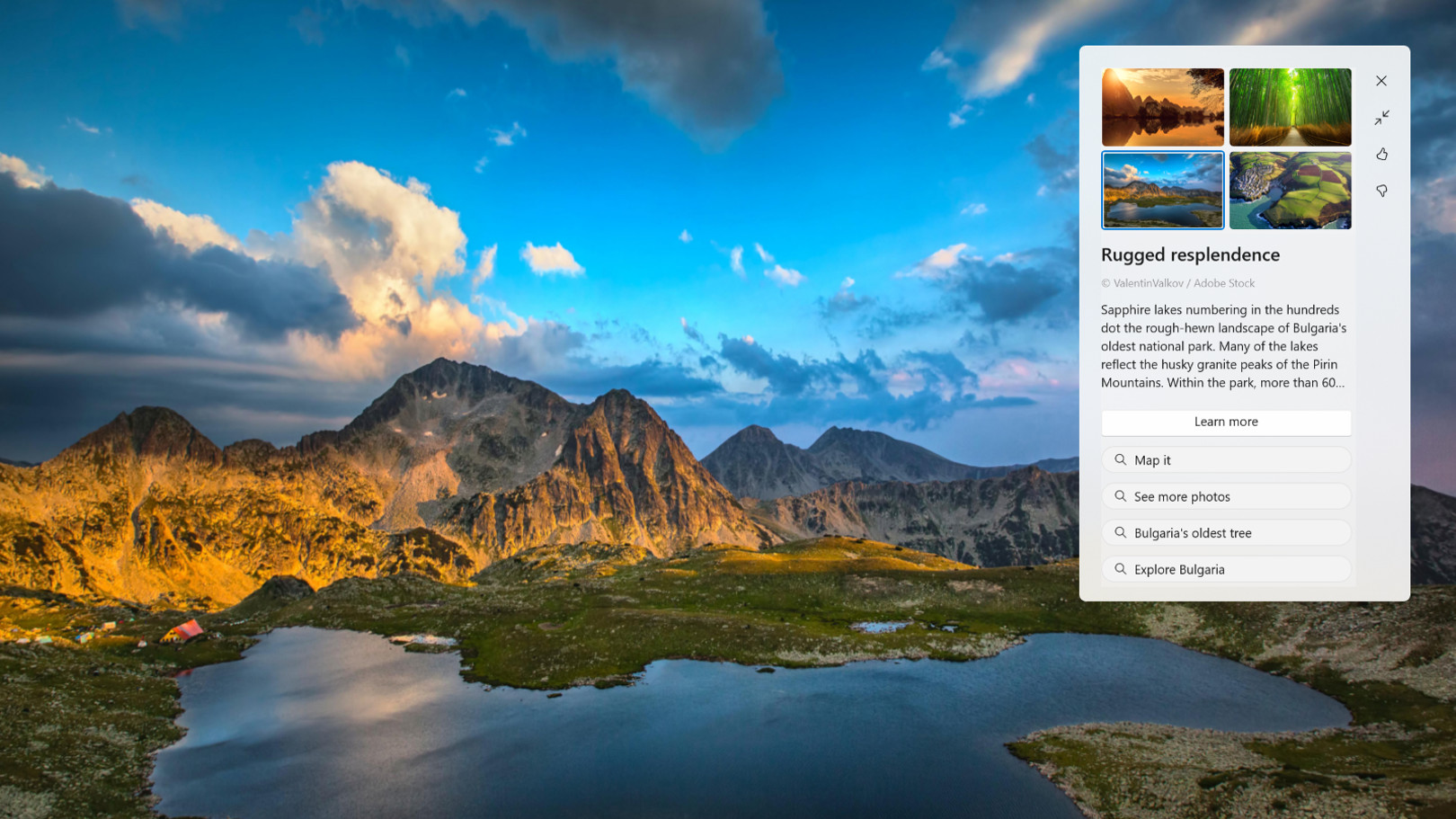 Elsewhere, there's a change for the system tray in the taskbar whereby notifications have been switched to a bell icon. That bell will be just an outline if there are no notifications pending, and when there are, it will be filled in (with a color based on your system accent color). Microsoft has also done away with the number that shows the tally of notifications queued up for you to peruse.
Turning to the Start menu, we see the appearance of something that was previously discovered hidden in the background of Windows 11 – a rich preview pane that pops up when you hover the cursor over files in the 'Recommended' section. This furnishes extra details such as the file's location, when it was last edited, and a thumbnail image preview in the case of a photo.
The catch with these Start menu file previews is that they're only available to business users right now (those signed into Azure Active Directory or AAD, running Windows 11 Pro or Enterprise).
There's quite a lot going on with build 23511, and some of the other highlights include Microsoft reenabling suggestions for Snap Layouts. These had previously been rolling out but were turned off due to bugs that caused crashes. Those glitches have been fixed, so the rollout is once again happening (not everyone will see this yet, as a result).
Another interesting tweak is for webcams, with pop-ups now warning you if you've accidentally got your privacy shutter closed, or if there are other streaming issues with the camera such as it failing to work.
A final one to mention: when deleting a large collection of files and packing them off to the recycle bin, the 'calculating' process that happens has been made speedier, so you won't have to wait as long overall for the files to be binned.
Microsoft's blog post on build 23511 has the full and rather exhaustive details on the tweaks and additions going on with this preview.
---
Analysis: Moving in the right direction with the interface
There are a lot of useful refinements here, and it's good to see suggestions with Snap Layouts are progressing again. This is a nifty area of the UI that is underused, and Microsoft is looking to make it a more tempting proposition by providing suggested layouts (templates) for snapping to in a jiffy, and showing icons to indicate which windows will contain what apps in the snapped layout. Neat.
The Start menu change is also an interesting one. Previously this was hidden in the background, as noted, but Microsoft now has the functionality live, which is great – albeit only for business users. This is a hint that the feature is very much on its way, though, and we don't see any reason why it wouldn't come to consumers on Windows 11 eventually. As we've said in the past, it's going to be particularly handy for image files, as you can use the preview to check you're opening the right pic.
Source link