Samsung unveiled the Samsung Galaxy Watch 6 series at Samsung Unpacked 2023 – but iPhone users needn't take any notice. 
Samsung's Galaxy Watches haven't been compatible with iOS devices since the release of the Samsung Galaxy Watch 4 in 2021, when Samsung abandoned its existing Tizen platform in favor of a return to Wear OS on new and future Galaxy Watch models.
You're still able to pair an iPhone to Tizen-powered Galaxy Watches like the Galaxy Watch 3 and Galaxy Watch 2 Active, and other manufacturers – including Montblanc and Fossil – have since proven that Wear OS can be compatible with iOS devices, which begs the question: why did Samsung suddenly decide to limit the functionality of its best smartwatches to Android devices only?
Well, in an exclusive interview with TechRadar at Samsung Unpacked 2023, Samsung's Director of Global Product Planning, Junho Park, elaborated on the matter: "The goal is: how can we provide the best experience to our customers? We found that some of the heavy limitations [users experienced when using a Galaxy Watch with iOS] were not driven by the Watch [itself], by the core product. 
"So we thought, 'Hey, there is still a lot of disconnection [between these two systems].' That was one of the reasons we dropped [iOS support on Galaxy Watches] – we could not deliver the same level of experience with Android and iOS."
Analysis: Getting a matching set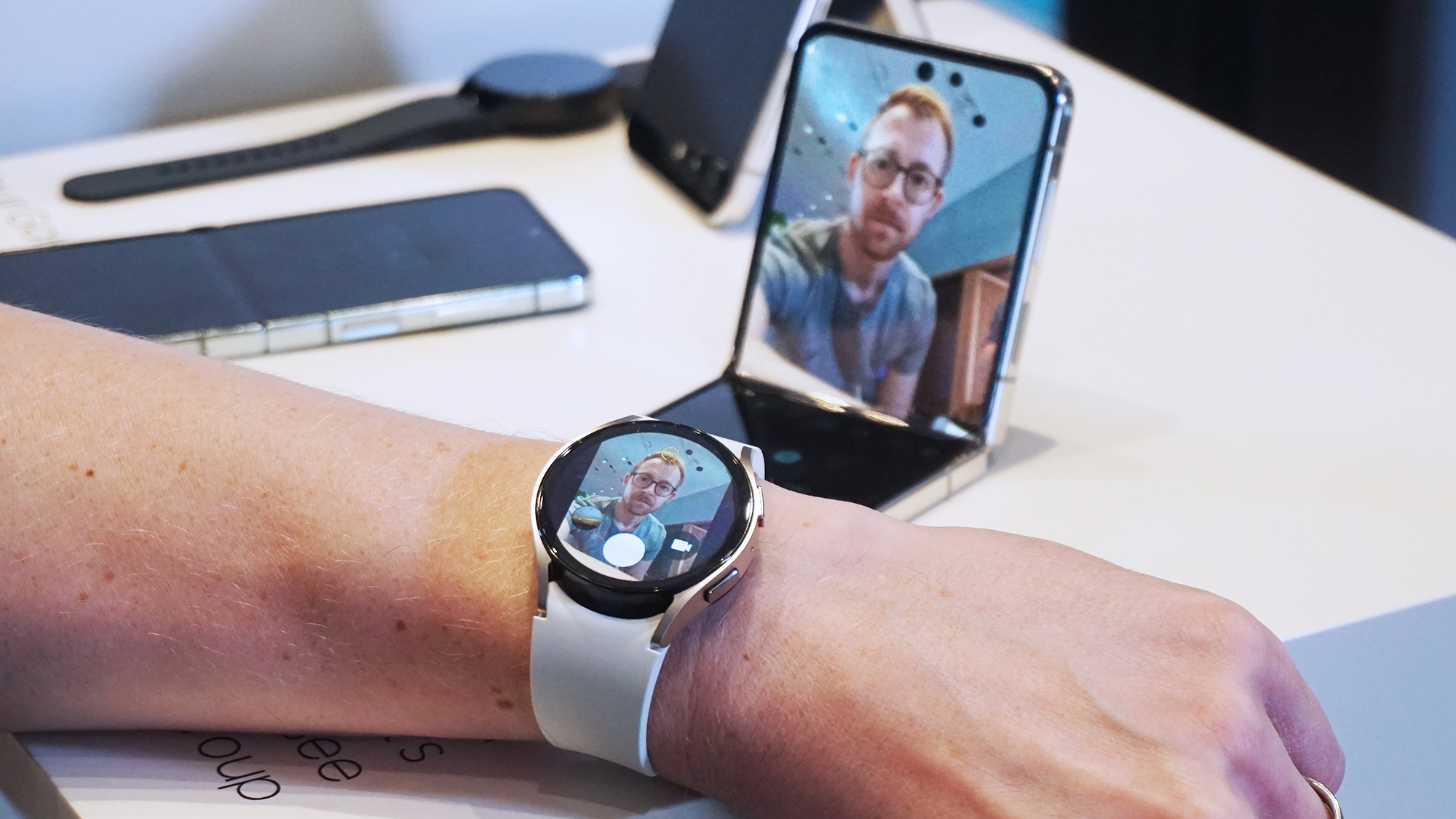 Let's be honest: if you're looking for a watch to go with your iPhone, chances are you're looking at the best Apple Watch models, not a Samsung Galaxy Watch. Apple's goal has always been end-to-end control, with everything Apple working in a seamless ecosystem. While it's possible to use a Samsung Galaxy Watch anyway, it's far from an ideal experience. 
Park is implying some of the limitations of the Samsung Galaxy Watch is driven 'not by the Watch itself', but while you can use the Galaxy Watch series with any one of the best Android phones, many of its abilities are locked unless you're using the Samsung Health app. Samsung has also built its camera software around being able to use the Galaxy Watch as a viewfinder, as you can see above. 
There are lots of examples of features that require both devices to work, so you really need a Samsung Galaxy phone to get the most out of the Galaxy Watch. For tech companies that make both phones and wearables, system-agnostic devices and open-source software are a thing of the past. 
In a way, it makes a lot of sense to use a watch specifically designed to pair with your phone, coupled with software that ensures you'll get the best experience possible out of both devices. However, if you're really into your fitness and you're looking for a system-agnostic watch, you can check out our best Fitbit and best Garmin watch lists, which work well with any phone that can download the Fitbit app or Garmin Connect. 
Source link