Gaming merch is big business, but a high-end turntable to showcase your love of the superlative and seminal MMO, Final Fantasy 14? Yes, yes, and of course yes. 
A FFXIV-themed record player makes perfect sense, given the series of vinyl soundtracks released for the expansions (which TechRadar's Cat Bussell, to whom I defer on all gaming matters, owns). And that's just for starters.
Why is a Final Fantasy 14 turntable the best gaming/audio collab of 2023? Because FFXIV's soundtrack isn't like other games. Unlike almost all of the best MMO games we've tested, it's very, very eclectic – and very highly rated. As well as your usual sweeping orchestral scores, you'll find rock numbers, techno, even some rap.
Furthermore, the game has its own band, called The Primals, which is made up of both devs and composers, who record a lot of the music themselves. Ultimately, it's a game with music at its very core. You could even say music is as important as the Final 14's best character according to fans, so a vinyl record player makes a lot of sense as a supporting product.
Add to this the fact that Final Fantasy fans have built their own nightclubs and that a FFXIV Fender Strat already exists (as does a wearable Final Fantasy speaker made by Panasonic, although that doesn't do FFXIV's soundtrack any justice)  and I'm thoroughly glad this deck is now here – and that it's a suitably expensive, high-end piece of audio kit.
Analysis: is adventuring not supposed to be glorious? I thought it was supposed to be glorious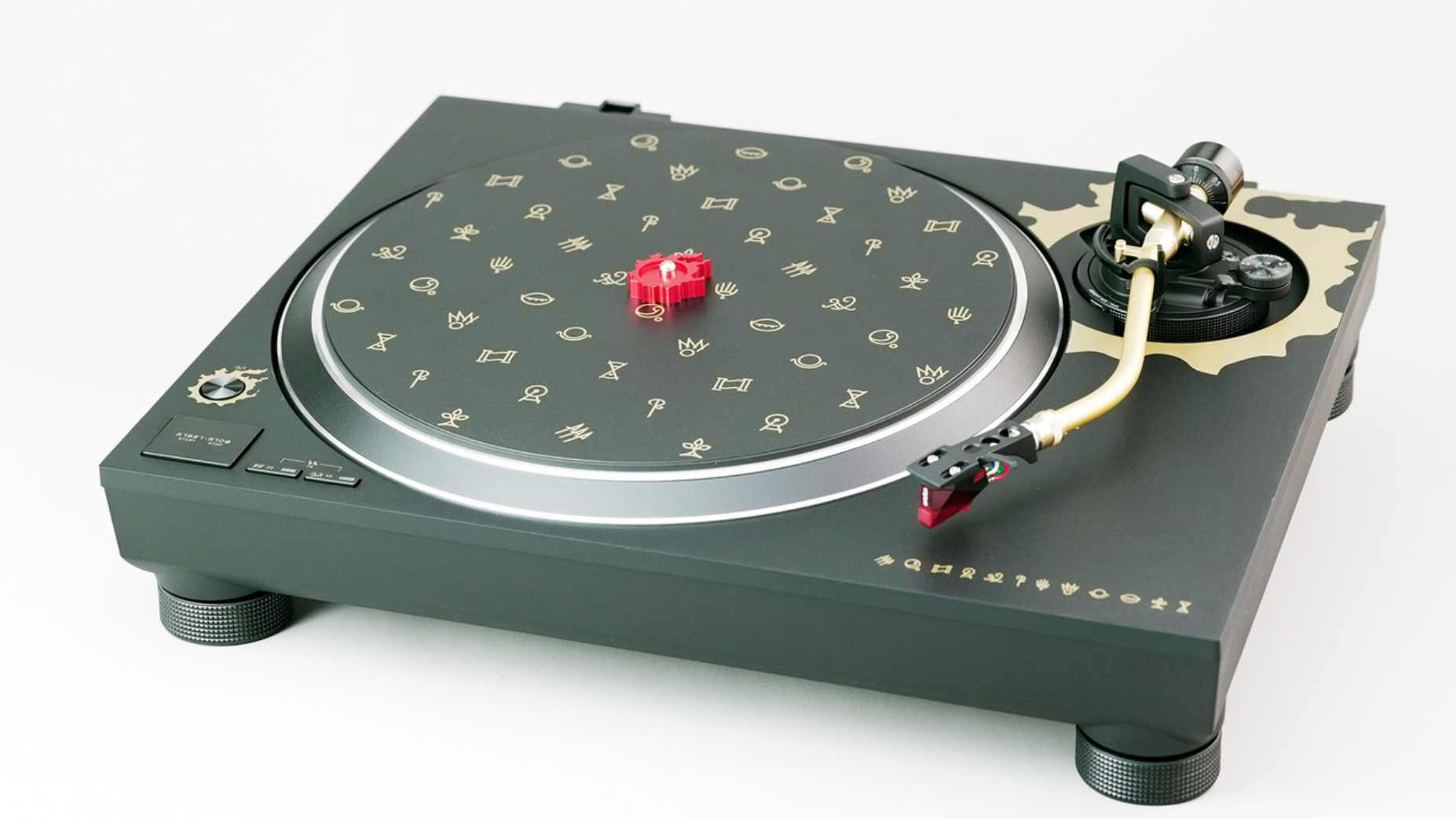 Full marks if you called the Vath Deftarm quote above. Anyway, the official Final Fantasy XIV Direct Drive Turnable System is now available to view at the Square Enix Store, and it costs $1,700, which is around £1,310 or AU$2,499 before any shipping or duties – but take note, you'll have to wait until April 2024 to get it. 
The Square Enix deck comes in a black finish, and is adorned with iconic shapes from the MMORPG, including symbols representing the Twelve and the meteor logo. Suitably glorious? I certainly think so. The SQ-1500 (for that is its full name) is a direct drive turntable with high-sensitivity tonearm. To simplify the playing of analog records, there's a built-in phono stage too. 
Elsewhere, you're getting an aluminum die-cast platter integrated with a special material consisting of ABS mixed with glass fiber to create a two-layer construction. The tonearm is a static-balance universal S-shape solution, which comes pre-fitted with what I can see is an Ortofon cartridge. When the tonearm reaches the end of the record, the Auto Lifter function (embedded in the base of the tonearm to prioritize sound quality) automatically raises too, thus preventing unnecessary wear on your valuable Distant Worlds vinyl or that stylus. 
Will it reveal itself as one of the best turntables we've tested? Hard to say, but it is a suitably expensive deck, and one befitting FFXIX's iconic soundscapes. Lead composer and sound director of Final Fantasy XIV and its expansions, Masayoshi Soken, (a cancer survivor who famously wrote To the Edge from his sickbed before making a recovery) deserves a flagship turntable for his efforts. 
So – let us be about it, hero… 
Source link