Samsung has announced a new batch of devices for 2023 at Samsung Unpacked including the Galaxy Z Fold 5, Galaxy Watch 6, and its new tablet the Samsung Galaxy Tab S9.
But how does Samsung's new tablet stack up against the popular iPad Air (2022) from Apple? This guide is here to help you answer that question so you can decide which slate is best for you.
For a more in-depth look at each gadget be sure to check out our iPad Air (2022) review and our Samsung Galaxy Tab S9 review, but read on to find out the key differences between these two tablets.
Samsung Galaxy Tab S9 vs iPad Air: Specs comparison
Swipe to scroll horizontally
Samsung Galaxy Tab S9 and iPad Air (2022) specs

| | Samsung Galaxy Tab S9 | iPad Air (2022) |
| --- | --- | --- |
| Dimensions: | 165.8 x 254.3 x 5.9mm | 178.5 x 247.6 x 6.1mm |
| Weight: | 498g (Wi-Fi), 500g (5G) | 469g (Wi-Fi), 478g (5G) |
| OS: | Android 13 | iPadOS 16 |
| Display: | 11-inch Dynamic AMOLED 2X | 10.9-inch Liquid Retina LED |
| Refresh rate: | 120Hz | 60Hz |
| CPU: | Snapdragon 8 Gen 2 for Galaxy | M1 chip with 8 core CPU |
| RAM: | 8GB, 12GB | 8GB |
| Storage: | 128GB, 256GB | 64GB, 256GB |
| Battery: | 8,400mAh | 7,606mAh |
| Rear cameras: | 13MP main | 12MP wide |
| Front camera: | 12MP ultra-wide | 12MP ultra-wide |
Samsung Galaxy Tab S9 vs iPad Air: Price and availability
Samsung unveiled the Galaxy Tab S9 at Samsung Unpacked on July 26, 2023, and both the regular model and the larger S9 Plus are available to preorder – with the base model starting at $799.99 / £799 / AU$1,699. At this price, you'll get 8GB of RAM, 128GB of storage, and Wi-Fi connectivity. Preorders will start shipping on August 11.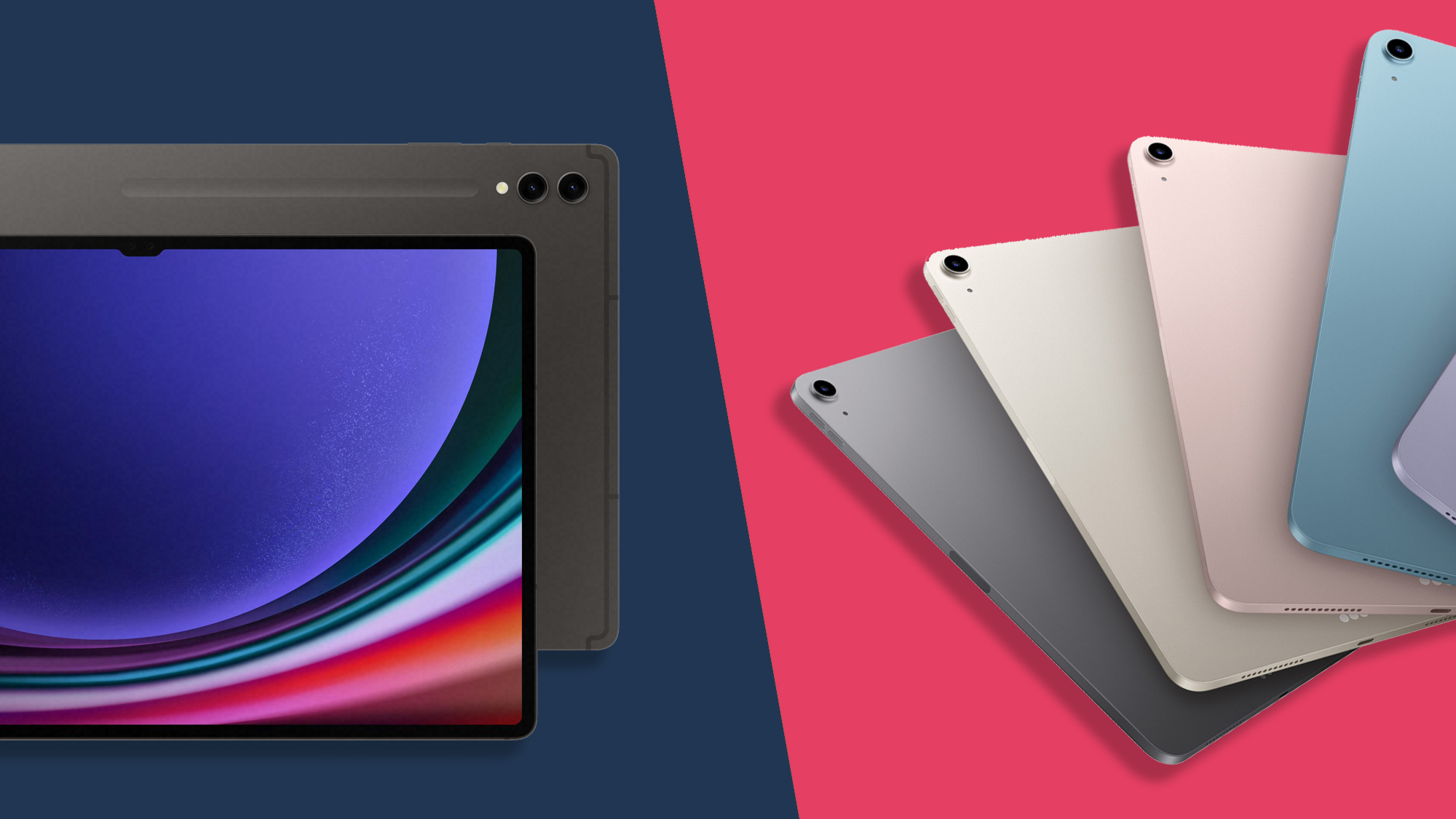 If you don't want to wait until August 11 to get your hands on a new tablet, then you may prefer the iPad Air (2022) as it's available to buy in-store or online right now. The base iPad Air model costs $599 / £569 / AU$929 however you get a model with Wi-Fi connectivity, 8GB of RAM, and only 64GB of storage.
Need more storage? Both tablets come with 256GB models; Apple's iPad Air will cost you at least $749 / £719 / $1,159 for 256GB, while Samsung will set you back £899 (US and Australian prices to be confirmed). The Samsung model is more expensive, but it also comes with 12GB of RAM, not just 8GB like the iPad Air.
Because the tablets offer slightly different specs it's tricky to make a one-to-one comparison, but if you're simply after the cheapest option of the two then the iPad Air is what you need – just note you'll likely fill up the 64GB quickly if you aren't careful.
Samsung Galaxy Tab S9 vs iPad Air: Design
Design-wise the Samsung Galaxy Tab S9 and iPad Air (2022) share plenty of similarities. Both slates boast sharp, aluminum-clad bodies, with smart button placements and a USB-C port on one side.
The Samsung Galaxy Tab S9 is slightly heavier, with its Wi-Fi model weighing in at 498g, and its 5G version weighing 500g compared to the iPad Air which comes in at 469g and 478g for its respective models. The iPad Air is slightly larger, however, with its dimensions being 178.5 x 247.6 x 6.1 mm compared to the Tab S9's 165.8 x 254.3 x 5.9mm measurements though the size difference isn't massive.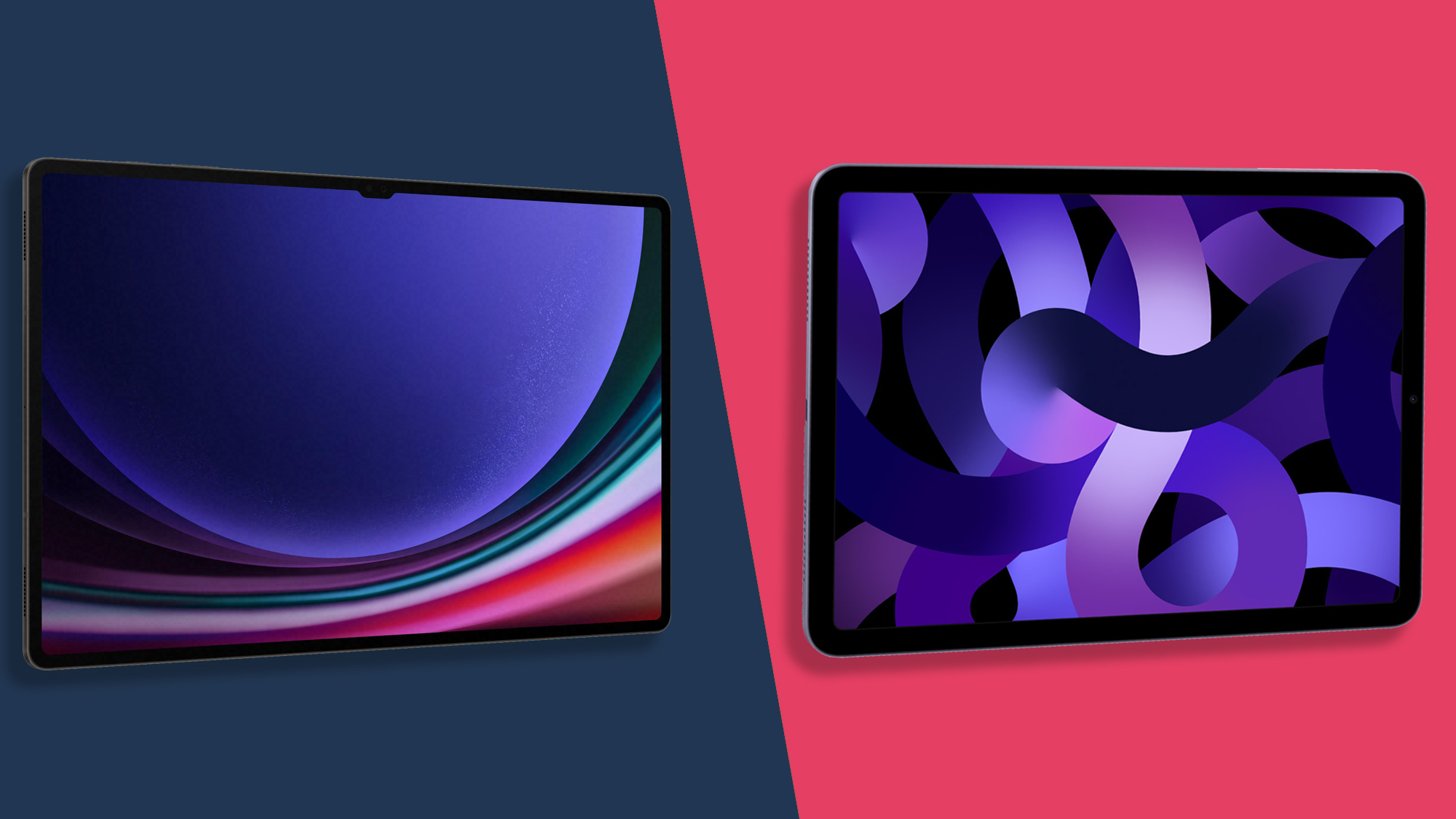 The way they handle fingerprint scanning is slightly different too. The Samsung tablet has an in-display fingerprint scanner, while the iPad Air's Touch ID relies on a scanner built into the power button.
A more significant design difference between the two tablets is that the Samsung Tab S8 has an official IP68 dust and water resistance rating – this means Samsung claims the Tab S9 and S9 Plus can survive being submerged in up to 1.5m of water for up to 30 minutes. Not even the best iPads like the iPad Pro officially offer this level of protection from water. 
Samsung Galaxy Tab S9 vs iPad Air: Display
For the new Tab S9 range, Samsung has replaced the LTPS LCD screens for Dynamic AMOLED displays that are more vibrant and generally more visually impressive than their predecessors. 
The iPad Air (2022)'s Liquid Retina display is fine but it lacks some of the color pop you'd find on its rival. You'll find the visuals are less smooth too as it only has a 60Hz refresh rate compared to the Galaxy Tab S9's buttery smooth 120Hz – many people won't notice when watching films, but editors and gamers may appreciate a more fluid screen.
Apple's iPad Air display is also slightly smaller at 10.9 inches compared to the Tab S9's 11-inch display.
Samsung Galaxy Tab S9 vs iPad Air: Performance
We haven't run our full suite of benchmark tests on the Galaxy Tab S9 yet, but so far we've found it run very well thanks to Qualcomm's latest and greatest processor. Expect this machine to be a handy companion whether you're multitasking for a work project or relaxing with a game. The four Dolby Atmos-enabled speakers and Dynamic AMOLED display help to elevate the quality of the tablet too.
The iPad Air is nothing to sniff at mind you, it boasts an impressive M1 chip – the same found in some of Apple's older iPad Pro tablets and MacBook laptops. The audio is a little lackluster however and the display is worse as we've already covered. So while the iPad Air's overall performance is great, it may feel a little less impressive than its rival.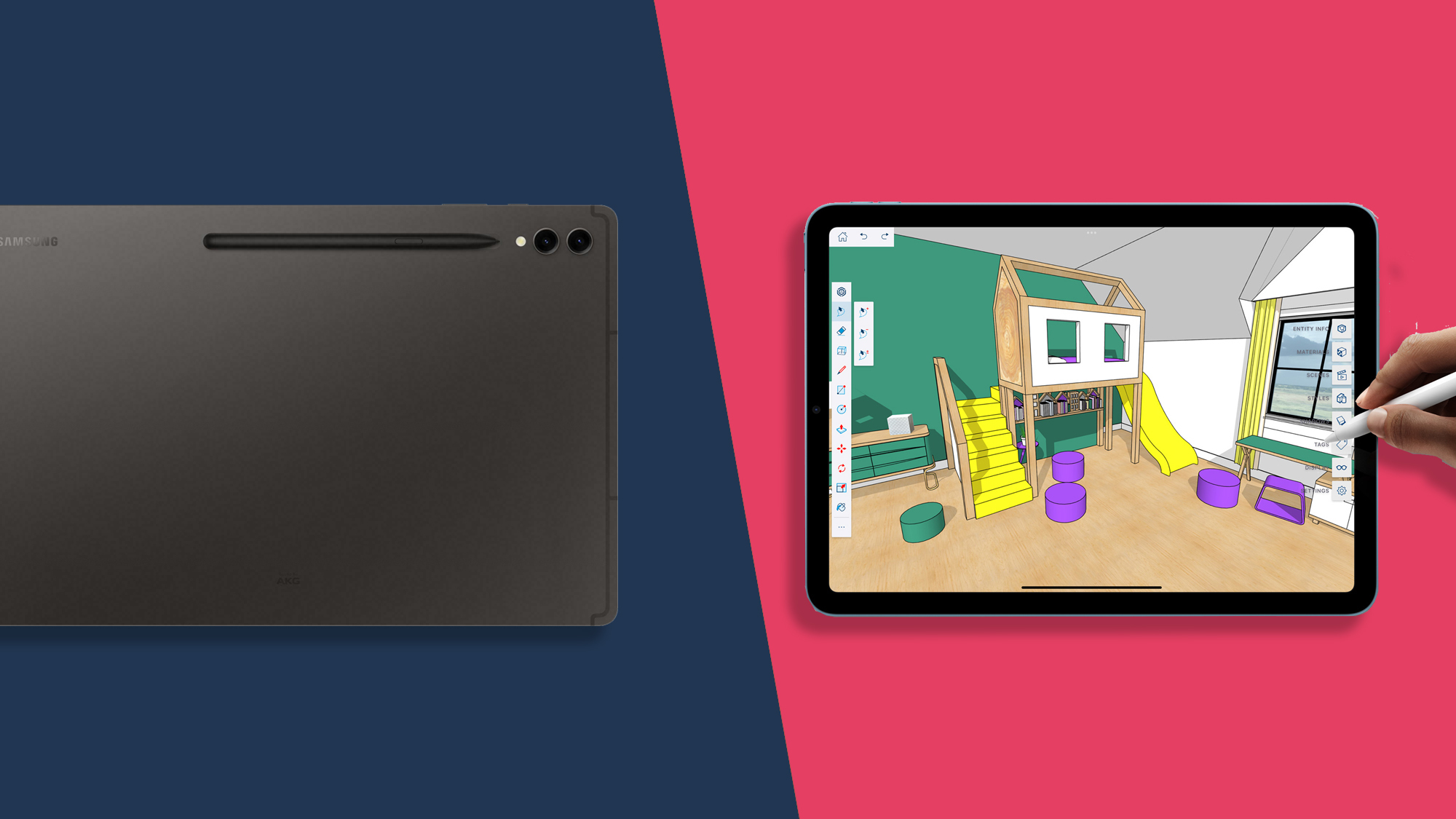 Samsung Galaxy Tab S9 vs iPad Air: Battery
The Galaxy Tab S9 sports a 8,400mAh, which is bigger than the 7,606mAh battery used by the iPad Air (2022). However, we'll need to properly test it out to know how the battery lives compare.
That's because, while the Tab S9 has a bigger battery it also has more impressive specs which will likely be a bigger burden on the battery. The iPad Air lasts for around nine hours (or less if you use it for more labor-intensive tasks) and we expect the S9 will fair similarly (based on the eight hours we got out of the Tab S8 with its smaller battery) but we'll have to wait and see.
Samsung Galaxy Tab S9 vs iPad Air: Verdict
Considering many people see Apple's tech as typically more expensive and premium it might feel odd to think of the iPad Air (2022) as the budget-friendly option – but that's the case here. For the cheapest iPad Air model you'll pay $200 / £230 / AU$570 less than the Tab S9, but you'll also get less storage, a less impressive display, and a bigger battery.
If money is no object, then the Galaxy Tab S9 is most likely the best tablet for you of the two. The higher cost will net you a better tablet in every way that matters, though Apple fans will find that they lose some advantages of all their gadgets being part of the same Apple ecosystem if they swap their iPad for a Samsung slate.
If you feel neither of these tablets is a good fit for you then check out our best tablet and best cheap tablet guide to look over the other options out there. 
Source link