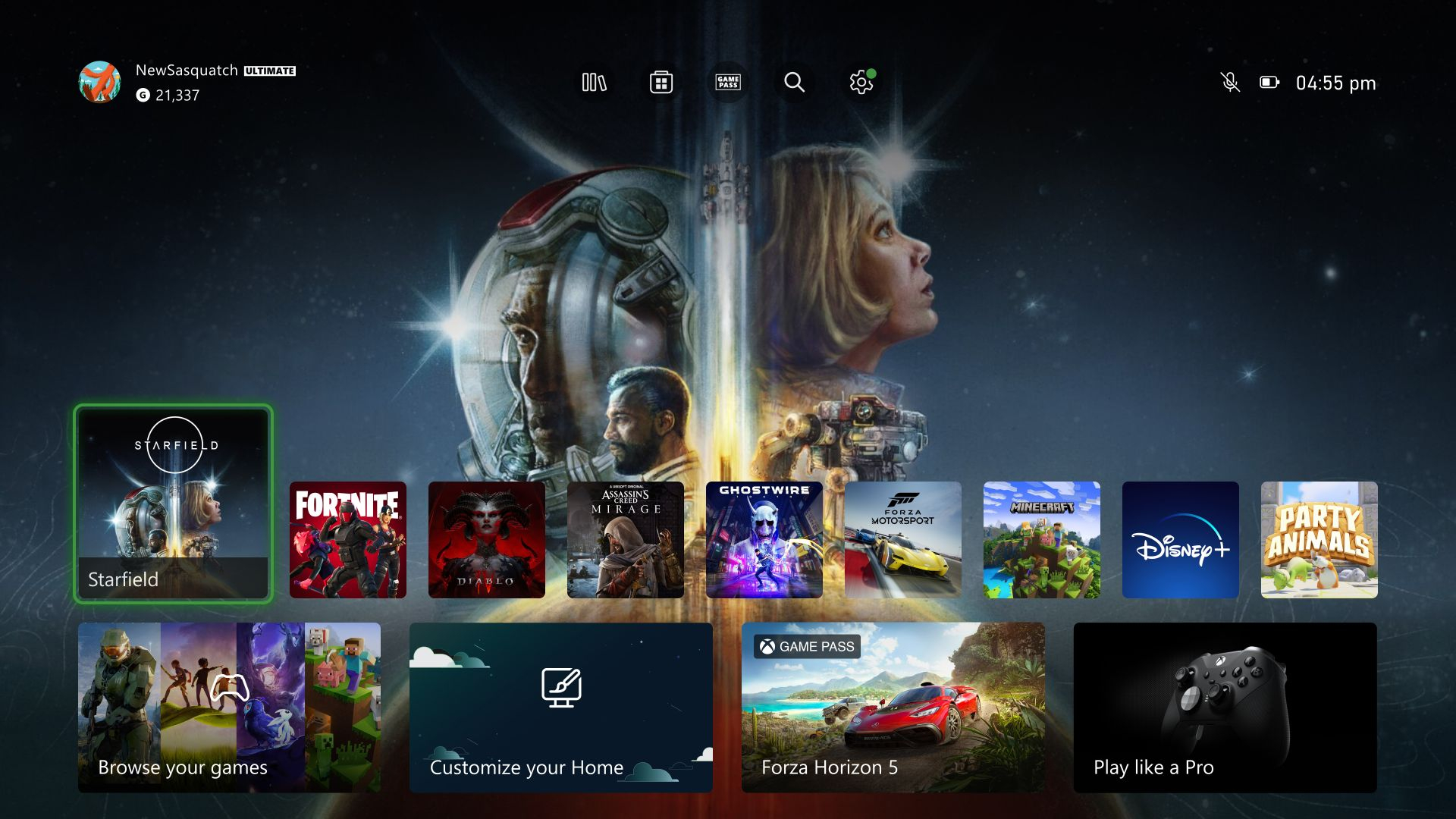 Microsoft has just rolled out an overhauled homepage and dashboard for the Xbox Series X which sees some of the largest improvements since the console's launch. 
The Xbox Series X home update was announced in a blog post on the Xbox website which goes into detail about the new changes that have arrived. The biggest difference between this homepage and the prior one has been the goal of streamlining the experience to make browsing through apps easier than before. This has ushered in the new "quick access menu" which has been implemented as a shortcut to your game library, the Microsoft Store, Xbox Game Pass, search, and settings. 
Further changes include the ability to further customize your Xbox homepage with a more simplified layout showcasing your recently played games and media at the bottom of the screen so they are easier to jump back into. It also means more room for any personalized custom backgrounds to be on display instead of the previously cluttered design of the past, which was heavily based on the older Xbox One UI.
Further improvements have also been made to the game discovery feature, too. This means it should be easier for the algorithm to detect the types of titles you enjoy playing and accurately recommend more of the best Xbox Series X games. This extends to media available on your streaming services of choice for both media and music as well.
The Xbox Series X received a UI visual update back in March, however, the changes implemented then were ultimately underwhelming. While that one focused on small quality-of-life tweaks, today's overhaul finally sees an end to the cluttered main home screen after nearly three years of the new console generation being available. 
Ivy Krislov, Senior Product Manager Lead at Xbox Experiences writes: "When we first showed Xbox Insiders what we were working on we heard your feedback clearly – you wanted more room to show off custom backgrounds or game art, quicker navigation options, and more personalization". He continues with: "Over the last 8 months since initial release, we've implemented changes to meet those requests and have a new Home that feels fresh, puts the focus on your games and apps, and creates space for beautiful backgrounds." 
The new update will be arriving for all Xbox consoles over the next few weeks, with the Xbox Series X and Xbox Series S likely to receive it first. It's possible that Xbox One users may be waiting longer than current-generation gamers. 
You can make the most of the action with one of the best Xbox controllers paired with one of the best Xbox Series X headsets and one of the best monitors for Xbox Series X.
Source link