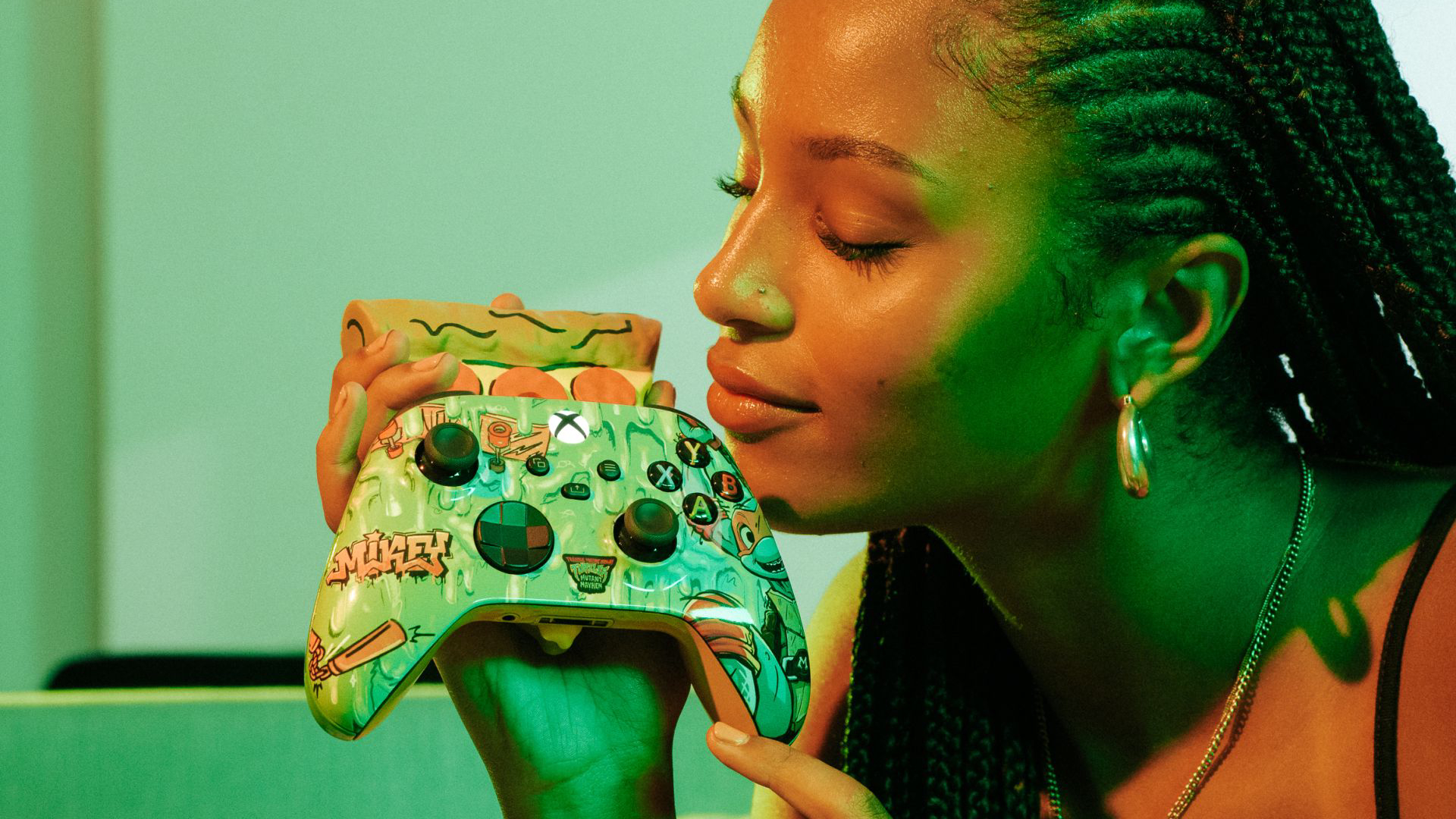 Microsoft has yet another Xbox controller giveaway in store, with four Teenage Mutant Ninja Turtles-themed gamepads up for grabs.
This is the latest of many limited edition Xbox Wireless Controller giveaways in recent months, with the company previously hosting one for a special Barbie-themed gamepad and Xbox Series S console. Much like that competition, these four TMNT controllers, made in promotion of the upcoming Teenage Mutant Ninja Turtles: Mutant Mayhem movie, can't be bought separately.
What stands out even more here is the stench of these limited edition Xbox controllers. And I mean that literally, as Microsoft is claiming they're "the world's first pizza-scented Xbox controllers." And honestly, I find it hard to put up an argument against that. Unless we're talking about every Xbox controller ever after an overnight FIFA 23 session with the lads.
If you want to enter the sweepstakes for yourself, you'll need to follow the official Xbox Game Pass Twitter account (no, we're not calling it X), and quote retweet the tweet below with the mentioned hashtag. The competition ends August 13, and is open to anyone ages 18 and up in most regions worldwide.
the pizza party never stops with these guys🍕follow @XboxGamePass & RT this post with #XboxTMNTMoviesweepstakes for a chance to win these TMNT-inspired controllers!be sure to see @TMNTMovie in theatres 8/2/23 in the US!ages 18+. ends 08/13/23. rules: https://t.co/C2Pjfi7yru pic.twitter.com/h6P3sjcvu7July 24, 2023
See more
The pads themselves aren't really my cup of tea, but they do look appropriately kid friendly, bearing the likeness of each turtle imposed on a green ooze-covered background. One nice touch is that these aren't basic palette swaps, either. Each controller features art of a prop unique to its turtle's identity. Mikey's pad has a skateboard and his iconic nunchaku, for example.
The controllers are pretty standard Xbox Wireless Controllers besides, apart from the humongous slice of pepperoni unceremoniously lodged into the top of them, which presumably is where you'll be sniffing around for that sweet scent of stale Domino's. It's an odd giveaway for sure, but one that's at least pretty memorable.
Unsurprisingly, we consider the Xbox Wireless Controller to be one of the best Xbox controllers out there. For more top hardware for Microsoft's latest console, check out our guide to the best Xbox Series X accessories to keep your gaming setup fresh and convenient.