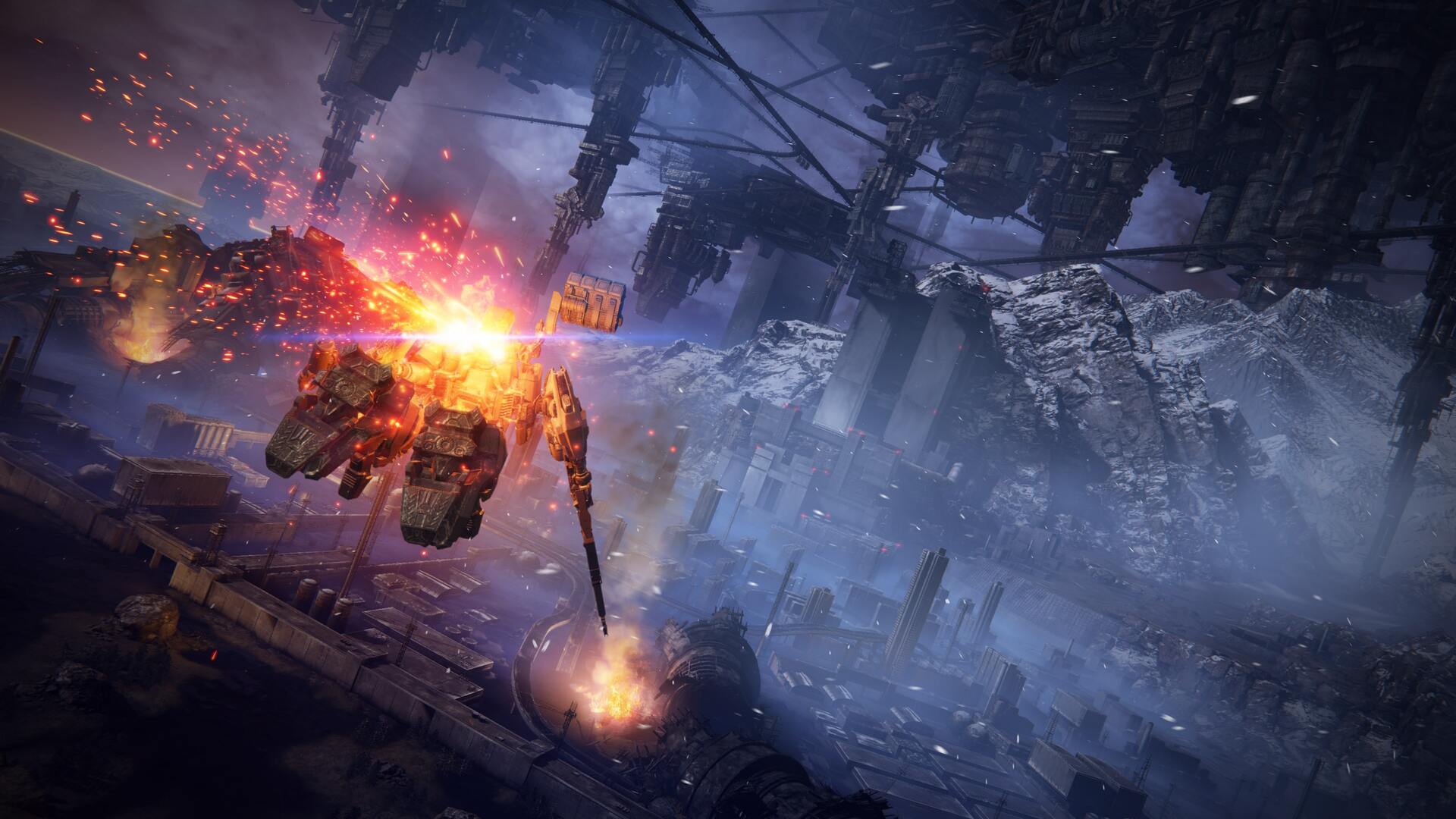 A new 10-minute preview for Armored Core 6 Fires of Rubicon has just gone live, showing off the frantic combat, detailed customization and dystopian environments we've come to expect from the mech-battling RPG. 
Releasing August 25, Armored Core 6 is the latest title on offer from FromSoftware, creators of Elden Ring and the Dark Souls series. Before Dark Souls, however, FromSoftware was known for its meticulous mech combat series: Armored Core, the previous of which was released nearly a decade ago. 
Judging from this gameplay preview, it looks like the folks at FromSoftware haven't lost their touch. Over the course of the video, new footage shows off fast-paced mech combat, as well as some of the varied weapons on offer for different builds. We're also given a sneak peek at the game's use of verticality. Bursts of flight have been a fixture in Armored Core games since the original and return in force here, offering all sorts of interesting attack vectors for cunning pilots. 
You can see the full video below. We've also set it to skip the pre-stream countdown for your convenience.  
We're also given a taste of Armored Core 6's plot, and the dystopian sci-fi intrigue that underpins the dramatic mech battles. 
In the first mission shown in the preview, a sinister megacorporation tasks the player with destroying a walking rebel fortress. In true Armored Core style, the mission is a self-contained strike, having you get in, complete the objective, and leave. However, the spectacle that comes with the fortress' destruction is a real sight to behold, and a testament to the graphical fidelity on offer in Armored Core 6.
The footage goes on to show off a second mission on a snowy mountainside where the player teams up with some NPC mech pilots. A third sortie has our protagonist dash their way through fields of plasma fire as they close in on an entrenched enemy position. 
Lastly, we see a mech duel as well as a boss encounter, both of which look deliciously challenging. Though our own Jake Tucker had a hard time with the boss battle in his own hands-on with the game, he did rate Armored Core 6's mission design as well as mech customization. We can't wait to get our hands on the full version. 
Armored Core 6 releases on August 25 for PS5, Xbox Series X|S, and PC. 
One of the most anticipated upcoming games at the moment, Armored Core 6 could earn a place amongst the best RPGs of recent years.
Source link