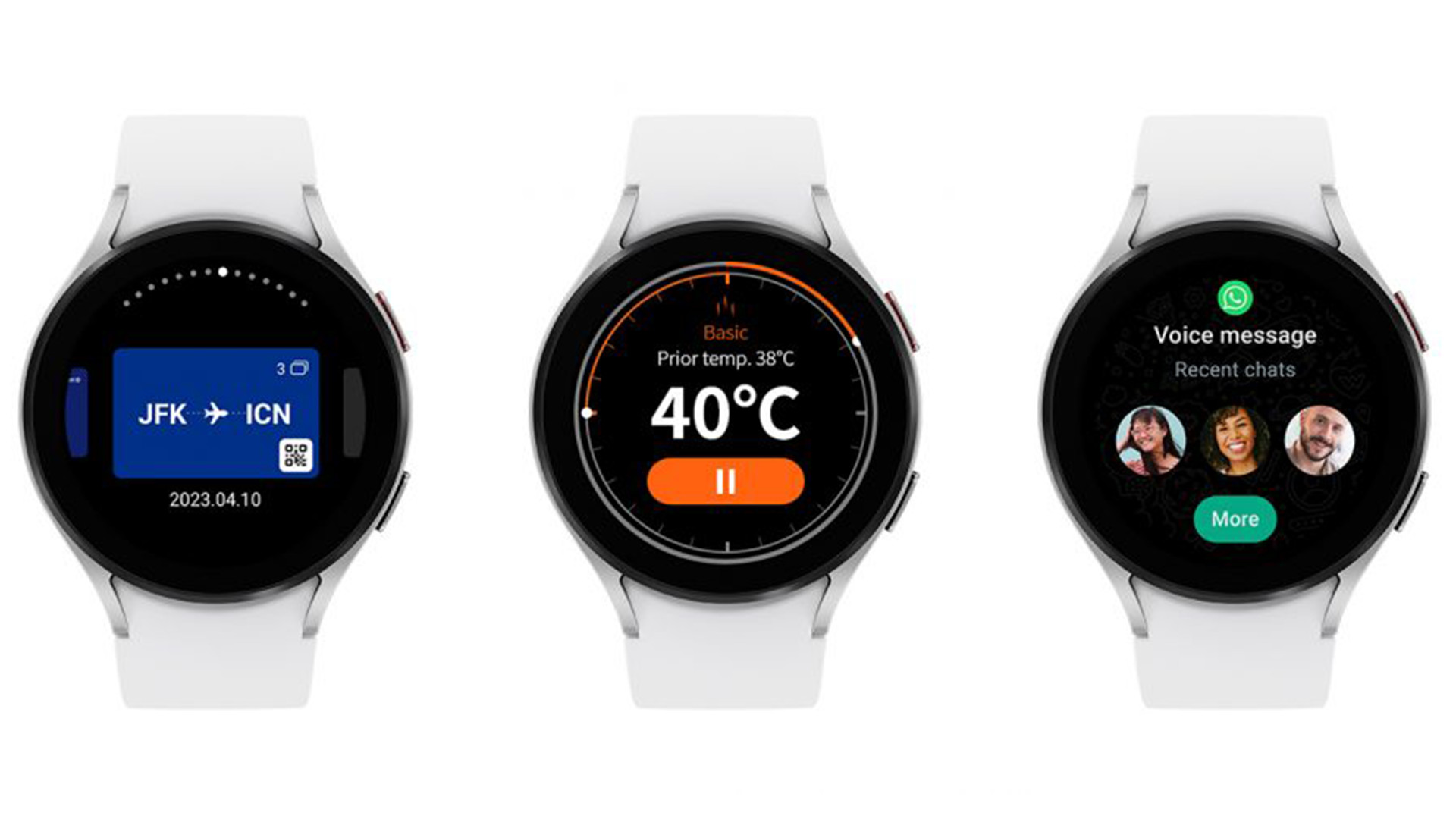 Samsung has revealed plans to launch three new apps for its Galaxy Watch devices just days before it's scheduled to hold its second Galaxy Unpacked event of the year.
According to the announcement, you first have WhatsApp which should come as no surprise as Meta recently announced its bringing the messaging platform to smartwatches. Coming to the Galaxy Watch4 and Watch5, WhatsApp will function similarly to its smartphone counterpart by giving users a way to respond to messages or answer calls on their wearable. What's more, you don't even have to connect your phone. It's a standalone app. Be aware WhatsApp on smartwatches isn't as robust as other versions. As previously reported, it lacks certain features like Communities, nor can you make phone calls  – only receive them.
Samsung Wallet
Next, you have Samsung Wallet giving owners an easy way to "make payments, provide IDs, and pull up show tickets". The ID support does extend to university student IDs as confirmed by a company representative. For those unaware, the Samsung Wallet app on mobile devices can now house student identification at 68 different colleges from Penn State to the University of Florida. It's unknown if Fast Mode or Power Reserve will be on the smartwatch version. The former allows students to bring up Samsung Wallet without needing to unlock their device while the latter offers constant access to their ID even if their phone is off.
We reached out to a company representative for clarification. This story will be updated at a later time. Also, a full list of universities supporting the update is unknown. Samsung recommends students contact their institution to see if they support Samsung Wallet.
Future update
The final app is called Thermo Check, which offers people an easy way to "measure the temperature of their surroundings, from [the food] they are about to eat to [the] water they are about to swim in". For a while, the temperature sensor on the Galaxy Watch 5 didn't do a whole lot. It was mostly useless. That is until a few months ago when Samsung added a cycle tracking tool that takes advantage of the tech. It's good to see the temperature sensor get fleshed out, but what's most interesting about the update is Thermo Check won't be coming out to the Watch 5 first.
Instead, Samsung states the app will be "available first on… upcoming Galaxy Watches devices" meaning the Galaxy Watch6 series. This is pretty exciting news as the tech giant has been pretty quiet regarding future wearables. Samsung could be hinting at the fact that we will see the Watch 6 make its long-awaited debut during next week's event.
WhatsApp is currently available for download on Galaxy Watches through the Google Play Store. Thermo Check will come to the Watch 5 series sometime after the launch of the Watch 6. As for Samsung Wallet, the company states it'll arrive "later this summer".
And be sure to stay tuned for our coverage of Galaxy Unpacked. The show begins on Wednesday, July 26 at 7 AM EST. 
Source link