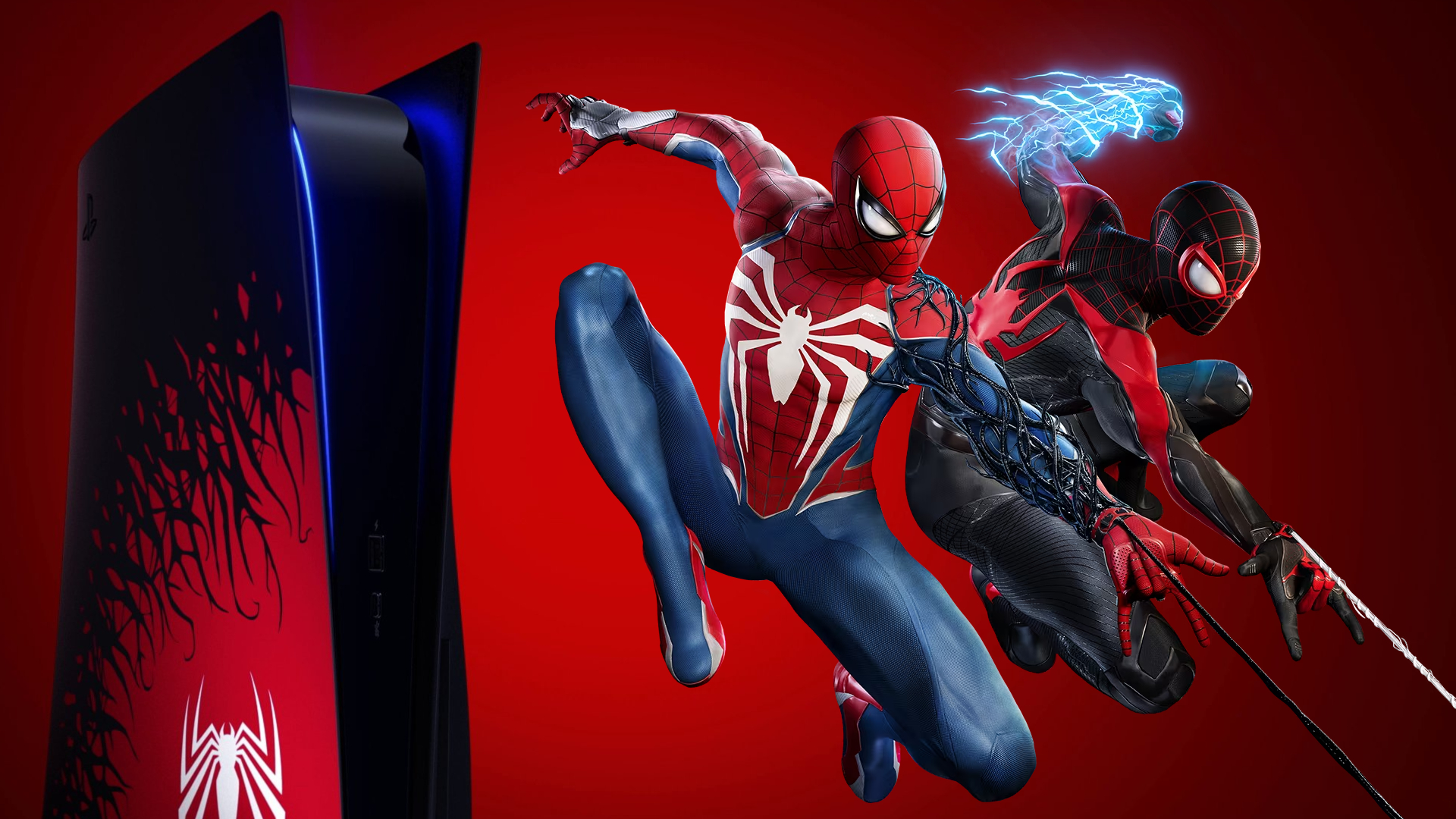 Sony has revealed a new Limited Edition Spider-Man 2 PS5 console bundle alongside a new story trailer for the upcoming blockbuster sequel. Pre-orders begin on July 28. 
The new Spider-Man 2 PS5 bundle includes a uniquely designed system as well as a custom DualSense controller which launches on September 1, ahead of the upcoming game's October 20 release date. The package includes a digital voucher code for the title when it is released. 
The console features a mostly black color scheme with Insomniac Games' Spider-Man badge on each face plate in the lower corner. However, there's still a hint of the iconic red that the character is known for, representing the struggle that Peter will have in fighting back the influence of the symbiote. 
This design philosophy extends to the DualSense as well as the left side is mostly blacked out with red piercing through on the right-hand side. While the D-pad is black, the face buttons themselves are white which adds a nice contrast, and the Spider-Man insignia is present on the touchpad, too. 
The beauty of the PS5's design is that the faceplates are designed to be easily removed, and this means existing console owners aren't missing out on getting some Spider-Man style into their setup. Sony has confirmed that the console covers and the custom controller will also be sold separately, so there's no fear of missing out. The full details are available on the PlayStation Blog post. 
It's great to see Sony finally embracing a unique limited edition console approach for its system which has only really been teased throughout the last three years. Most recently, for Final Fantasy 16, the Japanese hardware giant released custom faceplates for the JRPG title exclusive to the region, at a time when we thought it shouldn't have taken this long for the PS5 to get custom designs. 
The DualSense hasn't received many custom iterations either, with the only real exception being the God of War Ragnarok PS5 controller which is now challenging to find new. Here's hoping that the success of this Spider-Man 2 console bundle launch could be the start of more high-profile limited edition system launches as the machine certainly benefits from customization. 
The new Spider-Man 2 PS5 console will pair nicely with one of the best monitors for PS5 or one of the best PS5 controllers, and you can make space for the new game with the best SSDs for PS5. 
Source link