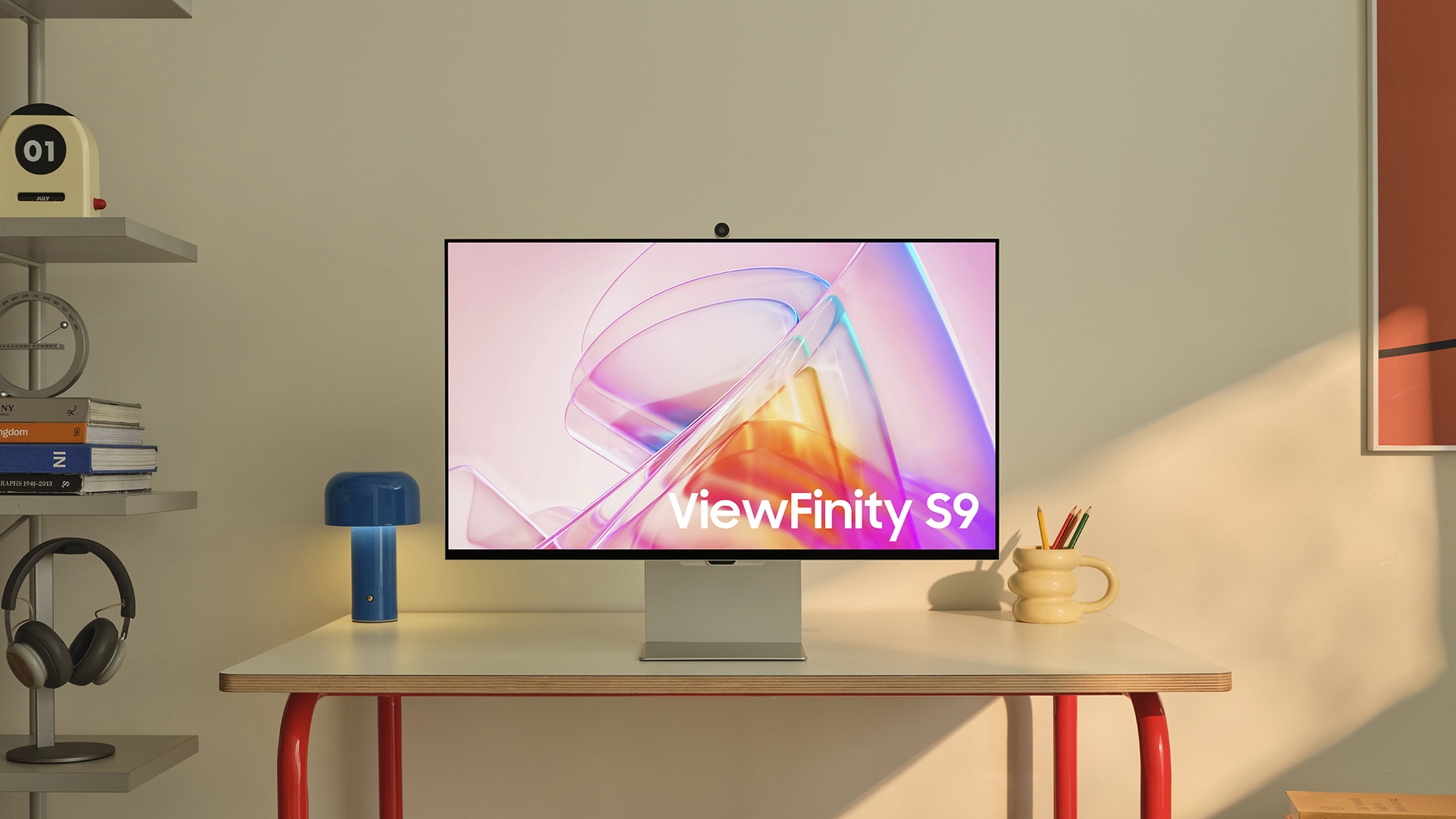 Today Samsung announced its refresh of 2022's UHD ViewFinity S8, the 27-inch UHD Samsung ViewFinity S9 monitor. This model features an upgrade to a 5K (5,120 x 2,880) resolution which, according to Samsung, offers 50% more workspace than even the best 4K monitors and allows professionals to zoom in on their work while keeping editing tools on the screen. Samsung also states that the monitor boasts a 99% DCI-P31 color gamut, 218 PPI, and 600 nits of brightness.
It's compatible with both Windows PCs and Apple Mac devices and comes with a mini Displayport input as well as a 90W USB Type-C port. It also features a built-in 4K SlimFit camera that connects via pogo pin and has Auto Framing. For professionals who worry about adjustability, height can be adjusted and the screen can be rotated by 90 degrees.
What also sets the ViewFinity S9 apart from many of the best 5K monitors is that it can be calibrated with a smartphone without the use of calibration equipment. With the SmartThings app, users can customize settings under Basic and Professional modes like color temperature, luminance, color space, and gamma settings.
If you need a gaming monitor, this isn't the best gaming monitor for you as its refresh rate is capped at 60Hz, and its response rate is 5ms. And though most of its specs are quite excellent, its contrast ratio is only 1000:1, which isn't a great ratio but, depending on factors like general color gamut, other specs can easily compensate.
The ViewFinity S9 will be available for purchase in August on Samsung's online store and at select US retailers for $1,599.99 (around £1,221 / AU$2,338).
Apple fans rejoice 
As stated before, the Samsung ViewFinity S9 is compatible with both PCs and Macs. This is especially great news for Apple users, who haven't had access to a good quality 5K standalone screen in quite some time. The first 5K resolution monitor was the iMac, which is a 2-in-1 computer, leaving out those who simply needed a monitor. And LG did produce one for a while but it was discontinued a few years ago.
Samsung's new ViewFinity S9 is quite the boon for Apple users, then, as they'll finally have a standalone monitor that isn't the Mac Studio Display. This is especially great since Macs are well-known for their professional use for creative and editing projects, and all of its specs are tailor-made for pros in those fields.
And despite the ViewFinity S9 being a bit on the pricey side, it's the same price as the Studio Display and Samsung monitors frequently get additional sales pricing from retailers, something that's rarely seen on high-end Apple products.
Source link