Looking for a big Bluetooth speaker for post-festival season parties at your place –something to call your best party speaker? I might have found a cheap one for you and while the brand is hardly a household name, its moniker is nothing if not a conversation starter. 
The product is the Tronsmart Bang Max (stop laughing at the back) and it weighs just shy of 6kg, boasting 130W of dynamic power. Is that loud enough for your party? Unless you live in a mansion or you demand ear-splittingly loud death metal, yes – the general rule of thumb is that 100W is the minimum for small gigs (think coffee houses), so you should be good. 
Tronsmart is an audio outfit many of us are likely unfamiliar with, although a quick scan of the company's Instagram account lists some 14k followers, so where have I been? Anyway, let's have a quick introduction: founder Eric Cheng launched Tronsmart in 2013 in Shenzhen – Asia's Silicon Valley of hardware. In 2018, the company signed one of the world's most recognized soccer stars, Luis Suárez, as a brand ambassador so yes, it's got some presence. 
Recently, the firm's Bluetooth speakers have been gaining traction, with YouTube user FishBee Productions calling the company's Halo 100 Bluetooth speaker "easily the best Bluetooth speaker I've tested" in February of this year.
Bang Max is the company's flagship speaker (it sits beside various other Bangs, including the Bang Mini, Bang SE and just a regular-sized Bang) and it will be released on Amazon for $199 at the end of August, which is around £150 or AU$289. 
Opinion: Tronsmart's speaker will launch with a Bang –and if it sounds good, the future is bright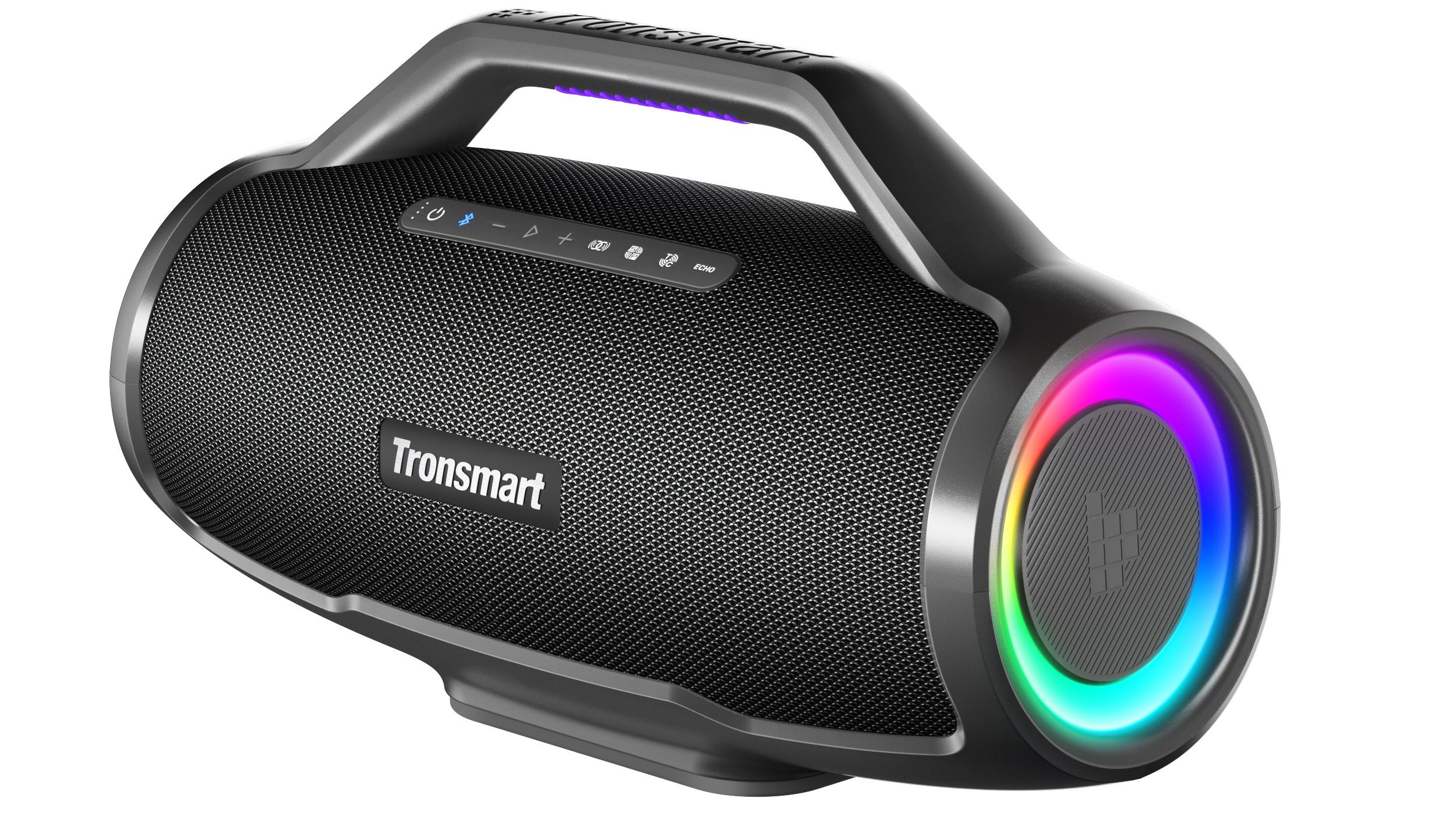 The company isn't backwards about coming forwards with the Bang Max, telling us it is Tronsmart's "best speaker ever", claiming, "It might even be the best speaker under $200; many audiophiles are discussing it and looking forward to testing it."
Tronsmart is offering a fair few drivers under the hood for the money, too. The Bang Max is a three-way speaker, comprising two 30W woofers, two 20W "mid-tweeters", two 10W tweeters, and two passive bass radiators.
You also get custom EQ and RGB lights to tweak your party vibe both sonically and visually (with three different lighting modes) accessible via a control app. And if you want to really bring the party, Tronsmart's TuneConn tech allows you to sync up to 100 other Tronsmart speakers, similar to JBL's PartyBoost solution or Sony's Party Connect. 
The Bang Max is IPX6 water resistant for pool parties and, like Sony's SRS-XV800, you can use it for karaoke. But Tronsmart has an ace up its sleeve here, because while it will support two wired mics and one guitar (for dedicated backing vocals alongside your star singer), the Sony proposition only sports one mic input and one guitar in. Also, the Sony speaker only boasts an IPX4 splash-proof rating, and although it is bigger at 18.5kg, it's a lot more expensive, at $648 / £599 / AU$849.
Might Tronsmart be on the cusp of breaking through into the big time with its new Bang Max speaker? Impossible to say just yet – although I'm a huge fan of the cheap and cheerful Tribit Stormbox Blast which also costs $199 – and the two speakers look very similar indeed. 
Unlike the new May-release JBL Boombox 3, there's no Wi-Fi or Dolby Atmos support listed for the Bang Max, but again, the Wi-Fi enabled JBL costs in the region of $650 / £549 / AU$1,000, so you wouldn't expect such lofty extras in something costing a fraction of the price.
Is our best Bluetooth speakers buying guide about to gain a fresh debutante? Watch this space. 
Source link