One of Disney's most-loved fairy tale characters has been given a makeover, again. Cinderella, the 1950 animation that's been loved by generations, has been fully restored by Disney in collaboration with the experts at Walt Disney Animation Studios. 
That means from August 25, you'll be able to stream the restored version in full stunning 4K resolution on Disney Plus. If you're wondering whether the date has any significance, it's when Disney will be holding the 2023 World Princess Week, the third such event that's taken place. 
If you have one of the best 4K TVs or best 4K Blu-ray players, then this is a great time to make the most of it and see how your favorite animation has been transformed.  As you can see from the comparison below, the difference is quite dramatic.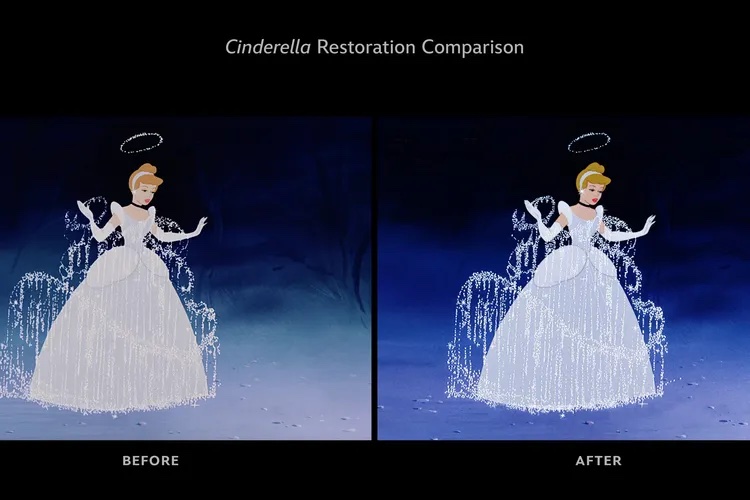 The dream that you wish will come true
This is no hastily-produced, AI-generated upsample. This version of Cinderella has been made with love and a great deal of time and effort. In order to get the best possible quality, the team went to the Library of Congress to get the original nitrate negative and then scanned it in 4K. After that, they painstakingly removed unwanted and age-related artifacts. The result, Disney says, is sharper and higher quality than any version you've seen.
The team included some real Disney legends including Michael Giaimo (Frozen; Pocahontas) and Eric Goldberg (more Disney classics than you can shake a stick at). According to Goldberg: "We both really love the film, and felt strongly that we had to preserve it.  Viewers watching this restoration will see more clarity, but they will also see more subtlety. They'll see differences in color from shot to shot, and discover how one color works with another."
Some lucky souls have already seen it, because it was shown at the Berlin International Film Festival in February and made available on Blu-Ray and DVD to Disney Movie Club members this year too. But for most of us, it's going to be August before our rainbow comes smiling through. The 4K restored version will be available from August 1 on disc and August 25 for streaming.
I'm genuinely excited about this. It's been 70-plus years so perhaps it's hard to imagine the impact Cinderella had when it debuted in 1950, but back then it was really cutting-edge stuff. It bagged three Oscar nominations for its stylish and experimental visuals – the work of Disney legend Mary Blair, who sadly left us in 1978 – as well as the storytelling. It's an extraordinary piece of visual storytelling and the 4K restoration is going to be a real treat for audiences of all ages.
Source link