The world's oldest tennis championships has become the latest institution to embrace AI in order to help boost the sporting experience for fans around the world.
Wimbledon tournament organizer, the All England Lawn Tennis Club (AELTC), has once again partnered with computing giant IBM to provide its own coverage and online experience, with the 2023 tournament bringing in AI technology in a big way.
Building on previous years and the work of IBM Watson, this year's Wimbledon is set to feature more AI than ever before, along with greater analytics and insight tools to help fans really get under the skin of the tournament.
Serving up AI
"Data is at the heart of everything we do…(and this year) it's very much about humans and AI working together," Kevin Farrar, IBM's UK Sports Partnership Leader told TechRadar Pro during our recent tour of the company's "bunker" at Wimbledon.
Having now worked with the AELTC for 34 years, IBM has once again taken up residence on the grounds to provide a huge range of data and analytics services for fans and media alike.
The company helps the AELTC provide highlights of every point in featured tournament games, which in 2023 feature commentary provided by generative AI for the first time.
The service uses generative AI technology from the company's newly-announced IBM watsonx platform to produce commentary for all video highlights packages hosted on the AELTC's Wimbledon.com website and Wimbledon app.
Available in both audio and text format, the commentary is created by an IBM foundation model that has specifically been trained on the game of tennis. Farrar notes that this doesn't just include specific game terminology ("double-fault" and "deuce" for example) but also in key statistics and, crucially, the language of Wimbledon – as he notes, "it's not the men's singles, it's the gentlemen's singles…(it's about) getting all those nuances right."
Farrar is keen to note, however, that the AI-powered commentary is in no way intended to replace its human equivalents.
"(Human commentators) can't be everywhere – but we can with this kind of technology," he says, highlighting how many commentators have played at the tournament, so can offer a perspective AI cannot, "but it's not intended to replace the human commentators..it's designed to compliment the human element."
The company is also working on a proof-of-concept using computer vision to identify even more variables and areas of interest, but Farrar agrees that the usage of AI does need some control.
"We are ensuring that everything we do with AI is trusted," he notes. "If the public don't trust AI, there are challenges – so we make sure everything is transparent, it's explainable, and any form of unwanted biases is taken into account."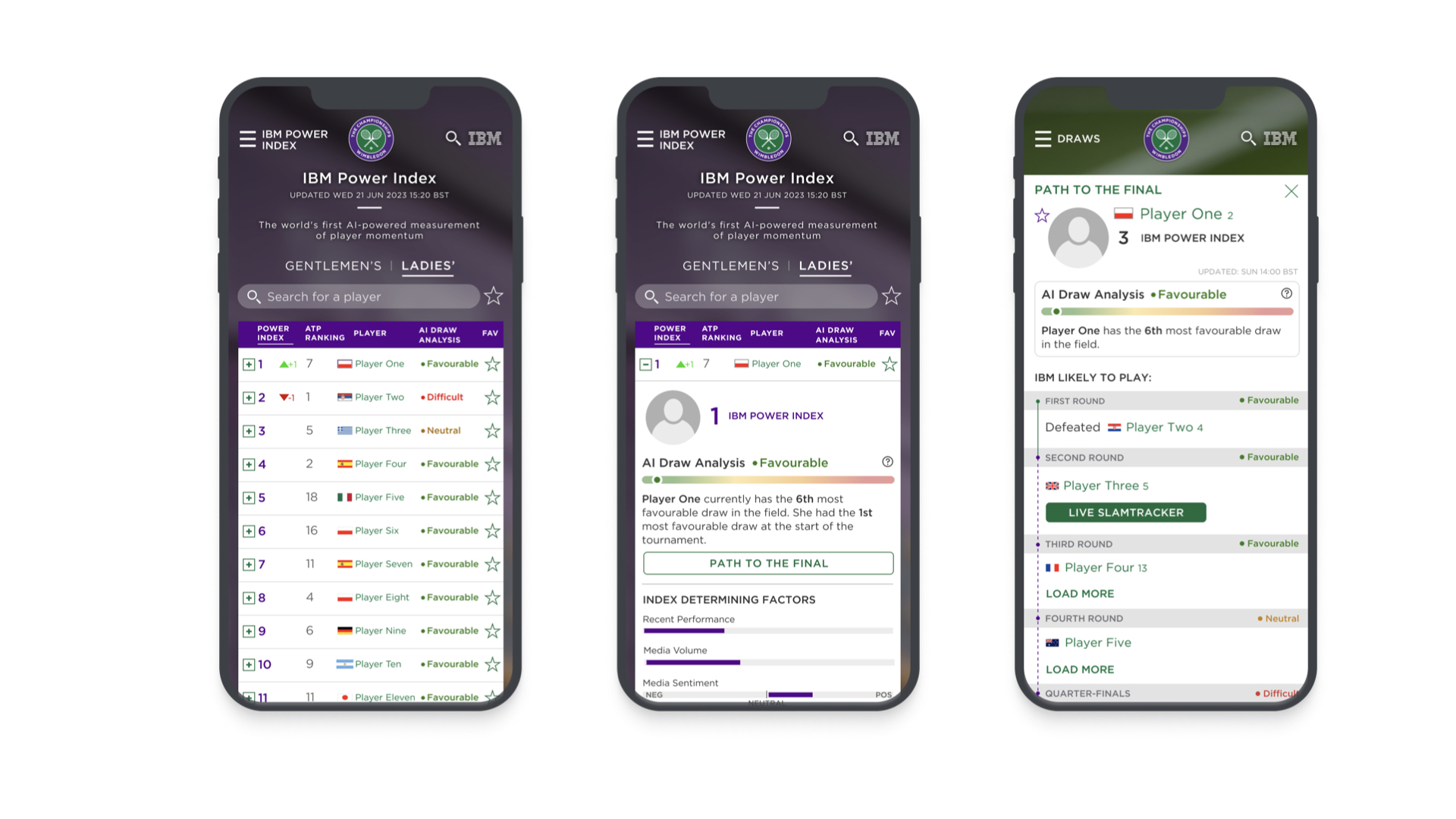 Also new to the Wimbledon fan experience in 2023 is an AI-powered draw analysis feature that lets fans track the potential progress of their favorite players throughout the tournament.
Taking into account a wealth of variables, past performances and statistics, the IBM AI Draw Analysis (pictured above) uses AI to define how favourable the path to the final might be for each player in the singles draw. Using the Wimbledon app or Wimbledon.com website, fans can now view any potential upsets with color-coded profiles indicating how likely a player is to win their next match.
"The beauty of sport, and the beauty of tennis is that you don't know, actually, once that first ball is tossed in the air, you don't know the outcome of the match – upsets happen, there are 101 different variables once the match starts…really, anything can happen," Farrar notes.
"It's really trying to bring the beauty, drama and excitement of Wimbledon to fans around the world who can't get here on site."
Source link