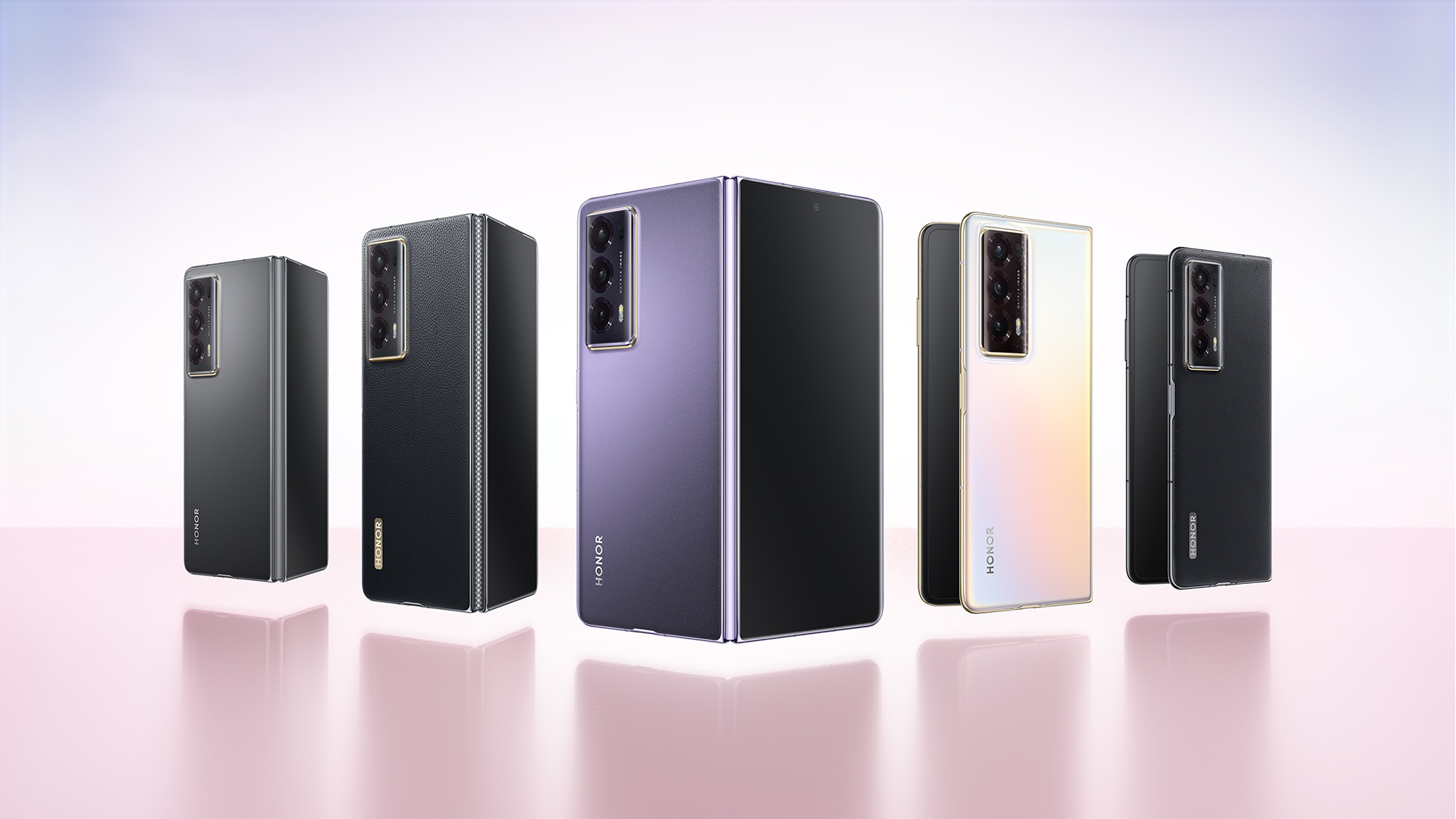 Phone brand Honor is setting a new standard for foldable smartphones as the tech company launches its next-gen flagship device: the Magic V2.
Measuring 9.9mm (less than half an inch and more than 2mm thinner than the Google Pixel Fold) in thickness when folded and weighing 231g (around eight ounces), the Magic V2 is one of, if not the most, lightweight foldables on the market today. That's almost as thin as the iPhone 14 Pro which is 7.85mm thick. So a closed Magic V2 could feel more like a typical smartphone in your hand than other foldables like the Samsung Z Fold 4.
Honor doesn't really talk about the design process, but a recent report from TheVerge does give a bit of insight. Apparently, 67 percent of the Magic V2 is made of a "proprietary steel" that is "25 percent thinner and 20 percent stronger than what the company used in the Magic VS." Also the device sports a "Super-light Titanium Hinge" striking a "perfect balance between weight and strength." 
To ensure a thin form factor, the smartphone comes equipped with a pair of 5,000mAh "silicon-carbon batteries", both measuring just 2.72mm in thickness. The power supply supports the company's 66W Honor SuperCharge allowing lightning-fast recharges. 
Specs
Of course, there's more to the Magic V2 than its slim design as it does have some fairly impressive hardware. Both displays feature OLED screens with a refresh rate of up to 120Hz. The inner screen is the superior of the two, however. The official specs sheet shows it measures 7.92 inches, outputting a resolution of 2344 x 2156 pixels. The outer screen, on the other hand, is 6.43 inches with a 2376 x 1060 pixel resolution. What's interesting about them is they have eye protection tech. Dynamic Dimming "mimics natural light rhythm" to reduce eye fatigue plus Circadian Night Display for adjusting "the screen to warmer colors". The latter is said to promote better sleep.
As for photography, the Magic V2 has a three-camera system. You have a 50MP main lens, 50MP ultra-wide lens, as well as a 20MP telephoto option. On the front is a pair of 16MP selfie cameras. And everything you see here is powered by the Snapdragon 8 Gen 2 chipset; the same one found on the Galaxy S23 Ultra.
Potential global launch
Now comes the catch: the Magic V2 smartphone is currently only available in China for 8,999 Yuan. We want to emphasize "currently" because there is a pretty good chance the foldable will roll out globally. Honor has brought its tech to multiple regions around the world excluding the US and Canada. Plus, according to The Verge report, a company representative may have teased an international release.
It could just be a matter of time. If it does launch in Europe, we're looking at a price tag of about €1,130 Euros. In the UK, that's roughly £970. So it will be pretty expensive, but things could change later down the line. The Magic V2 could go down in price. Once we get more info, we'll let you know.
Source link