Making good on its promise, Honor is bringing its latest flagship mid-range smartphone, the HONOR 90, from China over to Europe.
Well, it's called mid-range, but once you start looking a bit deeper, you'll realize it's a bit more than that. For starters, HONOR 90 has a 6.7-inch quad-curved AMOLED display outputting a resolution of 2664 x 1200 pixels. Refresh rate can reach as high as 120 Hz, and if that wasn't enough to make movies look fantastic on the phone, it also supports HDR10 Plus for extra performance. 
However, what's arguably the most interesting aspect about the screen is it comes with a robust set of eye-protection features. It has the same Circadian Night Display tech from the HONOR Magic 5 Pro to filter out "blue light and promotes natural melatonin secretion to improve… sleep quality". 
Additionally, you have Dynamic Dimming simulating "natural light to alleviate eye fatigue". HONOR even claims the phone has "the industry's highest Pulse Width Modulation (PWM) Dimming frequency of 3840Hz" to help minimize eye strain when the screen is at low brightness. 
Improved performance
On the back is a three-camera system led by a massive 200MP lens – the exact same resolution found on the Samsung Galaxy S23 Ultra's camera. But that's where the comparisons end with the S23 Ultra. The other two lenses aren't as powerful. There's the 12MP ultra wide and macro lens plus a 2MP depth sensor to help the main camera gauge distance. Unfortunately, there's no telephoto option, so zoomed in photographs won't have the best quality to them.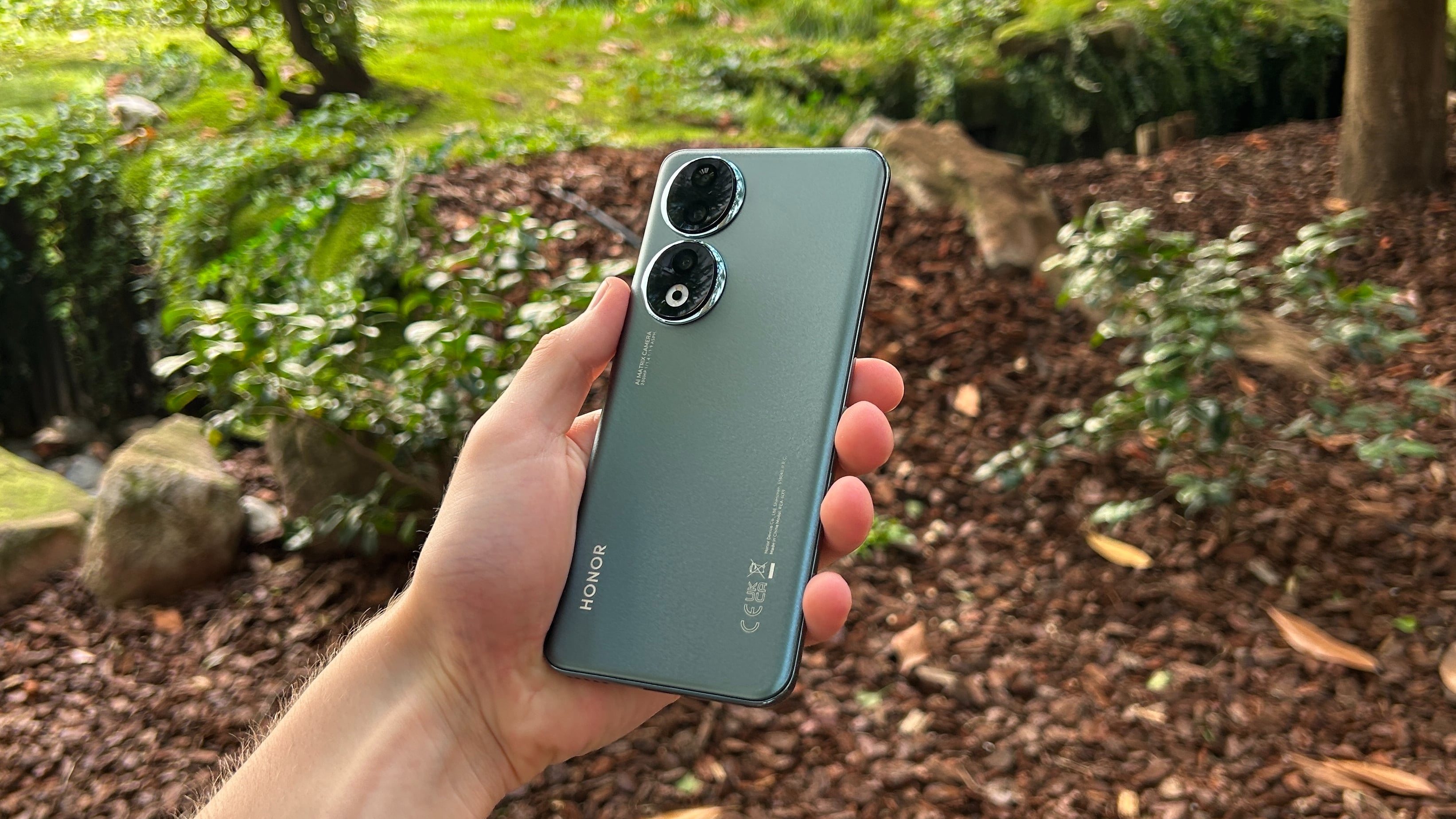 Under the hood is the Qualcomm Snapdragon 7 Gen 1 "Accelerated Edition". According to the company, this particular version of the chipset sports "20 percent better GPU and 30 percent better AI performance compared to its predecessor." The upgrade also introduces a "147 percent larger vapor chamber" to keep the phone cool. Casual users probably won't get a lot of usage out of the extra performance features. It looks like this is all meant for gamers who crave an optimal experience.
But something casual users will appreciate is the large 5000mAh battery powering the HONOR 90 for "up to 19.5 hours of continuous local video streaming" on a single charge. And thanks to 66W HONOR SuperCharge, a quick 15 minute charge can take the battery back up to 45 percent.
Availability
There's more to the HONOR 90 than what we just mentioned, so if you like to know more, be sure to check out our recently published review of the smartphone. You'll learn everything we liked about it like the fantastic display, as well as what we didn't like such as the lack of wireless charging.
Interested UK customers have the option to purchase two separate models of the HONOR 90 each sporting different hardware. The £449.99 model comes equipped with 8GB of RAM alongside 256GB of storage while the £499.99 option bumps everything up to 12GB of RAM and 512GB of storage. People can choose between either Emerald Green or Midnight Black as their color; however if you go to an HONOR store in-person, you can get the phone in Diamond Silver.
For people living in EU countries, you have the same options. The 8GB RAM device costs €549 whereas the 12GB version is €599. 
No word on whether or not the HONOR 90 will be available in other countries like the US or Australia nor do we know anything about a potential launch of the Honor 90 Pro. We reached out to HONOR for more information. This story will be updated at a later time.
In the meantime, be sure to read TechRadar's list of the best HONOR phones for 2023 if you're looking to buy one.
Source link