It's rare to arrive at a consumer audio product launch and exclaim, "Huh. OK, that product doesn't currently exist". But that is what happened when I saw Sony's new HT-AX7 (previously leaked by Slashleaks as the MagicBucket speaker).
It is a Bluetooth portable speaker with two moveable muffin-sized upward-firing satellite speakers resting on charging ports, on the top plate. It has been chiefly designed to act as a little soundbar (it's roughly the size of the Roku Streambar) and rear speakers – but for your phone, tablet or laptop. It looks a lot like the concept Art TV and Soundbar TCL unveiled at Milan Design Week, but that idea needed power and really was meant for TVs. This isn't, and doesn't have to be. 
So, it's a wireless speaker that uses your home wi-fi network? No, Bluetooth only – oh, and there are no physical connections other than the USB-C charging port. But it does include Sony's proprietary 360 Spatial Sound Mapping, which is able to upconvert a stereo signal over Bluetooth in real-time. So, when those two upward-firing channels are placed 1m to 1.2m behind you, they become rear speakers and provide something resembling a Dolby Atmos setup. And I've heard it: it's not about to get into our best Dolby Atmos soundbars guide only because it doesn't actually support Dolby Atmos, but it's good and immersive.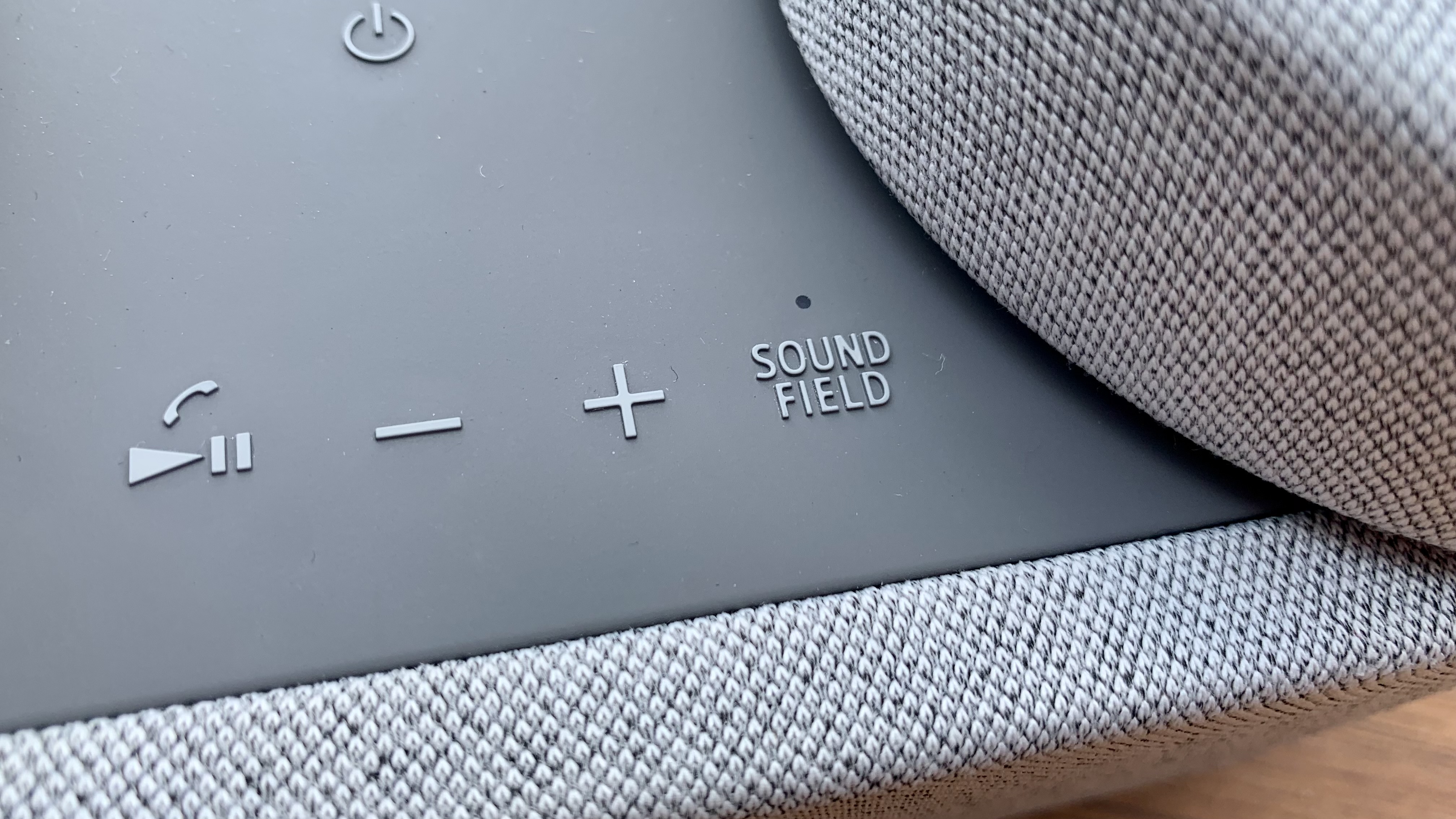 There's no actual room calibration tech either. The upconverting uses Sony's monopolsynthesis technology but it assumes that you've place your rear speakers roughly a metre behind you and the main 'bar in front of you, just below your ears on a coffee table or similar. And I think that's quite refreshing. 
Sony calls the HT-AX7 a "portable theater system" and that's a pretty good assessment of it, although it's not the only use case Sony offers up. On the top plate beside the playback and volume controls, you'll see a "Sound Field" button. When this is pressed to 'on', you get the mini-surround setup described above. Anyone who watches movies in bed on a tablet, or shows on their phone at home, this is for you. 
But when you turn Sound Field off, all three speakers play in mono and you can place them around a room to create a party vibe. Oh, and if you put the satellite speakers on their charging ports on top of the main unit, only the main speaker (which is equipped with two of Sony's X-Balanced drivers and two passive bass radiators) plays, as a regular Bluetooth speaker. 
Opinion: portable, practical, punchy – and pricey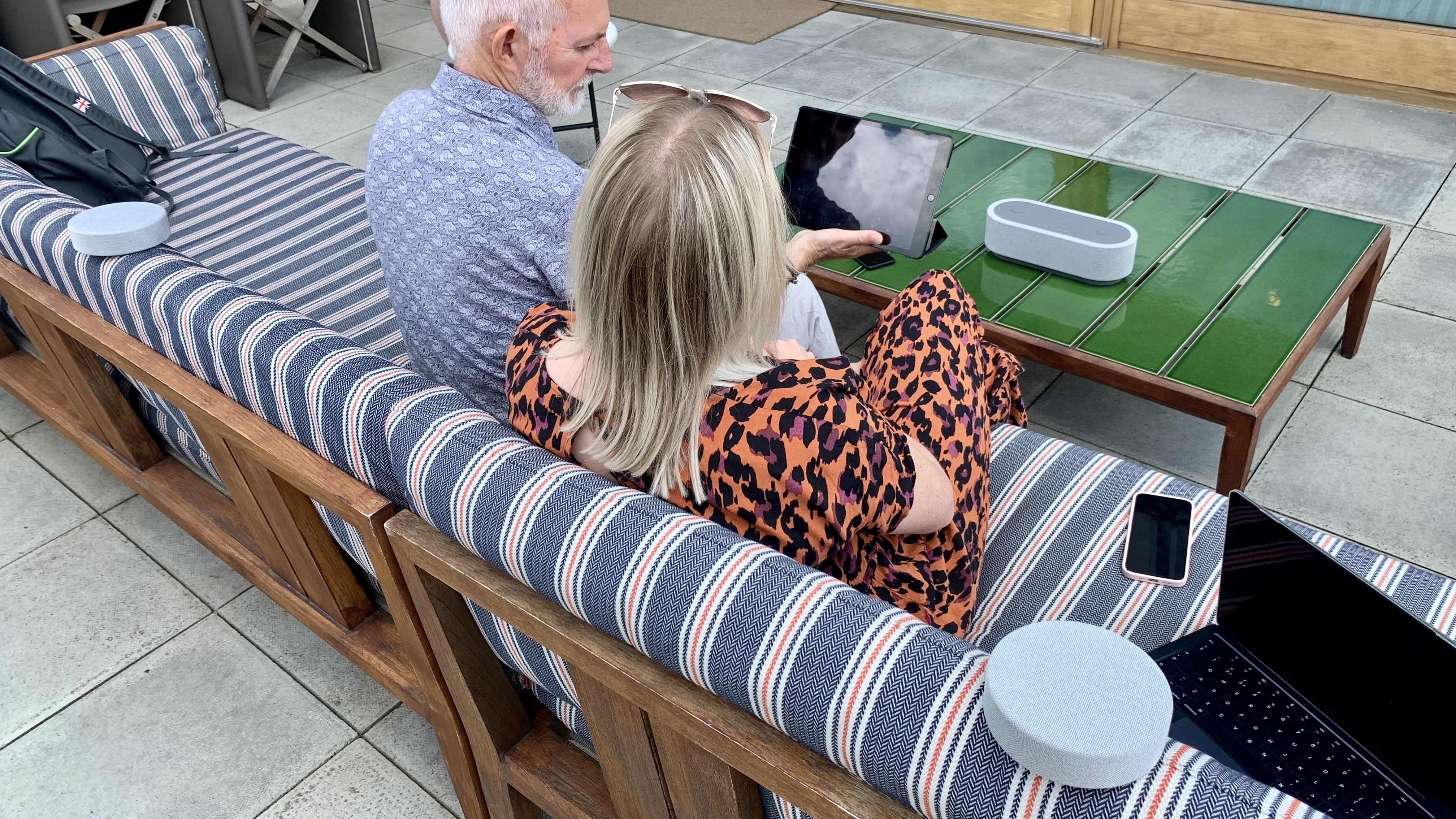 Does it look a little bit like a giant's contact lens case? Maybe it's just me. Anyway, the fabric covering is made from recycled PET bottles and it looks resoundingly premium, which is good because it's only available in this one, light gray shade at present. 
Multipoint connectivity means your phone can act as the HT-AX7's remote too, handling volume and rear speaker tweaks using the brand new Home Entertainment Connect app. And the best part about that is that it leaves your tablet, laptop or mobile phone free to enjoy the visuals. 
Battery life? Good question: 30 hours, but a 10 minute jolt will give you 2.5 hours of playback.
There's a mic for speakerphone duties and even though there's no IP rating (so it isn't up to a dose of mother nature on your balcony), I was impressed when I heard it. When watching a clip from the movie Gravity, I was unable to detect any lag in Sandra Bullock's voice – and even better, as she clanged and clashed against the outer body and portals of the spaceship, I felt the foreboding reverberations of the nothingness of space behind me.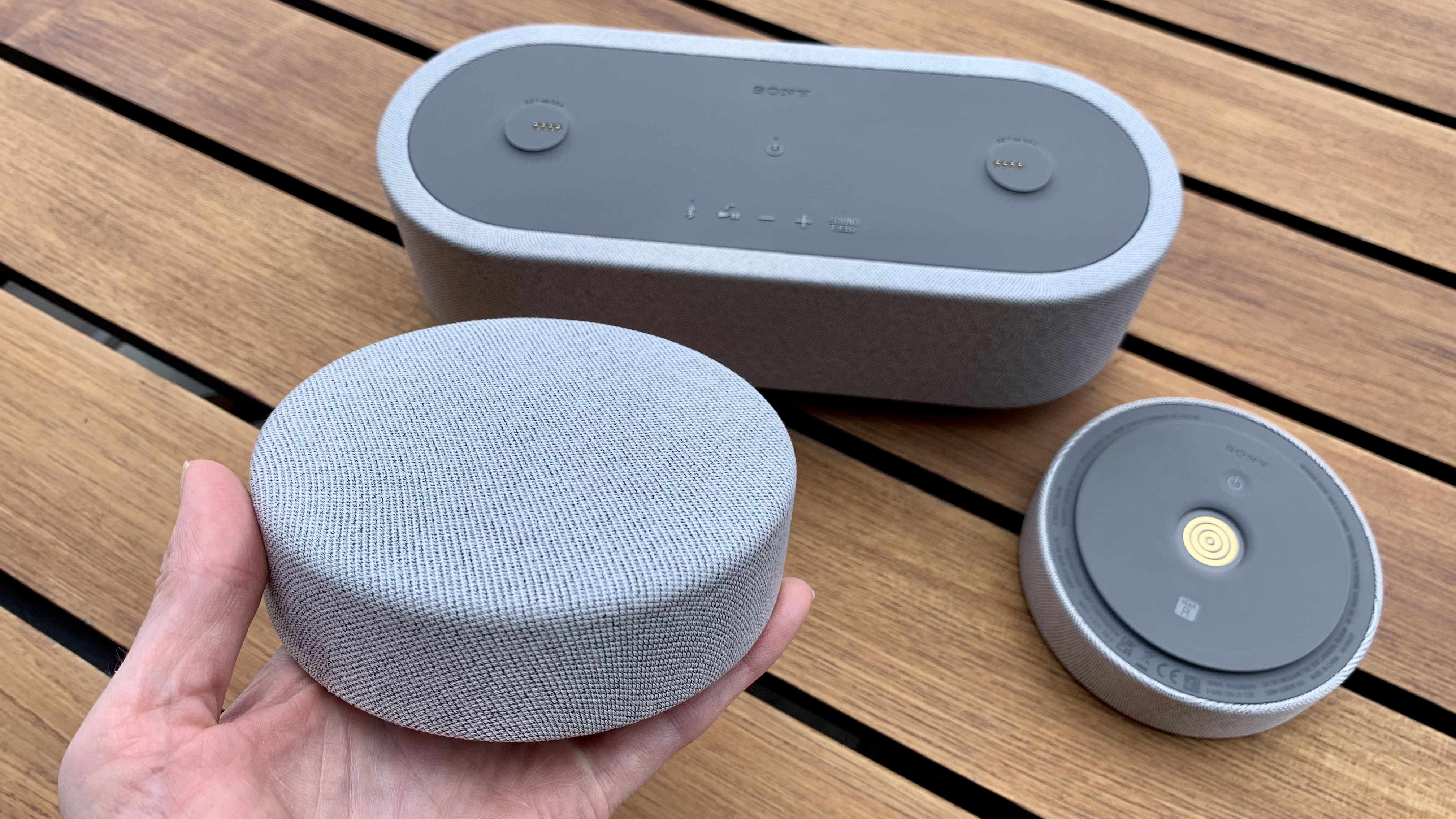 Bullets in the James Bond epic No Time to Die pew-pewed with admirable clarity and zip over my shoulder too. The separation and three-dimensional audio the Sony HT-AX7 was able to deliver when fed this regular stereo recording vastly improved the experience. And it's fuss free too; no wafting your phone around and recalibrating if you move it – you're supposed to move these speakers around, often.
Pricing? Yes: €550 (which is around $598, £470 or AU$890 although we're waiting on official clarification here), so it isn't about to become one of our best cheap soundbar deals suggestions any time soon. But it's talented and we shouldn't be surprized – Sony's SRS-XG300 is an excellent portable speaker that rarely gets the recognition it deserves, perhaps because of its similarly higher price point. 
Could the Sony HT-AX7 find its way into our best soundbars buying guide? Time will tell, but initially at least, there's a lot to like. 
Source link