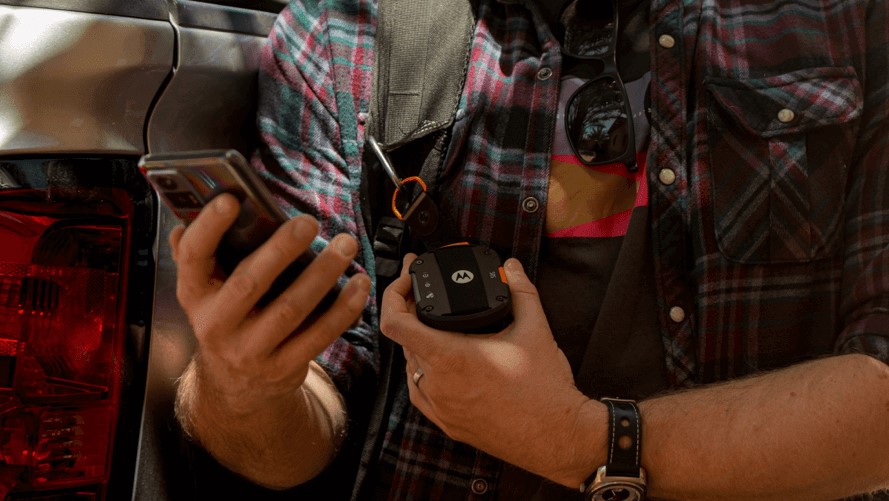 Since the launch of the iPhone 14, you've likely seen a few stories about how its Emergency SOS via Satellite feature has helped to save people's lives – and now you can access a similar tool using the phone already you have.
Motorola is finally launching its Defy Smartphone Satellite Link in the US and UK. It's a BlueTooth accessory that can turn any iPhone or Android phone into a satellite phone, so that even when you're not connected to Wi-Fi or near a cell tower you can message someone for assistance if you get into trouble.
The gadget is rugged – it has an IP68 waterproof rating, a 600mAh battery that Motorola says is good for multiple days of use, and it meets the MIL-SPEC-810H standard, a durability standard used by the US military, and which other rugged tech like the Apple Watch Ultra meets. It's now on sale in the US and UK for $149.99 / £159.00.
The Satellite Link comes with one year of the Bullitt Satellite Messenger service's SOS Assist plan. This lets you get in touch with its staff 24/7 365 days a year, who can then contact the relevant emergency services if you need assistance.
Do you need a satellite phone? 
Not everyone will need a satellite phone, and hopefully you'll never have to rely on it even if you buy an iPhone 14 or Motorola's Satellite Link – but it's already looking like Motorola's tech could be an essential survival tool for explorers and wilderness wanderers.
When we tried out the iPhone's satellite phone capabilities we were impressed; while the messages were slow to send and receive, it was still better than being left stranded with no way to call for help.
To use Apple's satellite tech you point your phone at the sky and then follow onscreen prompts to make sure it's pointed at a satellite it can interface with. You're then able to send simple text messages to emergency services to tell them where you are and what your emergency is. 
Motorola's Satellite Link works in a similar way, and takes things a step further by letting you message people in your contacts book as well, so you can check in with friends and family if you need help, or even just let them know that your latest excursion is going well – you'll have to pay extra for a service plan that allows this.
Source link