There are two narratives surrounding the rumored Canon V100; narrative one is that it's an EOS V100, narrative two claims it's a PowerShot V100. Whatever its name ends up being, the folks at Canon Rumors and The New Camera have revealed what the camera might look like: an interchangeable lens camera in the mold of the best vlogging cameras like the Nikon Z30 and Sony ZV-E10.
The camera itself looks to bring Canon up to speed with rivals in the vlogging space, and if it is branded PowerShot, then it will mark a new future for the company's long-standing name of its compact cameras. 
Is Canon finally getting serious about vlogging?
Let's say the camera is an EOS V100. Leaked V100 specs present a camera that the EOS R100 should have been; a compact form factor with some modern tech designed to make life easier for content creators, including in-body stabilization (possibly the same tech as found in the EOS R7), background defocus, directional capsule mic, and a vari-angle touchscreen. In other words, it's not a DSLR hangover with a dated design, like the EOS R100.
It will use the same Canon RF lens mount (not an all-new V-mount) and most likely the same 24.2MP APS-C sensor as Canon's crop sensor mirrorless cameras, which include the EOS R10, EOS R50 and EOS R100.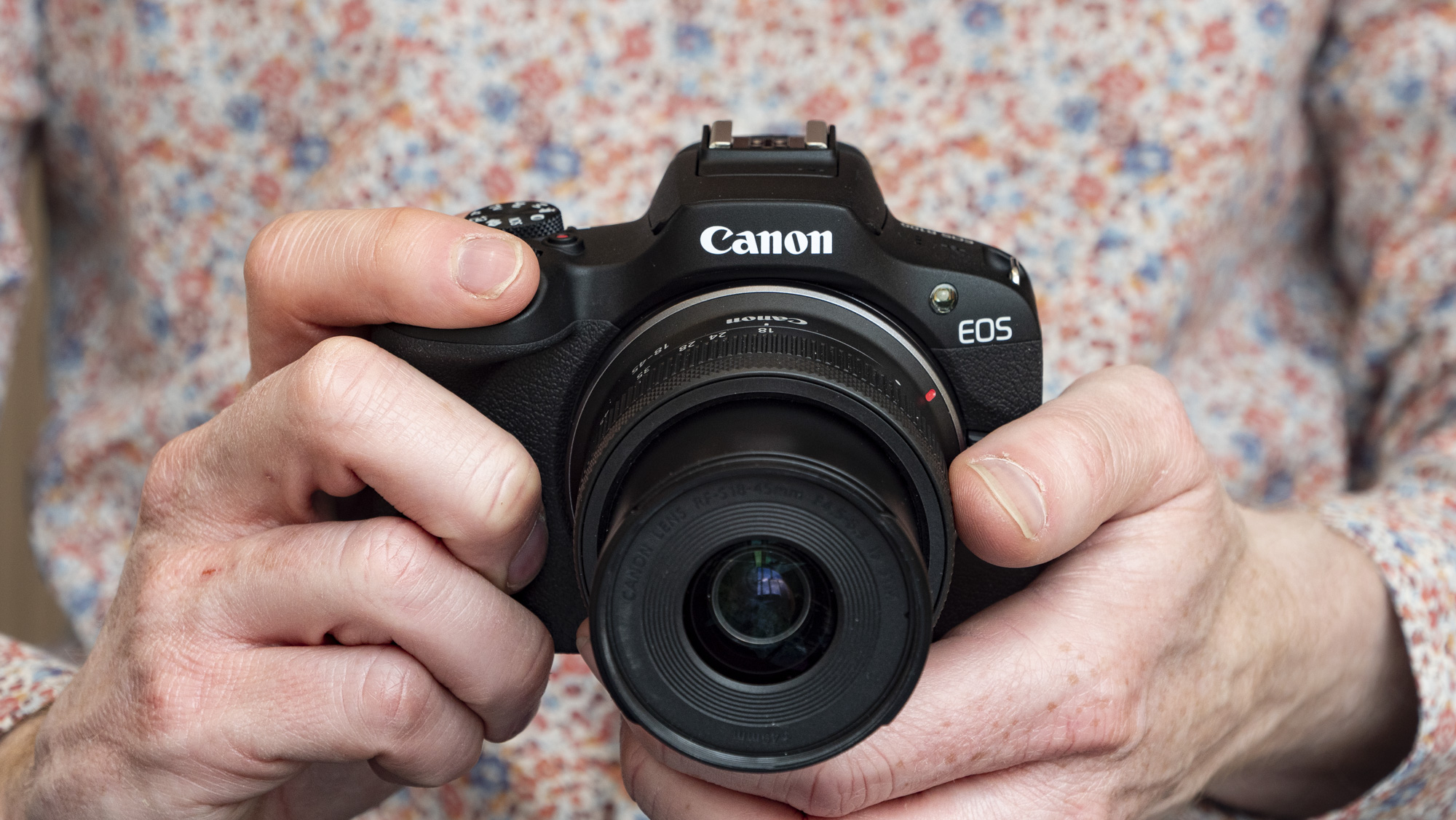 That would make five Canon APS-C mirrorless cameras, with a sore lack of native lenses. It would make complete sense, then, to launch a compact RF-S lens alongside the camera that would satisfy content creators, even a tiny wide-angle fast aperture lens like the options available for the Sony ZV-E10. Something like an RF-S 18mm f/1.8 – or could the lens also have vlogging nomenclature?
If the aforementioned details about the camera are an accurate picture, it brings Canon up to speed with what's currently available from other camera giants for vlogging, but arrives significantly later.
A new future for the PowerShot name?
If the rumored camera is in fact a Canon PowerShot V100, then that is a different narrative even with the same design and specs, because it becomes a story about branding. For those who are even a little bit familiar with Canon, the idea is a head-scratcher. 
Canon PowerShots are historically compact cameras, not an interchangeable lens camera that the mockups would point to. It's suggested that a Canon PowerShot V100 will sit with the recently launch PowerShot V10, with Canon repositioning PowerShot away from compact and to a new line of vlogging cameras, whatever shape or size they may be. 
We also covered a story about another PowerShot concept shown at Photo Next Show 2023, which will be a 180-degree 3D VR and 360-degree camera all in one, much like the Insta360 Evo. It has a similar style to the V10 compact camera, which has a 1-inch sensor and fixed wide angle lens. That would make three very different cameras with the PowerShot V name.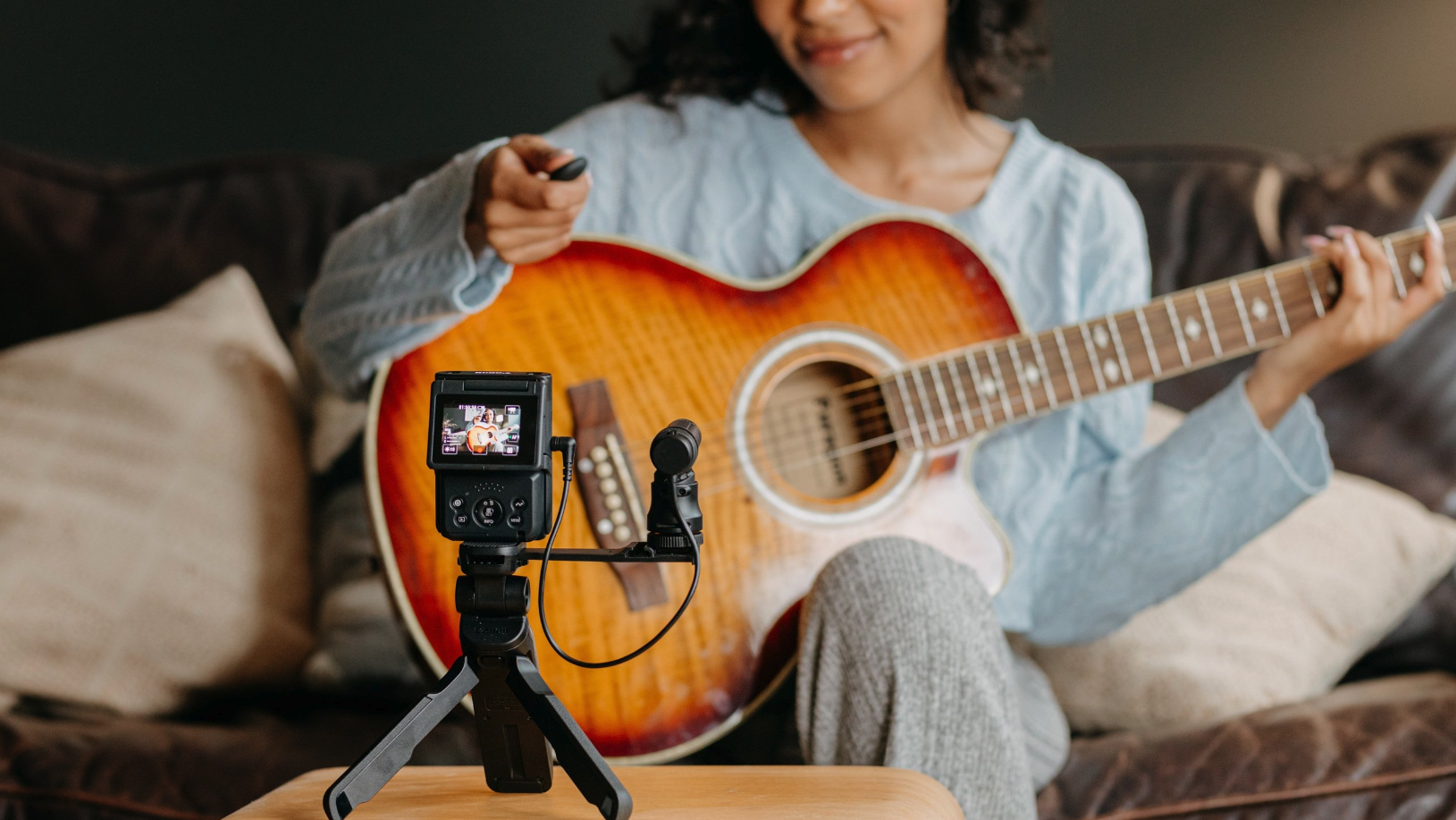 If Canon is indeed repositioning PowerShot as vlogging cameras, whether they be small-sensor compacts or large sensor interchangeable lens cameras, why not just give an entirely new name for this new crowd, mostly unfamiliar with Canon?
Those who already know PowerShot from way back when will think of compact cameras, and for those unfamiliar, PowerShot doesn't exactly scream vlogging, does it?
It can be hard to let go of a legacy, but PowerShot was from another age of camera tech and the industry has moved on. Frankly, camera names can be confusing enough already, but the prospect of a Canon Powershot V100 sitting alongside a Canon EOS R100, where both cameras share a lot of the same tech? That's confusing even for those of us that write about cameras.
Whatever the rumored camera is called, it looks like a sensible addition to Canon's camera range, ensuring the camera giant has an answer to its rivals for enthusiast content creators. We'll be sure to keep you up to speed as the V100 picture further unfolds.
Source link