Google's long-awaited first foldable phone is finally here, with the company unveiling the Google Pixel Fold at Google I/O 2023, alongside the Pixel 7a and Pixel Tablet.
This looks to essentially be a foldable take on the Pixel 7 Pro, and that's no bad thing, as Google's 2022 flagship remains one of the best phones you can buy.
But the Pixel Fold is a far more ambitious device, with much of that core Pixel 7 Pro tech being joined by a 7.6-inch foldable display, and wrapped up in a design that makes this the thinnest foldable phone on the market.
Below you'll find full details of the Google Pixel Fold, including its specs, its release date, and its predictably high price.
Cut to the chase
What is it? Google's first foldable phone
When is it out? June 27
How much does it cost? It starts at $1,799 / £1,749 (around AU$2,655)
Google Pixel Fold release date and price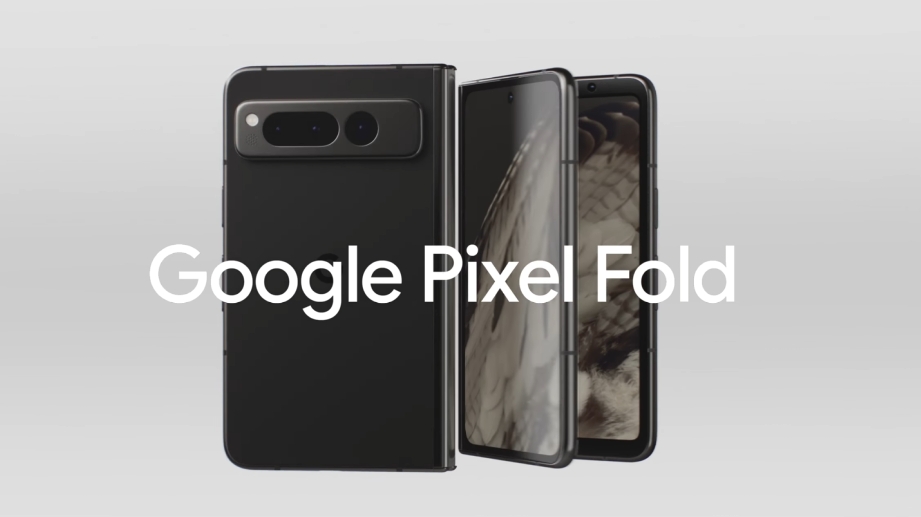 The Google Pixel Fold is available to order now if you're in the US or UK (but not Australia – we'll update this article when we get that info). It starts at $1,799 / £1,749 (around AU$2,655), which is in line with the price of the Samsung Galaxy Z Fold 4. 
That's for a model with 256GB of storage, but you can also get the Fold with 512GB for $1,919 / £1,869 (roughly AU$2,835).
The phone started shipping on June 27, following the lift of the review embargo for Google's first foldable. Reviews across the web were mixed though our Pixel Fold review was largely positive. We found that Google nailed the versatility of the foldable experience with a powerful processor and excellent cameras. 
Google Pixel Fold design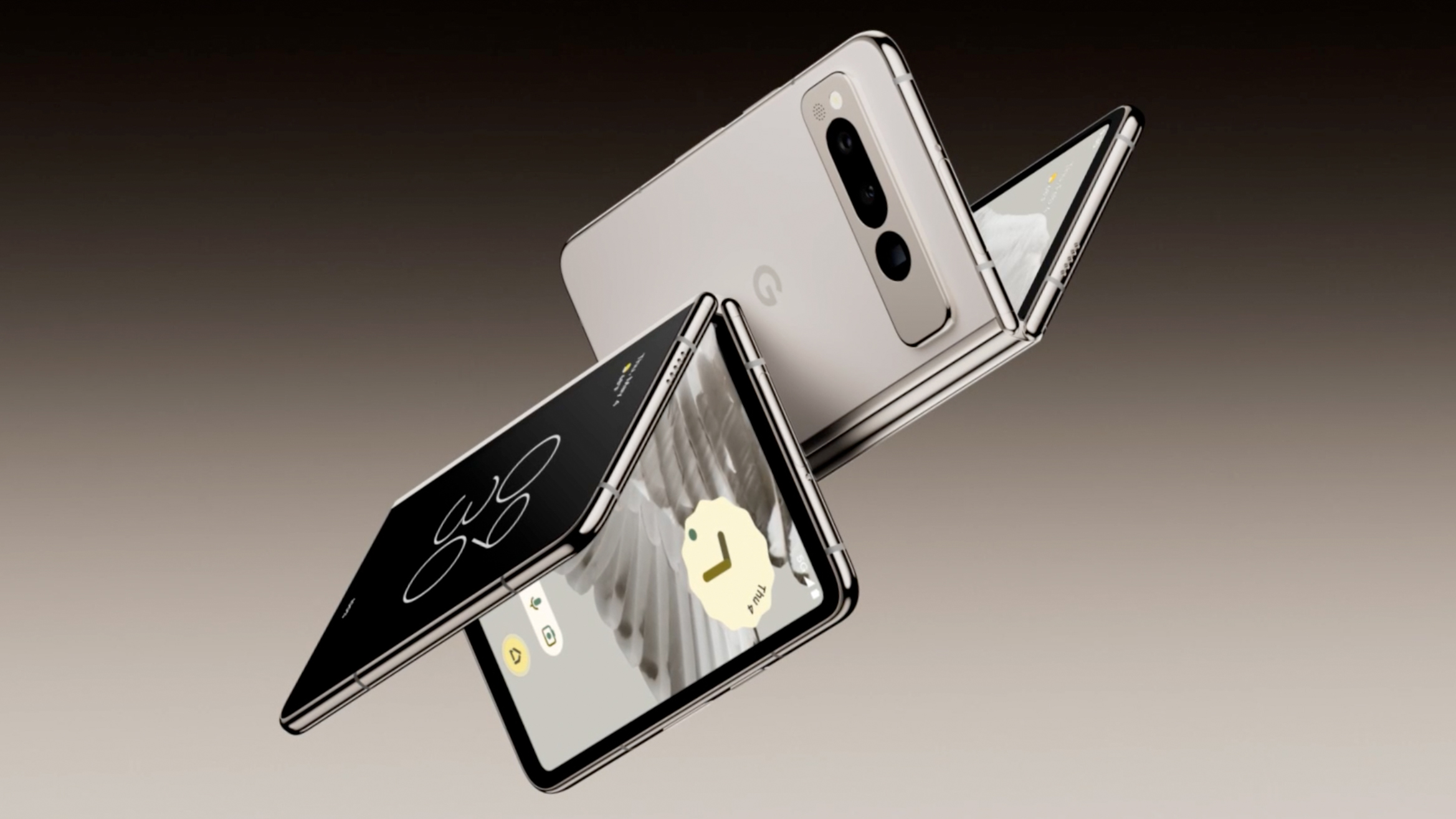 The Google Pixel Fold is available in a choice of Porcelain (off-white) or Obsidian (black) shades, and other than its large camera bump it has a rather sleek design. In fact, at 139.7 x 158.7 x 5.8mm when unfolded, it's the thinnest foldable phone on the market.
That remains true when it's folded, but it's rather chunkier than a conventional phone in that form, at 139.7 x 79.5 x 12.1mm.
But while the Google Pixel Fold is relatively slim compared to other foldables, it's not one of the lightest options, coming in at 283g. For comparison, the Samsung Galaxy Z Fold 4 – which is its closest competitor – is 263g.
The Pixel Fold also has rather large bezels around its foldable display, as we already knew from leaks and teasers. But the cover screen fares better on that front, and the Pixel Fold is at least built to last – Google claims it has the most durable hinge on a foldable, and the phone also has an IPX8 rating for water resistance.
The back is clad in Gorilla Glass Victus, which should keep it safe from scratches, and the frame is polished aluminum.
Google Pixel Fold display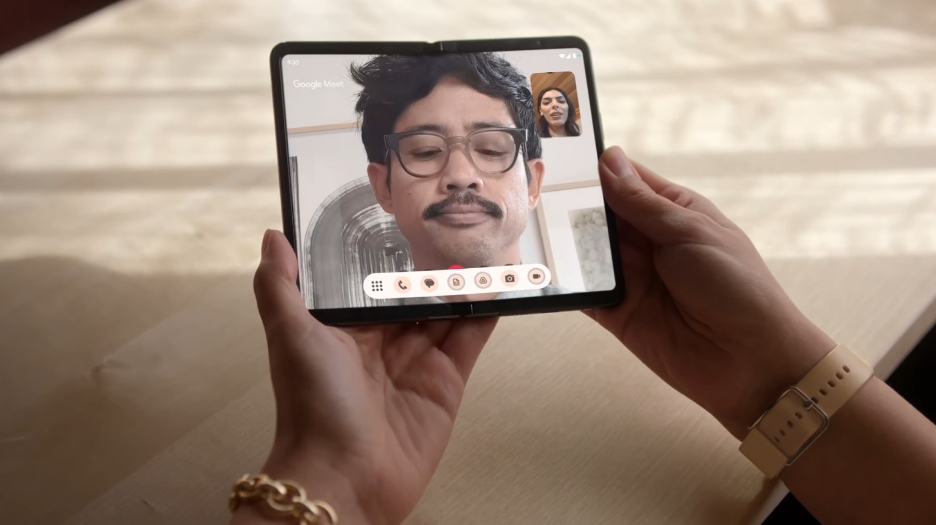 The Google Pixel Fold has a 7.6-inch 1840 x 2208 OLED foldable display with a 120Hz refresh rate, and a 5.8-inch 1080 x 2092 OLED cover display with a 120Hz refresh rate.
Those specs are broadly in line with the screen specs of rival devices. The Z Fold 4, for example, has the same size foldable screen but a slightly bigger 6.2-inch cover display.
However, the Pixel Fold has a wider profile, which should mean the cover screen feels less narrow than on Samsung's rival. Google has also worked to minimize the crease in the foldable screen as much as possible.
Google Pixel Fold camera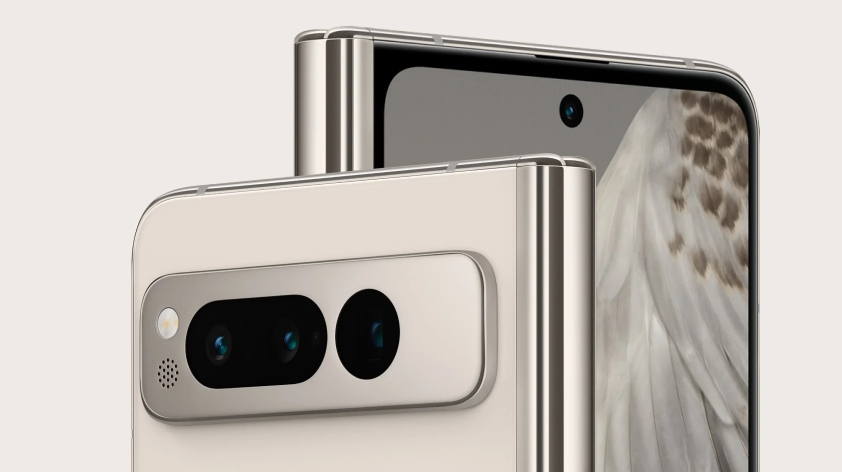 There's a triple-lens rear camera on the Pixel Fold, just like on the Pixel 7 Pro, though it doesn't use the same sensors.
Here you get a 48MP f/1.7 primary camera, a 10.8MP f/2.2 ultra-wide, and a 10.8MP f/3.05 telephoto with 5x optical zoom. It can also digitally zoom up to 20x.
There's also a 9.5MP f/2.2 camera on the cover display, and an 8MP f/2.0 camera on the foldable screen. These can be used for selfies, but you can also use the 48MP main camera for selfies if you fold the screen open and use the cover display to frame the shot.
The cover screen camera is housed in a punch-hole, and the camera on the foldable display sits in the top bezel, so there aren't any under-display cameras here, unlike on the Galaxy Z Fold 4.
There are plenty of camera modes and features here though, with favorites from other Pixels like Magic Eraser and Photo Unblur included. Video, meanwhile, can be recorded in up to 4K quality.
Google Pixel Fold battery
The Pixel Fold has a 4,821mAh battery, which is quite large by foldable phone standards. The Galaxy Z Fold 4's is 4,400mAh, for comparison.
In practice, this allows for over 24 hours of use according to Google, or up to 72 hours if you make use of Extreme Battery Saver mode.
The Google Pixel Fold also has Samsung's charging power narrowly beat, at 30W wired. There's wireless charging too, though Google hasn't listed the speed.
Google Pixel Fold specs and features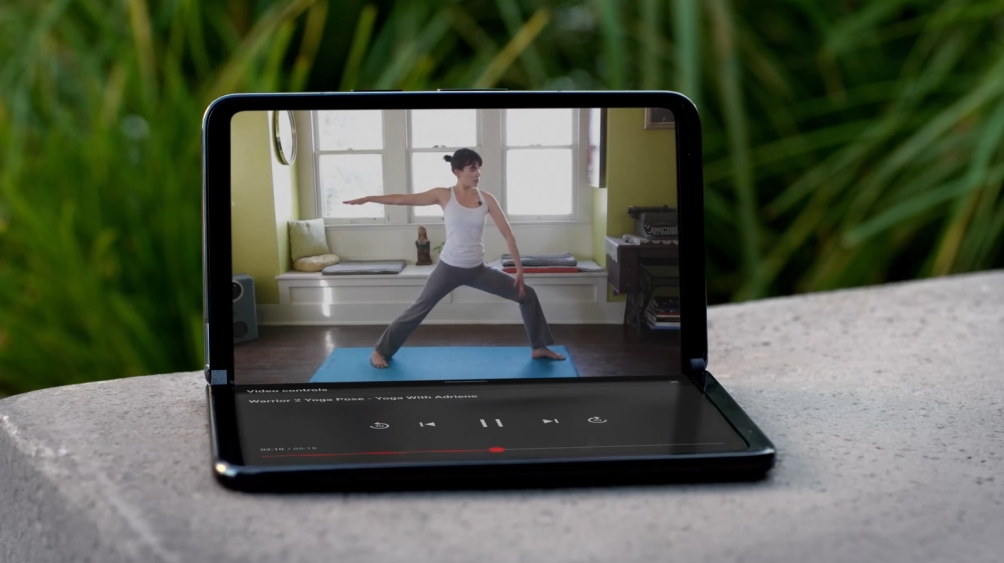 There aren't any big surprises when it comes to the core specs of the Pixel Fold. This phone has a Tensor G2 chipset, just like the Google Pixel 7 line. It also has 12GB of RAM, a choice of 256GB or 512GB of storage, and runs Android 13, with at least five years of security updates promised.
This isn't just a Pixel 7 Pro with a foldable screen though, as Google has thought about ways to make the most of the foldable form factor.
That includes things like the ability to use the phone in split-screen mode, and a dual-screen live translate feature, where the person you're talking to can see the translation on the outer screen while you interact with the inner one.
There's also a tabletop mode that lets you open the phone like a laptop, viewing video on the top half of the screen and controls on the bottom (where a laptop keyboard would be).
Other features include a fingerprint sensor in the power button, stereo speakers, and of course 5G support.
Source link