Running and operating a small business or start-up is tricky, but owners are set to get an organizational boost thanks to Google Workspace.
The office software will now allow anyone with a personal Google account to create a booking page, meaning users without a paid Workspace subscription can now start taking appointments or meetings without needing to sign up to a full package.
These booking pages can be used to schedule bookings with customers, or meetings with business leads, suppliers and more, with Google Calendar and Gmail combining to help present the best or most available times for a booking.
Google Workspace calendar bookings
Some of the new offerings have been available as part of Google Workspace Individual since 2021, however the tools will now be on offer for personal accounts for the first time.
Another new addition is the ability to accept paid bookings, as Google Workspace link ups with payments processor Stripe. Integrated directly into Google Calendar, the tool just needs users to sign up or link their Stripe account when creating an appointment schedule, then set a price. Customers will then be able to visit the booking page, choose their preferred time, and enter their credit card information to pay.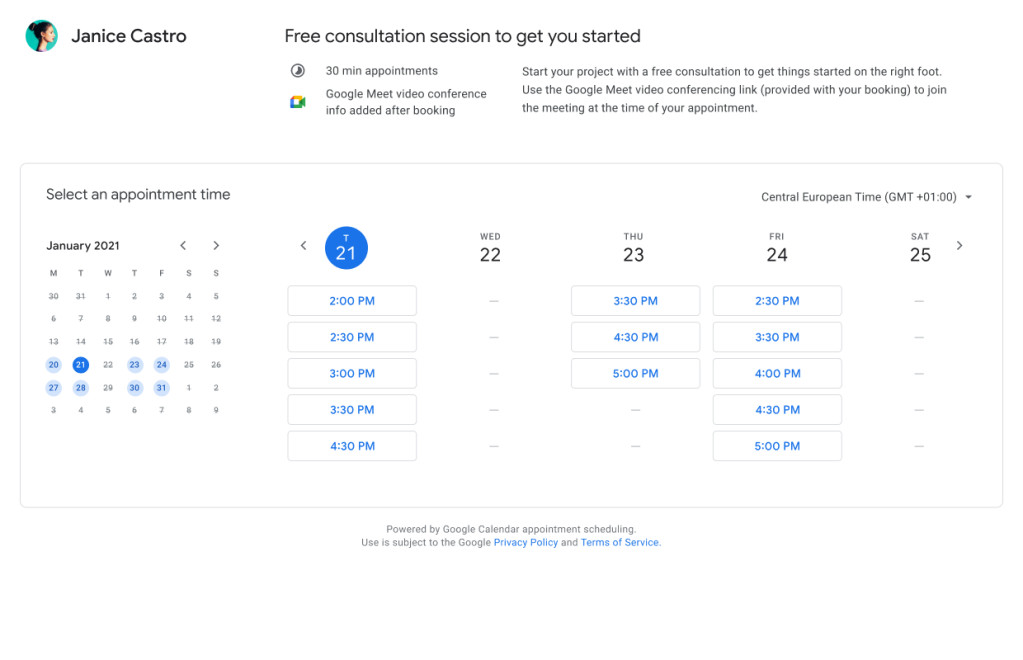 Users can now also share their availability using Gmail, adding proposed meeting times from Google Calendar when writing an email without ever needing to leave the message. The email recipient can then review the proposed times and select one directly from the email to receive an automatic calendar invite. 
"If you're a small business, time is one of your most constrained resources," noted Ilya Brown, Google Workspace Vice President, Product Management. "We provide tailored Google Workspace plans to address the specific needs of small businesses, with tools that help you make the most of your time and make everyday tasks easier."
Users are still able to sign up to upgraded features such as creating an unlimited number of booking pages, sending automated email reminders to bookers, checking multiple calendars for availability, and verifying booker emails by signing up for a Google Workspace subscription.
The new addition will be rolling out to all Google Workspace users in the coming weeks, and comes shortly after an upgrade that the company says brings better location context for events and RSVPs in Gmail.
This means that if you have already stated that you are working from home (or in the office), Gmail will now offer a default join method for your RSVP that it thinks is the most appropriate and accurate.
Source link