The latest iPhone 15 Pro Max leaks
– Could have a titanium frame and super-thin bezels
– Expected to boast an A17 chip and a periscope camera
– A17 chip could outperform A16 by 20%
– Expected to use USB-C
– Will likely be Apple's most expensive iPhone yet
– Solid-state buttons were rumored, but no longer look likely
– Could feature a new Ultra Wideband (UWB) chip to support Vision Pro functionality
The iPhone 15 Pro Max looks set to debut alongside the iPhone 15 and iPhone 15 Pro at Apple's next September launch event, with an iPhone 15 Plus also among the potential new arrivals.
Early rumors had predicted that we might see an iPhone 15 Ultra replace the iPhone 15 Pro Max in 2023, but the latest intelligence suggests we could be waiting until 2024 for Apple's first Ultra-branded iPhone.
That's not to say that the iPhone 15 Pro Max won't have any exclusive tricks up its sleeve, mind, and in this article, we detail the latest news, rumors and confirmed details surrounding the potential successor to the excellent iPhone 14 Pro Max.
Cut to the chase
What is it? Apple's next Pro Max-branded smartphone
When is it out? Likely September 2023
How much will it cost? Expect a price increase over the iPhone 14 Pro Max
iPhone 15 Pro Max release date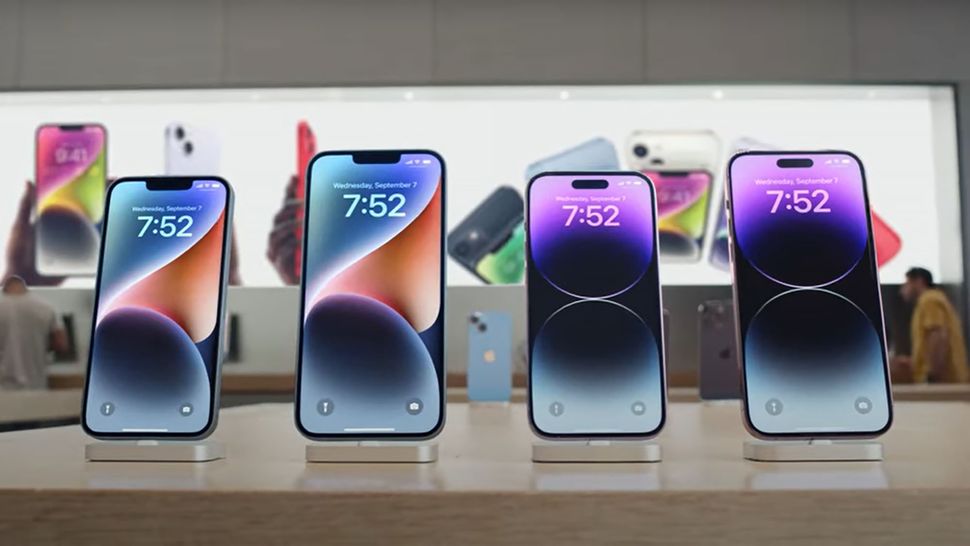 Likely to launch in the first half of September
The shipping date will probably be a week or so later
Apple events historically happen in the first or second week of September. The company likes to make an announcement on a Tuesday or Wednesday, then start pre-sales the same Friday. The phone usually arrives in stores the Friday following.
For the iPhone 14 Pro Max, that event fell on September 7 (admittedly, earlier than expected), with three of the four phones going on sale over a week later, on September 16 (the iPhone 14 Plus arrived on October 7). 
In 2023, that means September 5 or 12 are likely event dates (both are Tuesdays), though the 6 and 13 are possibilities, too. We could see the phone in stores as early as September 15. For a detailed breakdown of the above predictions, head over to our iPhone 15 release date explainer.
iPhone 15 Pro Max price
Likely to be the most expensive iPhone ever
Early leaks surrounding the price of the iPhone 15 Pro Max were based around Apple calling it the iPhone 15 Ultra, but the figures are still worth considering. In December, for instance, an iPhone 15 Ultra price leak suggested that the phone could start at $1,299, likely equating to £1,429 / AU$2,249 in other regions.
For comparison, the iPhone 14 Pro Max starts at $1,099 / £1,199 / AU$1,899 – which itself represents a price hike over the iPhone 13 Pro Max outside of the US market – while the Samsung Galaxy S23 Ultra starts $1,199.99 / £1,249 / AU$1,949.
Whatever the case, a price increase of some amount seems likely, with even Apple itself suggesting that customers could be willing to pay more for the newest iPhones.
Indeed, it looks like Apple will be raising the prices of every phone in the iPhone 15 line versus their respective predecessors. According to one prominent leaker, the iPhone 15 will be 12% more expensive to produce than the iPhone 14, while the iPhone 15 Pro will be a whopping 20% more expensive to produce than the iPhone 14 Pro. Neither figure bodes well for the production cost of the inevitably-more-advanced iPhone 15 Pro Max.
iPhone 15 Pro Max design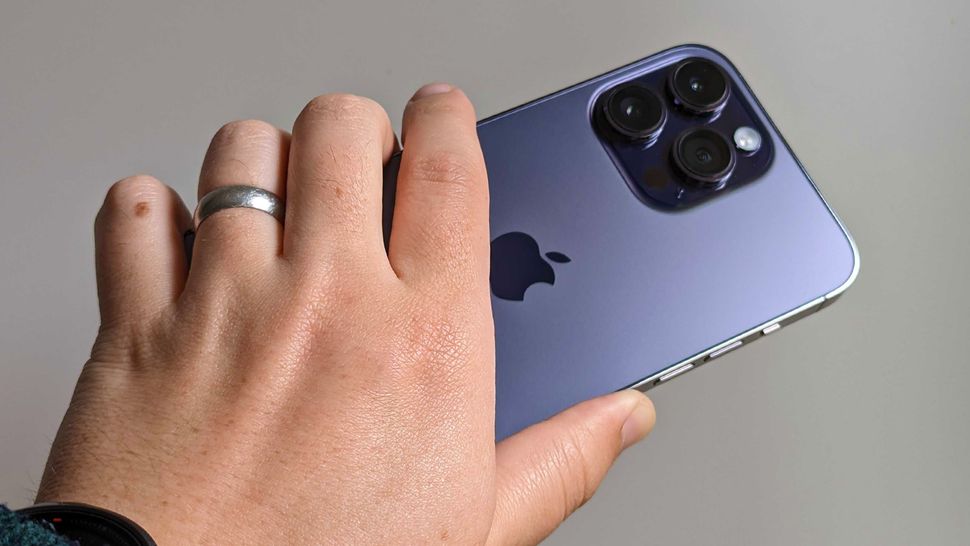 Thinner bezels and titanium sides expected
Solid-state buttons were initially rumored, but no longer likely
On the design front, we expect the iPhone 15 Pro Max to be similar in size to its predecessor – that's 77.6mm x 160.7mm x 7.85mm – but it could still look like a very different device. 
We've heard from multiple sources, for instance, that both the iPhone 15 Pro and iPhone 15 Ultra could get titanium sides, which would make them stronger and lighter than the stainless steel-framed iPhones currently out there.
Both devices are expected to have rounded rear edges, too, in contrast to the iPhone 14 Pro's sharp-angled sides. Apple was reportedly unsure about implementing this design change for the iPhone 15 Pro and iPhone 15 Pro Max, but leaked renders showing off these curved sides have since emerged, adding credence to the rumor.
We've also heard that the iPhone 15 Pro will be getting thinner bezels than the iPhone 14 Pro meaning the iPhone 15 Pro Max will surely do, too. This would be an impressive feat on Apple's part, given that the bezels on the iPhone 14 Pro Max are already remarkably thin.
You can take a look at what the iPhone 15 Pro Max might look like in the MacRumors video below, which shows off dummy units for all four rumored iPhone 15 models. The rounded edges and USB-C ports that we've been hearing about (more on the latter below) are both visible.
The iPhone 15 Pro and iPhone 15 Pro Max were widely rumored to be getting solid-state volume and power buttons, too, but Apple analysts recently poured water on those claims. Leaks had suggested that these buttons would use haptic vibrations to simulate the sensation of being touched, despite not actually moving (not unlike a modern MacBook's Force Touch trackpad), but this technology is now expected to debut on the iPhone 16 line at the earliest, owing to its complexity. 
The final iPhone 15 Pro Max design upgrade is expected to come in the form of a USB-C charging port. The EU has told Apple that it has to add USB-C charging ports to iPhones by 2024, but multiple leaks have suggested that Apple will be adopting the charging standard in 2023 with the iPhone 15, iPhone 15 Pro and iPhone 15 Pro Max, this year.
Any design differences between the iPhone 15 Pro and iPhone 15 Pro Max are likely to come from the latter's rumored superior camera features, which we detail further down this article. This beefier photography tech will surely make the iPhone 15 Pro Max heavier than its predecessor, too, which weighs 240g.
It's also worth noting that Apple may be preparing to move to eSIM in countries outside the US for the iPhone 15 Pro Max, with eSIMs reportedly coming to the next generation of Apple's best iPhones in France. Apple typically sells the same iPhone models across most of Europe, meaning SIM card-less iPhone 15 Pro Max's could also be coming to the UK, Ireland, Germany, Italy, Spain, Portugal and many other countries.
iPhone 15 Pro Max display
Expected to inherit its predecessor's 6.7-inch Super XDR OLED display
Dynamic Island will return, with marginal improvements
In terms of the phone's display, the iPhone 15 Pro Max will likely retain its predecessor's 6.7-inch Super XDR OLED screen and Dynamic Island digital cutout. The latter is expected to make its way onto the vanilla iPhone 15, too, though the next iteration of the Dynamic Island won't necessarily be identical to that which is used on the iPhone 14 line. 
According to Apple analyst Ming-Chi Kuo, the iPhone 15's proximity sensor will be integrated inside the ‌Dynamic Island itself, rather than positioned separately (as on the iPhone 14 Pro and Pro Max). The proximity sensor is used to detect when you raise your iPhone to your ear. When triggered, the sensor shuts off the screen, so you don't end up accidentally putting your boss on hold or hanging up on your grandma.
This new sensor arrangement is unlikely to result in any material difference to the appearance or functionality of the iPhone 15 Pro Max versus the iPhone 14 Pro Max, but the former's Dynamic Island will technically be more advanced than the latter's given the inclusion of a previously isolated sensor.
iPhone 15 Pro Max cameras
Will likely stick with the same triple-lens setup as the iPhone 14 Pro
Sensors may be improved 
On the subject of cameras, the iPhone 15 Pro Max is expected to improve upon its predecessor's (admittedly excellent) triple-sensor setup in a few keys ways. However, because of the confusion over whether Apple will be debuting an iPhone 15 Ultra this year, we're not certain about what those improvements will be, exactly. 
For context, the iPhone 14 Pro Max boasts the following three rear lenses:  
48MP wide (24mm, f/1.78)
12MP ultra-wide (13mm, f/2.2)
12MP 3x telephoto (77mm f/2.8)
For starters, a periscope camera was rumored for the iPhone 15 Pro and iPhone 15 Pro Max, but analyst Ming-Chi Kuo has since predicted that the iPhone 16 Pro will be the first to get a periscope lens, owing to its potentially larger display. 
There's still a chance that the iPhone 15 Pro Max – being larger than its standard Pro sibling – could get a periscope camera in 2023, but all the rumors point towards such a lens being a marquee feature of Apple's first Ultra iPhone.
Similarly, before rumors of its existence subsided, we heard that the iPhone 15 Ultra could be getting a telephoto camera with a variable zoom lens, of the sort rumored to feature on the Samsung Galaxy S24 Ultra. Variable optical zoom cameras are exceptionally rare among today's smartphones – the Sony Xperia 1 IV uses one, but it's only capable of zooming between 3.5x and 5.2x – so again, this feature could be reserved for Apple's first Ultra iPhone.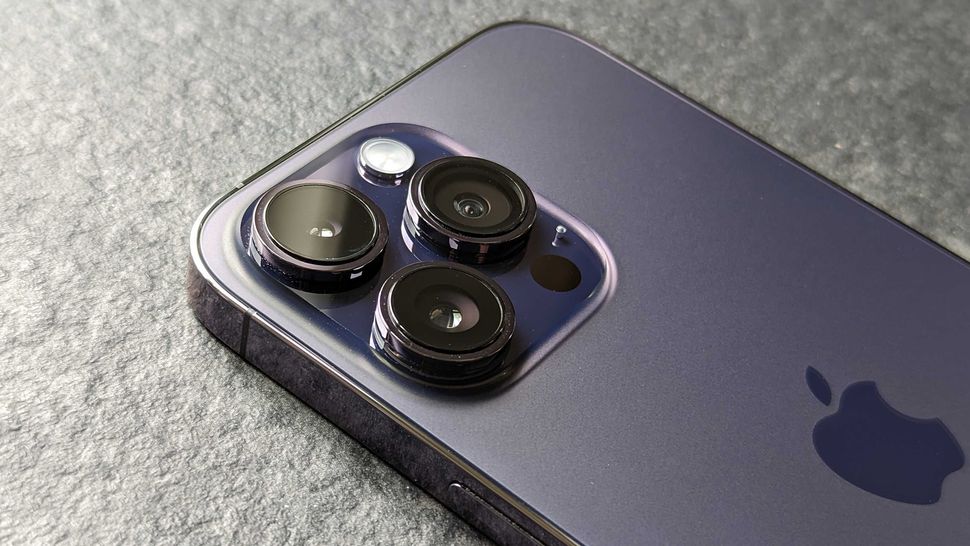 The main difference between the iPhone 15 Pro Max's cameras and its predecessor's, then, will probably be the quality of sensors used. According to leaks, the iPhone 15 Pro is expected to sport new Sony-produced sensors that capture more light, so the iPhone 15 Pro Max would likewise benefit from these sensors.
In fact, one of these sensors – the Sony IMX903 – is rumored to measure 1/1.14 inches, meaning the iPhone 15 Max could ship with the biggest camera sensor ever used in an iPhone.
Rumors had also suggested that the iPhone 15 Ultra will have more advanced image processing skills than the iPhone 15 Pro, but given the current situation regarding the Ultra's development, we're inclined to believe that these superior processing skills will be making their way to the iPhone 15 Pro Max, instead. 
And lastly, the iPhone 15 Pro Max might have a dual-lens front-facing camera, improving upon its predecessor's single 12MP front-facing TrueDepth camera.
iPhone 15 Pro Max specs and features
Will reportedly use the super-fast A17 Bionic
Possibly more RAM and larger battery
USB-C should bring improved functionality
The iPhone 14 Pro Max rocks the latest version of Apple's silicon – the A16 Bionic – which makes it one of the fastest phones (if not the fastest phone) money can buy right now. And yet, the iPhone 15 Pro Max will be even faster. 
Apple's next Pro-level iPhones are reportedly in line for an A17 Bionic chipset, which is rumored to be more efficient than the A16 Bionic. In fact, Chinese outlet DCInside reports that the A17 Bionic will boast a 20% more powerful CPU than its predecessor, meaning the iPhone 15 Pro Max should enjoy sizable speed gains over the iPhone 14 Pro Max.
Crunching the numbers, DCInside claims that the A17 Bionic earns a single-core score of 3019 and a multi-core score of 7860 on Geekbench 6, where the A16 Bionic scores 2504 and 6314, respectively. Naturally, we'd suggest taking these rumored figures with a hefty pinch of salt, but it's exciting to think that the iPhone 15 Pro Max might sport benchmark scores to rival Apple's best MacBooks.
It could also be significantly more powerful than the Snapdragon 8 Gen 2 chipset powering the best Android phones, as while that's made on a 4nm process, the A17 Bionic will reportedly be made on a 3nm process, which means far more transistors can be included, likely leading to better performance and efficiency.
As for other performance specs, the iPhone 15 Pro is expected to get 8GB RAM – where the current iPhone 14 Pro has 6GB RAM – so the iPhone 15 Pro Max will likely follow suit.
We haven't heard all that much about the iPhone 15 Pro Max's battery size – and we're unlikely to, since Apple is typically coy about such details – but the iPhone 14 Pro Max rocks a capable 4,323mAh battery, so we'd be happy seeing the same size again this year. 
Rumors have suggested that Apple is working on a reverse wireless charging feature for the iPhone 15 line, and if true, the iPhone 15 Pro Max will be able to wirelessly charge other Apple gadgets, where the iPhone 14 Pro Max can't.
It's also worth reiterating here that the iPhone 15 Pro Max is expected to get a USB-C port, so you probably won't be able to use your older Apple Lightning cable to juice it up. This version of USB-C is rumored to support the USB 3.0 standard, too – where the iPhone 15 will reportedly stick with its predecessor's USB 2.0 standard – so the iPhone 15 Pro Max could get faster file transfer speeds than its vanilla sibling (according to USBMakers, the former could offer 90% faster speeds).  
In a more general sense, analyst Ming-Chi Kuo had stated that Apple's proprietary USB-C chargers would offer faster iPhone 15 charging speeds than accessories produced by other manufacturers, but the EU recently warned Apple against making such a move. 
We've also heard that the iPhone 15 Pro's Thunderbolt 3 version of USB-C will make the device compatible with 4K monitors, meaning you'll be able to display certain types of content on a separate screen – as you can with the best iPads – on the iPhone 15 Pro Max, too.
For example, a new cinematography feature that will allow live 4K Thunderbolt outputs to monitors while recording.Essentially, you'll have the phone with all the camera controls, connected to a monitor displaying live 4K camera footage without any controls; in 16:9.It's NicheApril 27, 2023
See more
This option will supposedly arrive with iOS 17, which was announced in June, but only the iPhone 15 Pro and iPhone 15 Pro Max will be able to make use of the technology given their support for Thunderbolt 3.
It's not yet clear whether Apple's upcoming premium iPhones will allow you to share all types of content across multiple screens using the charging port alone – game and movie content, for instance, might still require AirPlay or an Apple TV. At the very least, though, filmmakers, photographers, and other creatives look set to have the option of visualizing their subjects on larger, control-free monitors with the iPhone 15 Pro Max.
And lastly, every iPhone 15 will reportedly feature an upgraded Ultra Wideband (UWB) chip, to support the functionality of Apple's Vision Pro headset. According to Kuo, Apple's U1 chip – currently built on a 16nm process – will be replaced by newer silicon, founded on a significantly more compact 7nm process; with the intention of improving performance, while also reducing power consumption.
Such an improvement could give the iPhone 15 Pro Max an edge when it comes to sharing media and other experiences with Vision Pro in real-time, opening up avenues for enhanced functionality built on that performance increase.