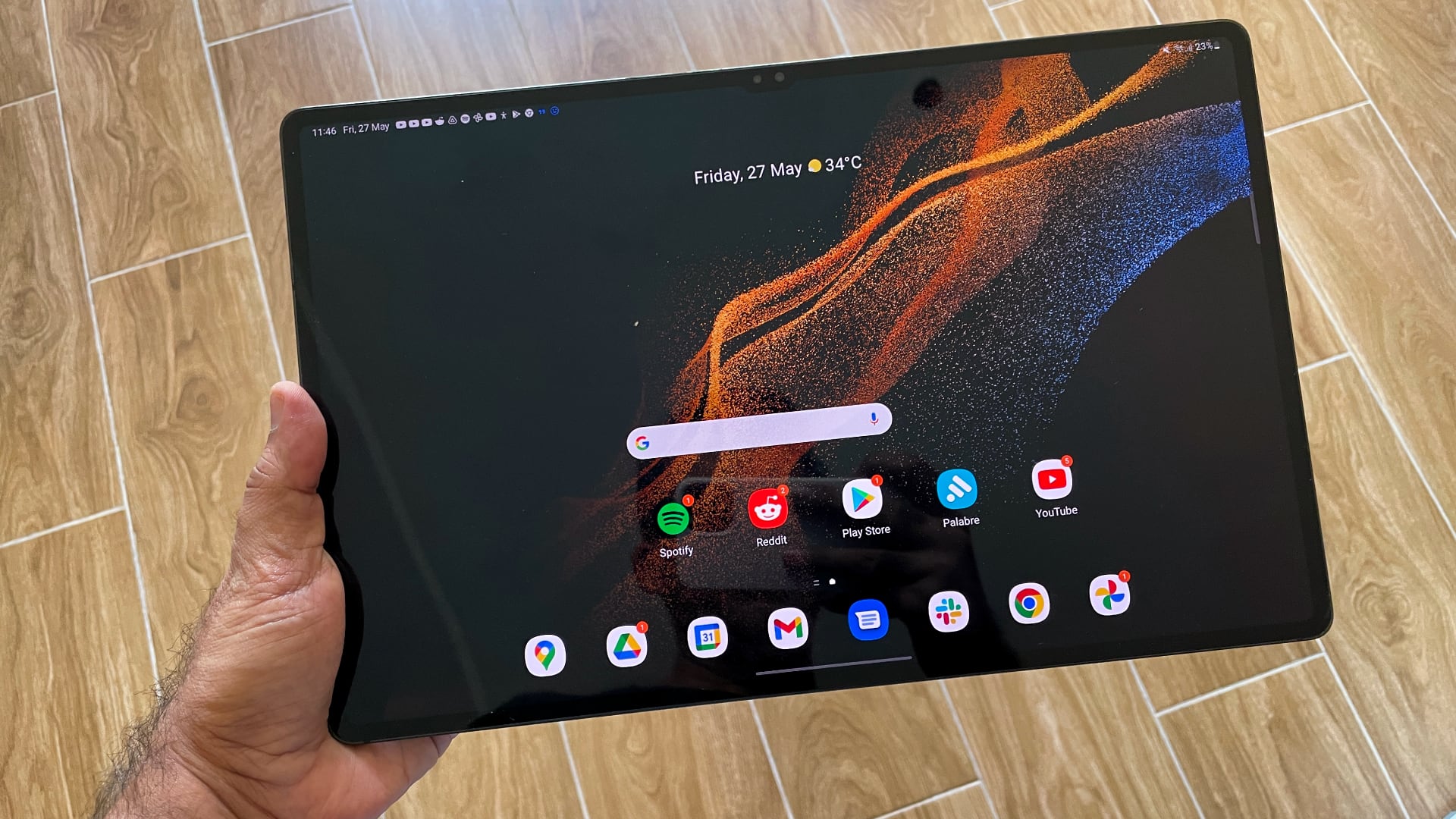 Samsung's Galaxy Tab S9 series has leaked courtesy of multiple reports, with the colors of the upcoming Tab line making their way online shortly after a detailed specs leak of the tablet family emerged.
The first leak comes from display analyst Ross Young, purporting to share the colors of the Galaxy Tab S9 family, as well as the cheaper Galaxy Tab S9 FE and Galaxy Tab S9 FE Plus. According to Young, the mainline Tab S9 series will arrive in beige and gray, while the FE series should land in light green, light pink and silver.
Colors on the Samsung Galaxy Tab S9 SeriesS9/S9+/S9 Ultra: Beige and GrayS9 FE/FE+: Gray, Light Green, Light Pink and SilverJune 21, 2023
See more
The Galaxy Tab S9 series also got a further specs leak courtesy of tipster Ahmed Qwaider, with the Tab S9 being said to have an 11-inch display, the S9 Plus a 12.4-inch panel, and the Tab S9 Ultra a 14.6-inch screen. These are similar to the Tab S8-series, but Samsung is said to be equipping all of them with Dynamic Super AMOLED tech. This means that where the Tab S8 had an LCD display, the Tab S9 will jump up to AMOLED and pick up a high refresh rate while it's at it; serving up deeper blacks and smoother scrolling. This corroborates an earlier report from Young.
Qwaider also claims the Tab S9 series will feature dual SIM support, an on-screen fingerprint sensor, an IP68 rating against dust and water ingress, and improved quad speakers. The cameras are expected to be 13MP on the rear, for the Tab S9 with a 12MP front camera that'll also be found on the Galaxy Tab S9 Plus. The Tab S9 Plus will reportedly share its rear camera with the Galaxy Tab S9 Ultra, with both said to sport dual 13MP and 8MP sensors, while the Tab S9 Ultra takes an entirely different front camera layout, featuring a pair of 12MP cameras, presumably housed in the display's notch.
Samsung says no peeking 
Samsung's Galaxy Tab S9 also leaked in renders courtesy of Evan Blass – more popularly known as Evleaks – but the company issued a takedown notice; appearing to confirm that these renders were somewhat genuine. From a peek at the renders before they were pulled down, the Tab S9 lineup appears to feature a very similar design to the Galaxy Tab S8 series, with the Ultra even bringing back the Apple-esque notch that the Galaxy Tab S8 Ultra sported.
Samsung's recent products have nailed the design aspect, so it is no surprise the company isn't going out of its way to fix what isn't broken; especially considering entries from the Galaxy Tab S series consistently feature among our best Android tablets and best tablet lists for their designs and overall hardware quality.
The Samsung Galaxy Tab S9 series is expected to launch in late July at Samsung's next Unpacked event, along with the Galaxy Z Fold 5, Galaxy Z Flip 5, and Galaxy Watch 6 series.