You may not have heard of Masimo – a developer of medical tech solutions and consumer health and audio devices – but if you're into hi-fi and home cinema kit, you'll almost certainly have heard of Denon, maker of the excellent Denon S716H (HEOS Bar) and other notable 'bars, speakers, high-end home cinema amplifiers and earbuds.  
But it's Masimo's latest proprietary innovation, Masimo AAT (Adaptive Acoustic Technology) that's taking center stage in Denon's two new wireless earbuds models. The Denon PerL and PerL Pro allow users to create a personal audio profile to optimize the sound quality of the headphones.
How? By measuring faint otoacoustic emissions (OAEs), which are produced by the inner ear "in the presence of a range of tones played" to assess each person's unique response to sound. Once the OAEs are analyzed to determine how sensitive your ears are to each frequency, a personal hearing profile is created in the Denon PerL Headphone app, using an artificial intelligence self-learning engine. 
The name of the earbuds was chosen to represent Masimo's goal of transcending how people enjoy music: through a truly Per(sonalized) L(istening) experience.
Joe Kiani, Founder and CEO of Masimo, said, "The era of one-sound-fits-all is over. PerL automatically figures out the optimal sound for each individual, to cater to your unique ears."
It's not the first time we've seen this kind of tech: NuraTrue Pro's software actually made me doubt my hearing, Nothing's Ear (2) personalized hearing tests are also a big hit – oh, and the splendid Sennheiser Momentum 4 Wireless recently received an update to help personalize the listening experience even more. But this is another version of it all, the fruit of a different partnership, and it'll be interesting to see how well it can be implemented in a Denon design. 
---
Opinion: hearing profiles are the future – and if Masimo and Denon do it well, the future's bright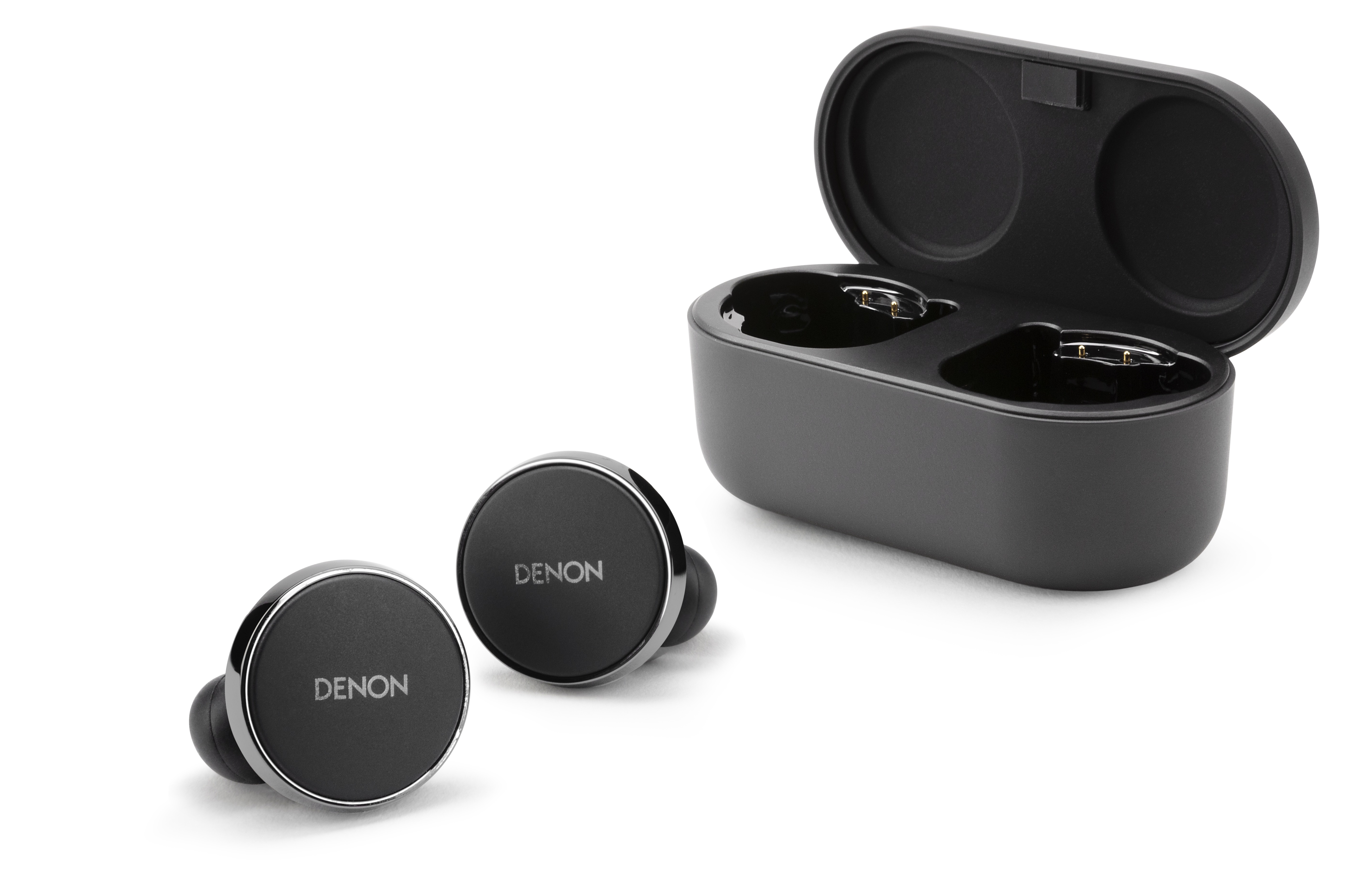 Aside from the personalization, Denon's PerL Pro earbuds are perhaps most interesting in that they support Bluetooth 5.3 with Dirac Virtuo (like the OnePlus Nord Buds 2) aptX Lossless and aptX Adaptive (versus Bluetooth 5.0 and the slightly lowlier aptX in the entry-level set) to provide a streaming experience similar to listening to a CD.
Now, aptX Lossless is the ideal name to see on a spec-sheet for the budding audiophile who still wants wireless convenience, since it boasts a bitrate of between 1.1Mbps and 1.2Mbps (1,100 and 1,200kbps). As a basic guide, aptX Adaptive's maximum bitrate is 420kbps, the older aptX HD can stream at 576kbps, and Sony's LDAC maxes out at 990kbps. So this is a top-tier codec. 
The recently released Technics EAH-AZ80 earbuds offered the best of Technics' tech (triple-point connectivity, excellent voice isolation tech for calls, seven ear tip options and a poised sound), so it felt like a glaring omission that there were no hearing tests offered during setup – or even fit tests – to check you'd got them at their best. I truly think this kind of tech is the future – and if Masimo's done a top job, Denon's prospects in the best noise-cancelling earbuds stakes are looking good. 
Both the Denon PerL Pro and PerL models offer active noise cancellation and a more transparent social mode, allowing you to tune the world out or let it in. PerL Pro features eight microphones (versus four in PerL) and upgraded noise cancellation, automatically adjusting the level of cancellation according to the amount of leak-through, the environment's sound, and the tightness of fit in the ears – and that last part is where Technics' offering may fall short.
Denon PerL users will be able to elevate their personalization journey by viewing their unique profiles through the Denon Headphones app for iOS and Android, with the ability to customize features such as selective noise canceling or Social Mode, and on-earbud touch controls for play/pause, skip track, change volume, and more.
A limited number of Denon PerL and PerL Pro headphones are now available for purchase at Denon.com  for $199 / £189 (which is around AU$355) and $349 / £249 (so around AU$469), respectively, with a fuller rollout later this year.
Source link