The new EAH-AZ40M2 have arrived just a month after Technics launched two more products to its wireless earbuds lineup. One of the features that sets them apart is a smaller 6mm driver (versus 8mm in the AZ60M2 and 10mm in the excellent all-new EAH-AZ80), which makes them smaller and more compact than either of their more premium counterparts.
Anyone who read Techradar's glowing Technics EAH-AZ80 review or noted our coverage of the brand's flagship set of earbuds alongside the also-new EAH-AZ60M2 will know about the first-time ever feature that most impressed us in this new lineup: rock-solid Bluetooth 5.3 multipoint connectivity to three devices simultaneously. 
But so often, such world-first features are the preserve of flagship products only; conspicuous by their absence when it comes to budget-friendly alternatives from the same brand. Not so here. The EAH-AZ40M2 will get support for Sony's higher-res LDAC codec, active noise cancelation and that triple-device simultaneous Bluetooth connectivity. 
Any corners cut at all? Well, you only get a total of four ear tips in XL, L, M and S, versus seven in the AZ60M2 and AZ80 (XL, L and M, plus two S and two XS sizes, featuring different neck lengths as well as widths). And you only get two beamforming mics per bud (compared to four mics in the EAH-AZ80) and thus, there's no mention of Technics' impressive voice isolating 'Just My Voice' technology. Finally, the concha-fit shape of the flagship AZ80 is gone – but overall this is still a stunning proposition when you read the price. 
---
Analysis: Technics' EAH-AZ80 are good but expensive; these cheaper buds will have a more widespread appeal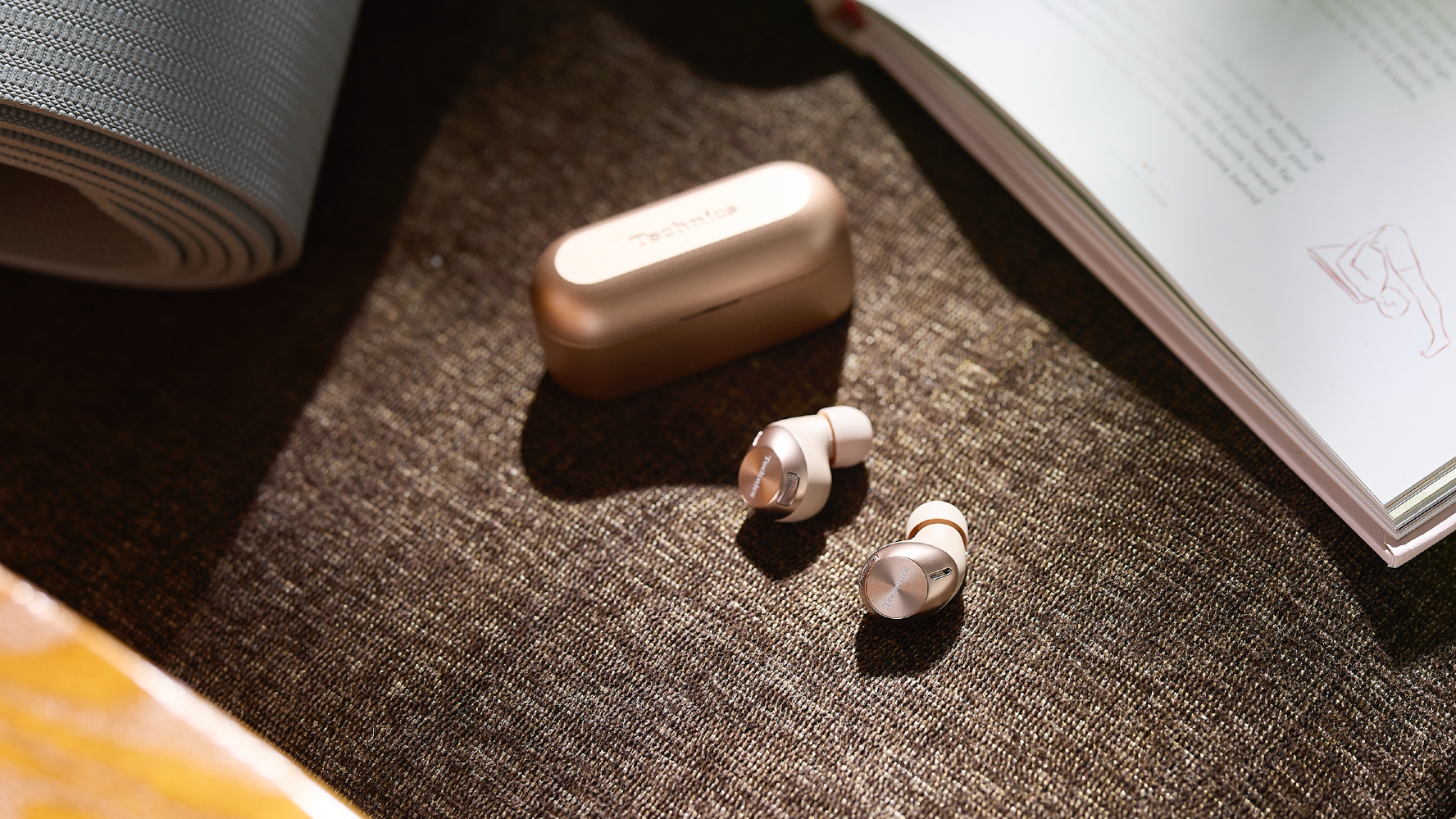 Technics' unique 'transparent' and 'attention' ambient sound modes also feature here. 'Transparent' claims to allow all surrounding noise in, while 'attention' filters in only frequencies pertaining to the human voice (maybe a train platform alteration announcement, or your child calling you). 
Can you adjust the five-band EQ with customizable presets using the Technics Audio app? Check. Also within the app is the option to tailor and tweak the on-ear controls, which include on-ear volume, noise-cancelation and playback functions. 
For me, the star of the show is multipoint connectivity to three devices. Nobody wants to waste time having to disconnect from one thing to connect to another, and as an audio journalist, switching to different source devices is a daily struggle. When testing the Technics AZ80, easy simultaneous connectivity to my MacBook Pro, my iPhone and a Sony XPeria smartphone was nothing short of game changing. 
Battery life? It's good. The earbuds can last seven hours on a single charge, 24 hours with the case, or five and a half hours with ANC on and 18 hours including the charging case. Did I mention they're IPX4 slash-resistant too? 
Pricing? They'll be available later in June in either silver, black or a lovely rose gold finish for £130, which is around $165 or AU$240 (although those last two figures are approximations).
When you consider that the Technics EAH-AZ80 and EAH-AZ60M2 are priced at $299 / £259 / AU$499 and $250 / £199 / AU$399, respectively, the EAH-AZ40M2 could turn out to be one of the best noise-cancelling earbuds of 2023. 
For that money, they could even feature in my top three ANC earbuds of 2023 roundup, alongside the splendid Sony WF-C700N – although of course, that depends on how well Technics' smaller 6mm driver performs for sound. 
Source link