Regular readers will remember that I tried Devialet's then-new spherical Mania wireless speaker late last year in a salubrious London hotel suite – a setting it so fully deserves – and it makes the Amazon Echo feel like a toy. 
The most striking thing about Mania (a solo beast, although you can stereo-pair two of them) initially is its stunning eyeball-type looks – and now, thanks to two new colorways, it's even more beautiful. 
The hues have been christened 'sandstorm' and 'sunset rose', and the marketing spiel goes that at first glance, sound and color don't have much in common – but of course, in the world of acoustics they're easy bedfellows. The 'color' of sound, called the noise spectrum, describes how much energy flows at different frequencies. And this was the inspiration for the new finishes – sandstorm is inspired by the warmth of brown noise.
Whatever the vision and inspiration, they're beautiful eyeball-shaped speakers. And in terms of the feature-set and talents, Mania is built from strong stock. The French audio specialist's hits include the high-end Dione soundbar, Phantom I wireless speaker, and a pioneering foray into luxury in-flight sound systems (different from Panasonic's next-gen Astrova in-flight entertainment system but no less intriguing) to name but a few. 
Opinion: the search for a wireless speaker for summer days (driftin' away to ah, oh those summer nights) is over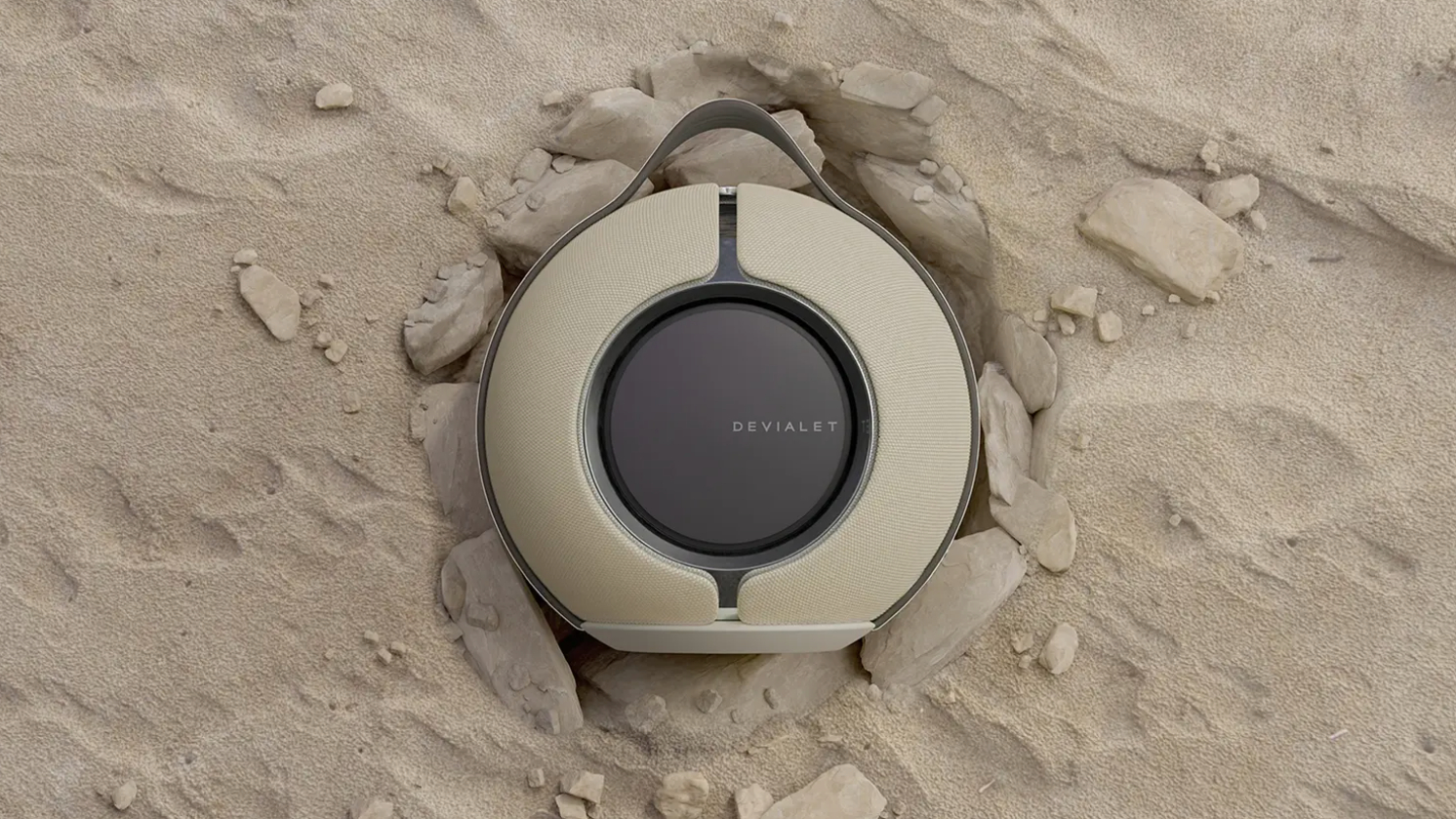 It's a looker isn't it? Aside from the new colorways, it remains a futuristic eyeball-shaped wireless speaker with a delightful little handle at the top and push-push bass radiators like irises on either side. And at 2.3kg it's reassuringly heavy, almost like a kettlebell, but far more beautiful. 
ASC (Active Stereo Calibration) and SAM (Speaker Active Matching) are the two technologies you need to understand. The former uses four mics and embedded calibration tech to allow the speaker to automatically adapt the audio rendering to suit its surroundings. No wafting your phone around the room, no space-war sounds for several minutes, it just does its thing in a matter of seconds. 
The latter involves four full-range drivers in the top portion of the speaker and those two SAM-powered subwoofers in a push-push configuration, to promise true omnidirectional stereo sound from 30Hz to 20kHz. 
During my time with it in November last year, it sounded an awful lot larger, fuller and just better than any of the best smart speakers of a similar size (Amazon Echo, sorry but I'm looking at you). 
And Amazon Alexa is built in here too (a first for Devialet), with setup via the Devialet app. You're also getting Wi-Fi, Bluetooth 5.0, AirPlay 2 and Spotify Connect support, 10 hours of wireless playtime, and an IPX4 splash-proof rating. 
Want one? Of course. The new sunset rose and sandstorm finishes will cost a little more than the regular black and light gray finishes (but not quite as much as the Opéra de Paris gold-accent edition) at £790, which is around $990 or AU$1,470. 
Source link