A series of leaked renders for OnePlus' Nord 3 have recently surfaced, potentially giving us our first look at the upcoming smartphone.
The renders come from German tech website WinFuture, and they appear to be either marketing or press images which may indicate an imminent launch. If you check out the photos, you may notice the device has an identical design to the China-exclusive OnePlus Ace 2V. This gives credence to a previous rumor stating the company is rebranding the Ace 2V as the successor of the Nord line for Western users. It'll even come in the same black and mint green color options.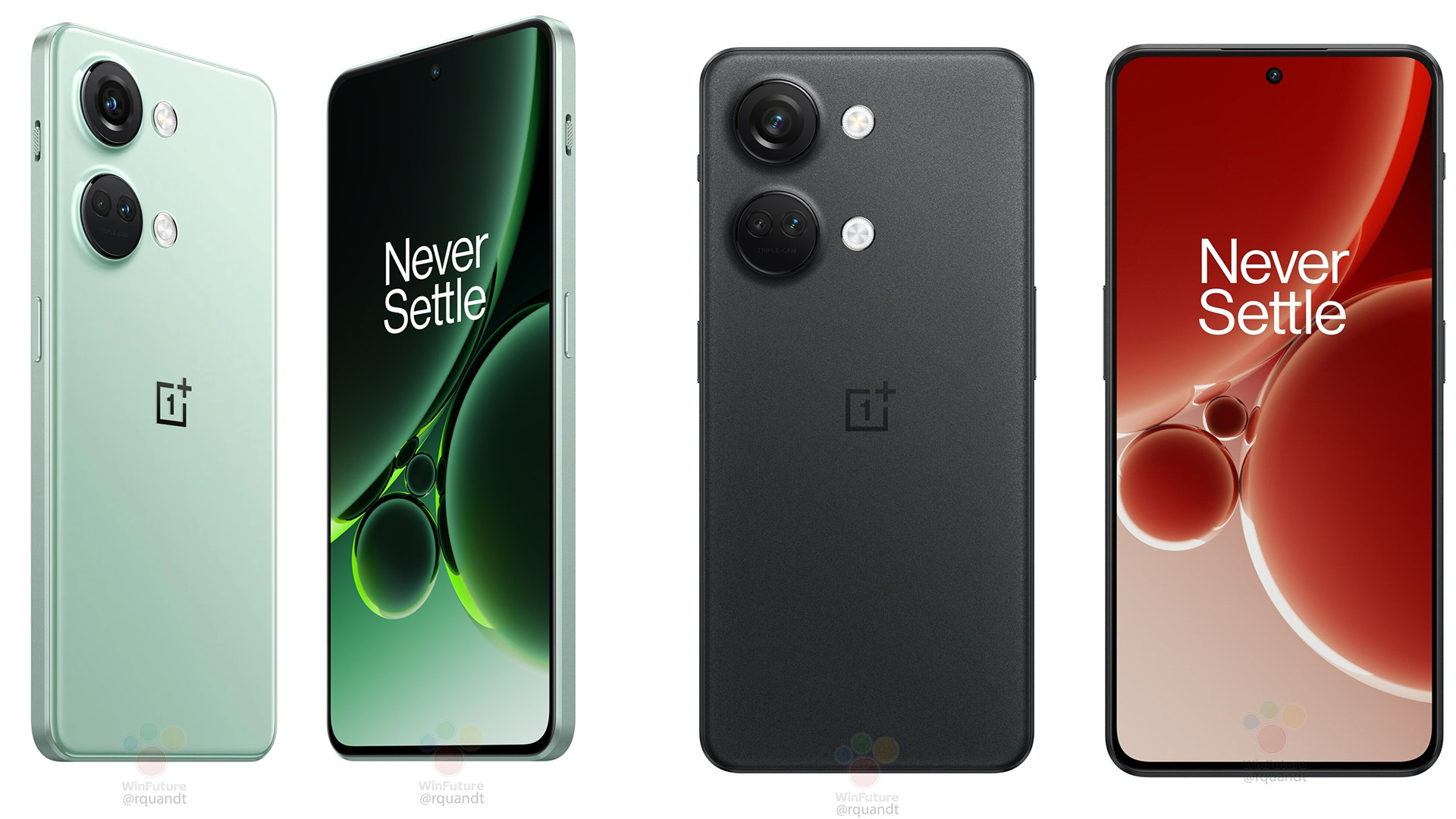 Specs
Assuming it really is a renamed Ace 2V, the Nord 3 at launch will look a little different than what current rumors suggest. A leak from March 2022 claimed the future device would sport a 6.7-inch screen outputting a resolution of 1080 x 2412 pixels. With the new information in mind, the Nord 3 may have a 6.74-inch, 120Hz AMOLED screen outputting a resolution of 1024 x 2772 – a small bump in quality.
Under the hood, the phone is set to come with the high-end Dimensity 9000 chipset (not the Dimensity 8100 as previously reported) alongside 16GB of RAM and up to 512GB of storage. Other potential changes include a 5000 mAh battery complete with 80W fast charge, plus a three-camera system led by a 50MP wide lens; not 64MP as seen on the Ace 2V. The ultra wide-angle and macro lenses on the Nord 3 will remain the same at 8MP and 2MP, respectively.  
Pending launch
Of course, take this information with a grain of salt. OnePlus can final adjustments to the Nord 3's hardware at any time. If the leaks do come true, however, it'll make the Nord 3 a more than worthy follow-up to the OnePlus Nord 2. It appears the brand is building on what made the Nord 2 so great and addressing some of our complaints, such as the lackluster 90Hz screen on the older model.
A release date for the Nord 3 remains unknown although it is worth pointing out that the smartphone has already appeared on several certification sites leading many to believe the launch is almost here. Those same websites, by the way, also hint at the 80W fast charging mentioned earlier – providing further proof the Nord 3 is a renamed Ace 2V. Price tag is a mystery, too, at least at the time of this writing. We expect the price point to be around £379 to £399.
Until we get more info about the Nord 3, be sure to check out TechRadar's list of the best OnePlus phones for 2023 if you're in the market for a new handheld.
Source link