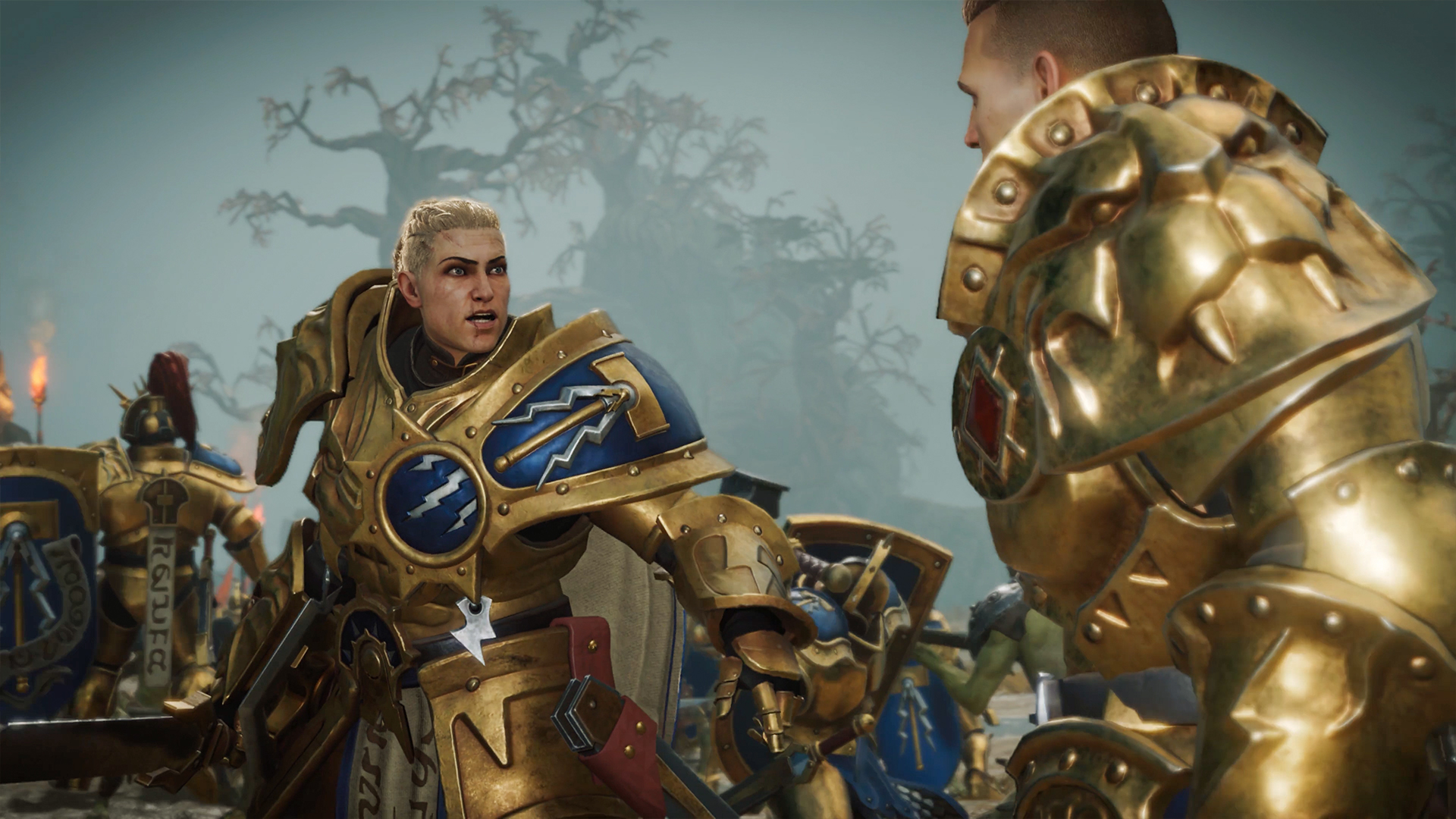 The first gameplay trailer has been revealed for upcoming fantasy RTS Warhammer Age of Sigmar: Realms of Ruin. 
The trailer shows fully realized battles between the heroic Stormcast Eternals and the mendacious Orruk Kruleboys. Gleaming superhuman soldiers in golden armor wade their way through treacherous swamps, beset on all sides by scheming orcs and the unsettling monsters under their command. 
Frontier Developments has also announced that there will be an open beta taking place across PS5, Xbox Series X|S, and PC which is set to take place between July 7 and July 10. There is also the promise of a second open beta to "follow later this summer". 
Though the game is set to feature four factions at launch, only the Kruleboys and the Stormcast will be available during the beta, which, itself, is set to have an emphasis on "1v1 multiplayer". 
As we saw in the previous reveal announcement, Realms of Ruin uses small-scale skirmish mechanics reminiscent of Company of Heroes 3 or classic Warhammer RTS Dawn of War 2. Expect to be managing individual squads, using special abilities, and vying for control of victory points as you clash with opponents in 1v1 or 2v2 matches. 
The new trailer also showed off some snippets of the campaign, which follows a band of Stormcast Eternals as they attempt to rid Ghur of the Orruk infestation. Stormcast Eternals make for a fascinating group of protagonists. Though able to reincarnate, these empowered heroes lose a fraction of their humanity each time they perish – a curse that's likely to result in all sorts of interesting character drama. 
Though Realms of Ruin may well end up on our list of the best PC strategy games out there, the title is very much designed with console-friendliness in mind. In addition to crossplay, the title includes a technology called DirectStep which allows console players to intuitively control their units with their controller of choice. 
Having seen a hands-off demonstration of this system, I am excited to see what Realms of Ruin is able to bring to the table once players are able to get their hands on it. In the meantime, though, we've got Warhammer 40,000 Darktide to keep us sated.  
Source link