Bethesda has revealed all the special edition versions of Starfield which will be available at launch, as well as which pre-order bonuses to expect. The long-awaited Sci-Fi shooter releases on September 6 for Xbox Series X and PC. 
As well as the standard edition of Starfield, which will be coming to Xbox Game Pass on day one, it's also been revealed that the Digital Premium Edition and the Constellation Edition are coming, too. The former gets you five days of early access, the Shattered Space story expansion, a constellation skin pack, as well as digital copies of the title's soundtrack and artbook.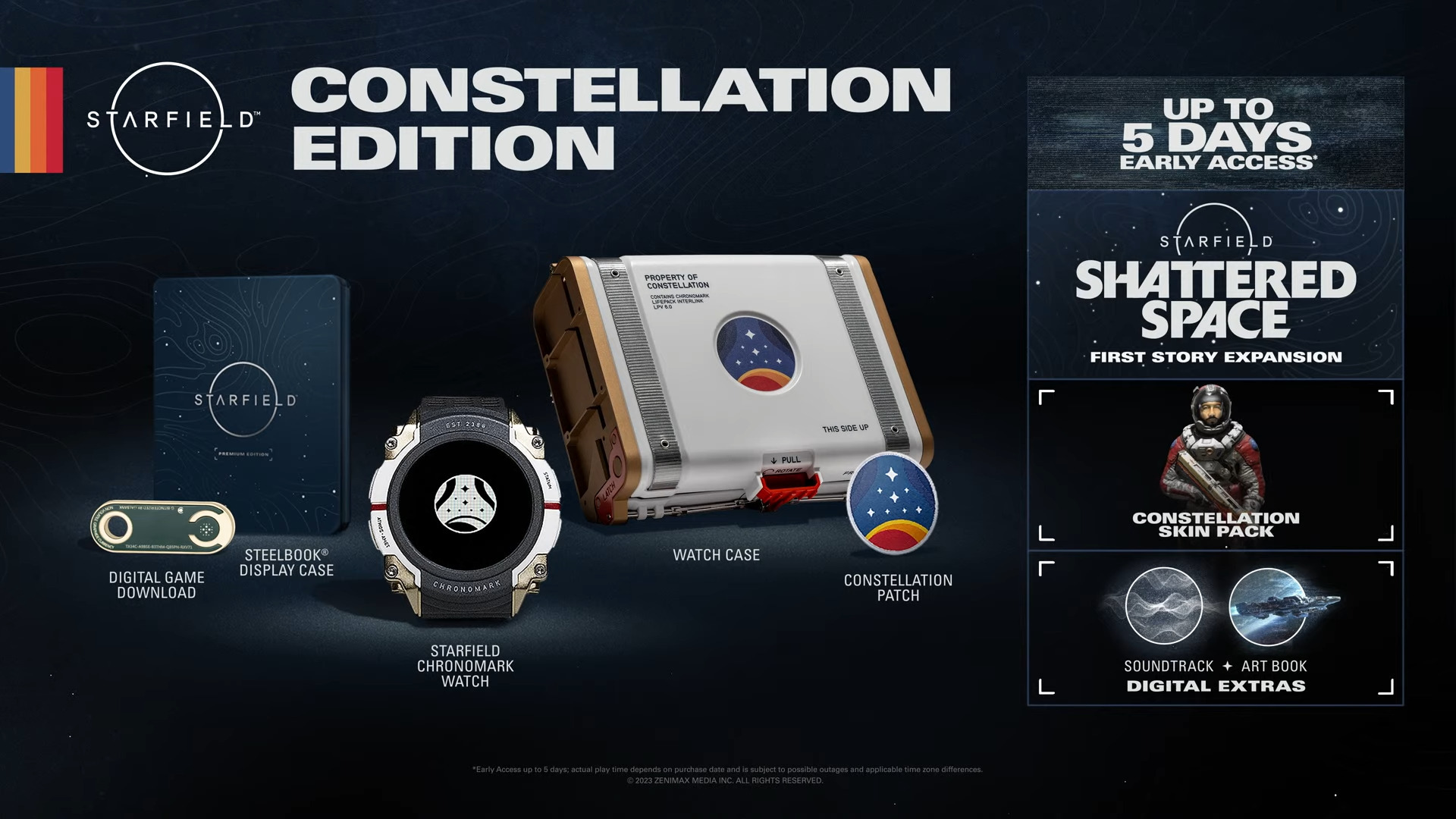 In contrast, the Starfield Constellation Edition features everything previously mentioned alongside a replica of your character's in-game Chronomark smartwatch alongside a protective themed watch case and constellation patch. A steel book display case is also included, but it's worth noting that this package does not come with a physical copy of the game, just a digital game download code. No pricing for either newly announced version has been revealed yet. 
For those wanting to pull the trigger and put money down on Starfield ahead of release, the pre-order bonus is the "Old Mars" skin pack which includes a deep mining helmet and pack alongside the heavily promoted laser cutter. These bonus items will also be available to anyone playing on the day of release through Microsoft's game library app, too. 
Microsoft and Bethesda are going all-in on Starfield being the next killer app for the Xbox Series X and it's easy to see why. An ambitious interstellar space exploration title brought to you by the team behind The Elder Scrolls series and later Fallout entries makes on paper for a sure-fire hit. The game was originally announced all the way back in 2018 during that year's E3 conference, so it's certainly been a long time coming. Here's hoping it's worth the hype and worthy of being considered one of the best Xbox Series X games when September rolls around. 
Though E3 2023 isn't happening this year, there's still a wealth of big announcements and news from all the major publishers to come. 
Source link