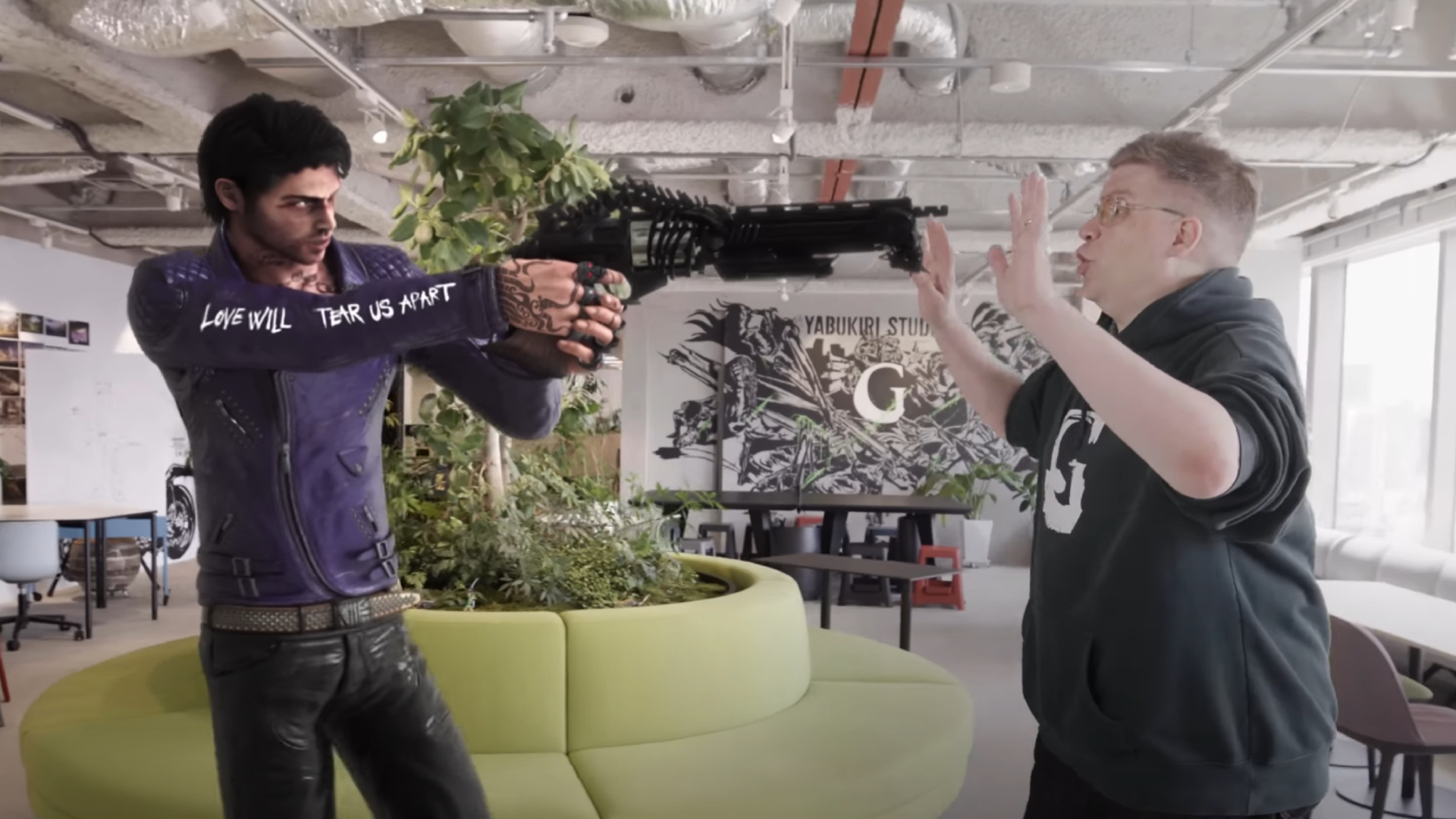 Among the slew of E3 2023 announcements last night, one big surprise snuck through in the form of a Shadows of the Damned remaster.
Announced via developer Grasshopper Manufacture's various social channels, there's not release date set in stone for the Shadows of the Damned remaster as of yet, but it was definitely a nice surprise for fans keen for a modern port of the PS3 and Xbox 360 era shooter.
Most likely, Shadows of the Damned will come to PS5, Xbox Series X|S and PC, alongside last-gen consoles, too. The darkly comedic teaser trailer shows the game's protagonist, Garcia Hotspur, storming Grasshopper's offices and shooting a staff member out the window. 
At the end, said staff member's glasses beam a message into the sky: a Grasshopper Direct will be broadcast on June 14 at 9pm PST, which works out to June 15 at 12am EST /  6am BST.
Originally a joint venture co-produced by Suda51 (Goichi Suda) (Killer7, No More Heroes) and Shinji Mikami (Resident Evil, The Evil Within) and published by Electronic Arts, Shadows of the Damned struggled to find a wider audience back in 2011. But nonetheless developed a cult following thanks to its quirky revenge plot and solid shooting mechanics.
In the years since Suda51 has aired frustrations about Shadows of the Damned's troubled development. In The Art of Grasshopper Manufacture book, Suda talks about how EA downplayed his ideas for the game, and he was forced to rewrite its plot multiple times to appease the publisher.
Suda explored Shadows of the Damned's troubled history further in 2019's Travis Strikes Again: No More Heroes. In one of the game's later chapters, Travis meets Shadows' protagonist, Garcia, and the pair share a lovely heart-to-heart conversation.
It was a bittersweet moment, but now, it seems like Shadows of the Damned will have another moment in the sun. We don't know the extent of the changes the remaster will bring, but hopefully, if Suda is involved, he can inject the passion he had for the project without meddlesome publisher interference.
In similarly spooky news, Alan Wake 2 also got a brand new trailer during the Summer Game Fest presentation, showing off in-game events for the first time.
Source link