It's a conundrum any fitness fan knows only too well: music when running is good, but cutting off one of your senses from your immediate surroundings (be it traffic, people, bulldozers or even being fully engrossed in Zombies, Run!) is bad. 
You've likely heard of solutions such as the best bone conduction headphones which leave your ears completely free (by transmitting sound vibrations along your cheekbones instead of through your cochlea like regular earbuds), or open-ear options from Oladance, Cleer and others – and you may even have cast your eyes on JBL's convertible pair or SONR's 'head puck' solution for swimming. 
But OneOdio's new OpenRock Pro headphones take a different approach, using 'air conduction' to your ear. To understand it, we need to talk about the patented TubeBass enhancement technology. Accuracy and weight through the lower frequencies is typically an area where open-ear and bone conduction solutions can struggle, but with TubeBass (which is all about the dual tube design that goes around you ear), OneOdio says the low-frequency resonance of the sound can be increased to enhance bass and rhythm and make low frequencies solid, deeper and more enveloping. These dual tubes not only enhance the bass but also help prevent sound leakage too. This, combined with the really rather large 16.2mm dynamic drivers enables the earbuds to boast a "360-degree superior sound".
And they're competitively priced right now too! OneOdio OpenRock Pro are currently on sale at the fair price of $110 / £90  thanks to discounts and promotional vouchers on Amazon. Their regular asking fees are $150 / £130, which is around AU$243. 
Opinion: with specs this strong, OneOdio's certainly got our attention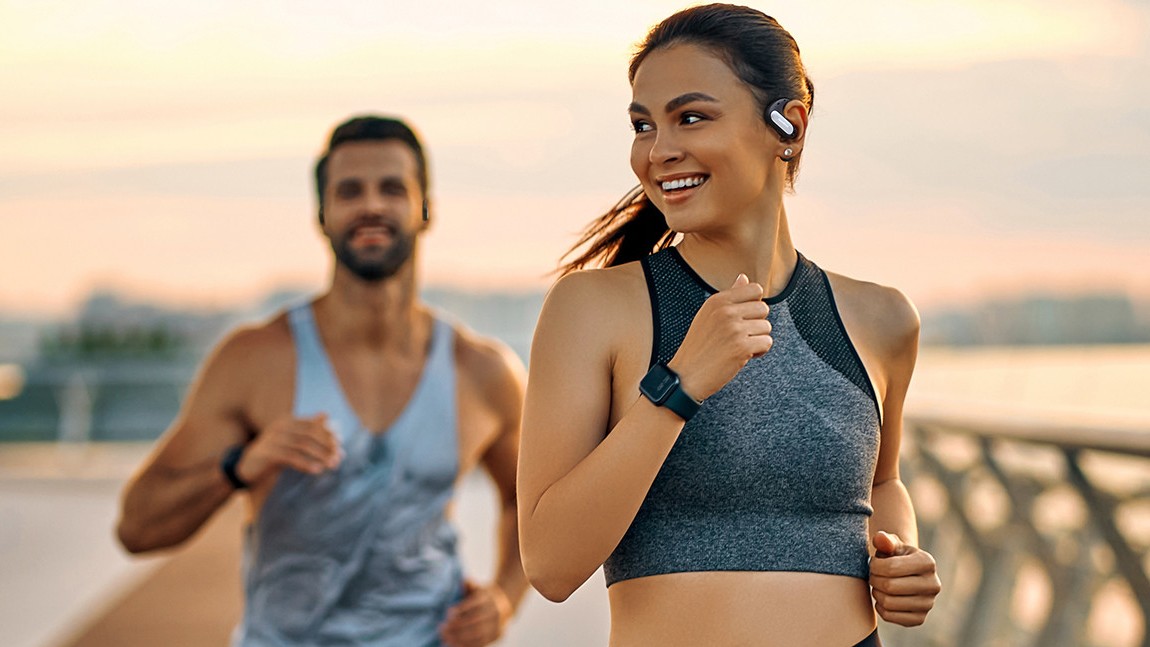 The open-ear design (i.e. without any 'plugs' involved) allows air pressure to stay equalised while ensuring important environmental sounds can still be heard for a safer and more comfortable wearing experience. 
OpenRock also adopts dual-mark noise reduction and beam-forming tech for better call quality, which sounds like it could make them a candidate for our best workout headphones roundup. When that important call comes in midway through a gym session? That. 
Also patented: the ear hook, for stability during use. There's also an IXP5 water resistance rating for the especially sweaty spin class. Stamina? Or course. They can last up to a claimed 19 hours on a single charge and give a total of 46 hours of use including the charging case. Just five minutes through the USB-C charger could provide 60 minutes of playtime, if you're low on juice and want to run that 10km before breakfast, too…
Bluetooth 5.2 and aptX is onboard and it's nice to see since this opens the door to LE Audio and Auracast audio sharing. 
Compared to bone conduction headphones, OneOdio explains that OpenRock Pro use a high-quality diaphragm with minimal vibration that both allows them to be worn all day without damaging your hearing (after all, that big driver isn't actually in your outer ear canal, unlike even some of the best earbuds). It also greatly reduces any experience of listening fatigue, which some users experience with bone conduction tech.
OneOdio has some form in the headphones space too. The company's Monitor 60 wired over-ears are a decent pair of starter studio cans, although obviously this is a different proposition entirely. 
All in all, I cannot wait to try them. A possible debutante in our best running headphones guide? That might all hinge (sorry) on the efficacy of that ear hook design, but it's plausible. 
Source link