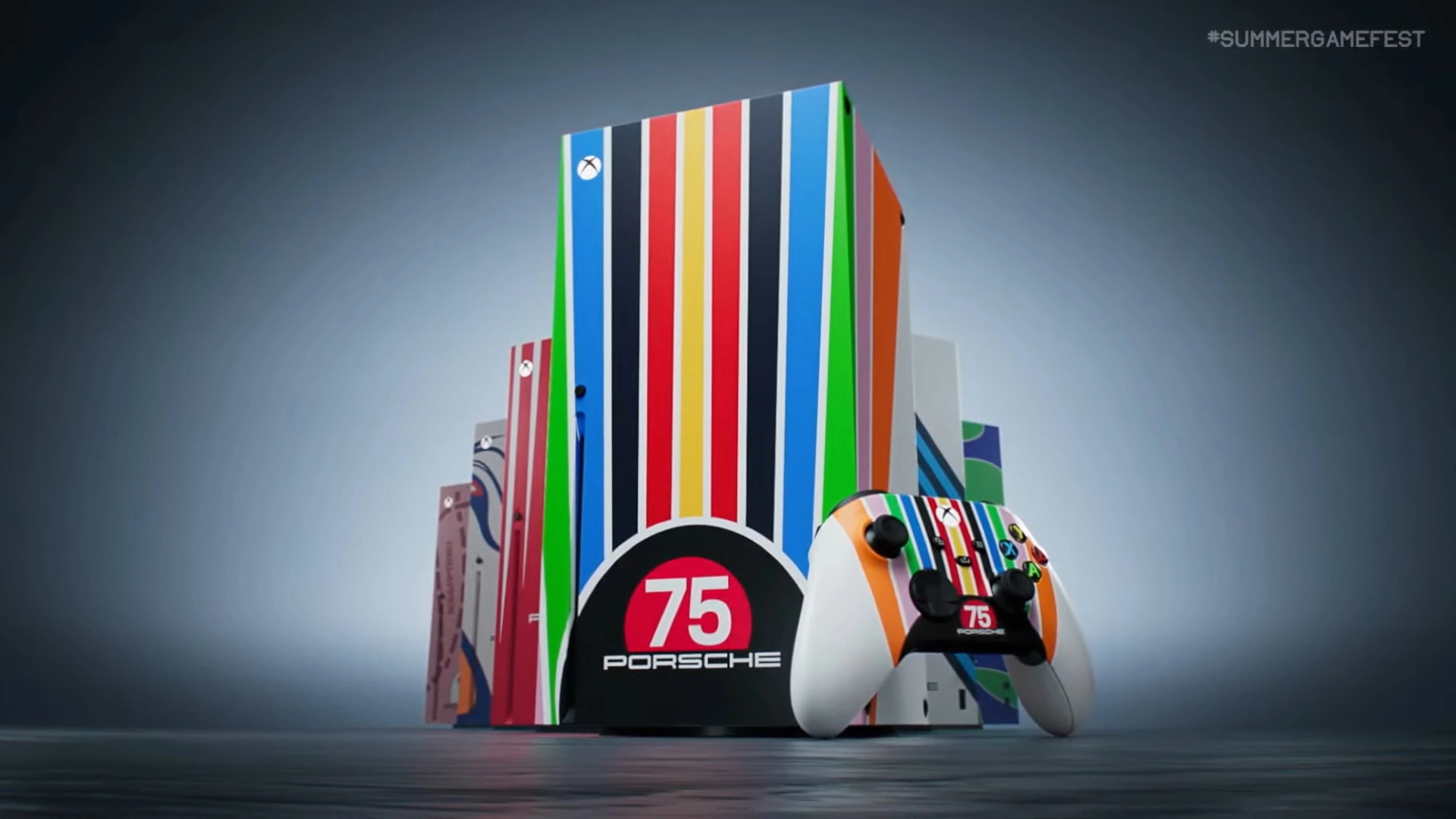 A new Porsche edition of the Xbox Series X has been unveiled at Summer Games Fest, however, much like with other special edition variants, it's not for sale. 
The new Xbox Series X console is adorned with a spectrum of rainbow racing stripes as well as a huge "75" badge on both the system and the Xbox Wireless Controller to commemorate the anniversary of the luxury car manufacturer. It's a truly exceptional color scheme and adds some much-needed brightness and energy to the otherwise standard matte black sides of the machine. 
As was the case with the Mandalorian-themed Xbox Series X console, you won't be able to get your hands on this through conventional means. The new Porsche-branded model isn't available online or in-store but is entirely reserved for a sweepstakes giveaway in the US, the UK, and Germany. You can enter for a chance to win. According to the listing, there are only "six limited edition prize packs" available so this is about as limited edition as it comes. 
Happy 75th Birthday @porsche! As just announced by @geoffkeighley at #SummerGameFest, #Porsche is teaming up with @xbox to create 75 limited edition Xbox Series X. #Porsche75Xbox Enter for a chance to win at https://t.co/KELOObTyMW pic.twitter.com/TTFbX2aALeJune 8, 2023
See more
For the past three years, the Xbox Series X has been a blank canvas just begging for the opportunity to paint those four walls with something new. Microsoft has capitalized only once officially to the consumer, with the gorgeous Halo Infinite edition system back in 2021 which saw the Spartan armor and stars take center stage. Since then, though, alternative color choices have been few and far between, making this Summer Games Fest announcement less exciting than it could have been. 
Hopefully, now that we're around halfway through the current console generation, we'll see more exciting versions of the Xbox Series X going forward. It's something that Sony is also guilty of with the PS5. However, that console at least has custom console covers, in many different colors, to spruce up the look. 
We're bringing you everything you need to know about this year's not E3 2023 coverage as the Summer Games Fest has just concluded. There's still so much more to come over the next week.